Looking for the perfect name for your new arrival (or two!)? The stars have aligned to bring you our favorite Gemini baby names. Read on!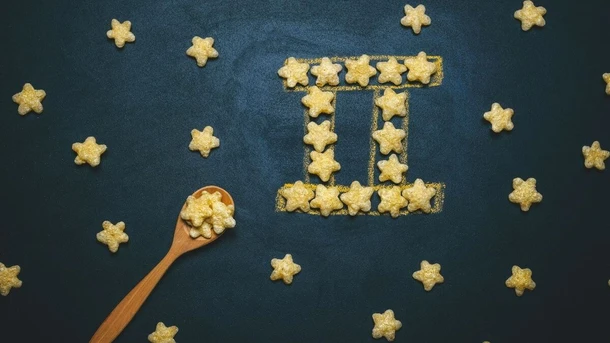 Do you have a baby (or two) due between May 21 and June 21?
Or perhaps you just feel inspired by the magic of the zodiac twins?
Whatever your reasons, Gemini baby names offer a world of possibility.
Geminis are said to be sociable, adaptable, witty, and curious—think social butterfly. 🦋
(Just be warned that, like butterflies, they can also be flighty.)
Our Gemini names look to capture the spirit of this beautifully complex creature.
Of course, if you're expecting twins, many of these Gemini-inspired names actually have "twin" as part of their meaning.
For example, what about Odion (meaning "first born twin") and Kato (meaning "second born twin")?
And because Gemini is the sign of the twins, it seems fitting that we should include several double-barrel names on our list.
That way, like the Gemini, you can get the best of both worlds.
Names like Amelia-Rose and Cora-Lee make the list, as well as Alfie-Jay and Tyler-James.
We've also included some names inspired by famous Geminis so that you can draw from some of their built-in Gemini magic.
(Spoiler alert: there's a Beatle on the list.)
In this article 📝

Is Gemini a real name?

Gemini girl names

Gemini boy names
Is Gemini a real name?
While not common, yes, Gemini is indeed a real name.
From this analysis of Social Security data, it ranked 24,028th in popularity among current US names.
So, if you're looking for a name on the unique end of the spectrum, this may definitely be it.
It's most commonly used for girls but can just as fittingly be used for any gender. "Gem" or "Minnie" could be cute nicknames.
But what other Gemini-inspired names are on the table?
We'll take you through some interesting choices from all over the world.
And while we've divided them into Gemini girl names and boy names, we're total fans of using the names you love in any way you wish.
Gemini girl names
Girl names that refer to twins
We'll kick off with girl names that refer to twins or speak about twins in some way.
Adongo. This Swahili name refers to the second born of twins.

Alaba. This Nigerian name refers to the second child born after twins.

Apio. This sweet name refers to the firstborn of a set of twins.

Babirye. "First of twins."

Kakra. With its Egyptian roots, this name refers to a twin.

Linnaea. From its Scandinavian roots, this name means "twinflower," a lovely flowering woodland plant.

Nabirye. This Egyptian name means "mother of twins."

Thomasina. The feminine form of Thomas, this name means "twin." Tamsin is another variant of the same name.

Tomasa. From Aramaic roots, this name is a variant of Thomas and means "twin."

Vanamo. Like Linnaea, this Finnish name refers to the twinflower.

Zesiro. "Firstborn of twins"
Famous Geminis girl names
Alanis. Canadian songbird Alanis Morissette is a Gemini.

Amy. This one's for fans of comedian Amy Schumer.

Ashley. Inspired by one-half of the Olsen twins, check further down the list for her double.

Angelina. This one is sure to be a hit for fans of the actor, filmmaker, and humanitarian Angelina Jolie.

Laverne. Actress and LGBT activist Laverne Cox is also on our list of inspiring Geminis.

Marilyn. She started her life as Norma Jeane Mortenson, and then this Gemini transformed into Marilyn Monroe.

Heidi. This one's inspired by model and television personality Heidi Klum.

Helena. This sweet name is an ideal Gemini nod to the wonderfully quirky Helena Bonham Carter.

Idina. This famous Gemini is the voice of Elsa in Frozen—Idina Menzel.

Mary-Kate. Yep, we've got a full house with this twin set. They're twins, they're Geminis, and Mary-Kate has a double-barreled name. That's more than double trouble.

Naomi. For lovers of the supermodel Naomi Campbell, here's another Gemini hit.

Natalie. Celebrated actress Natalie Portman was also born under these stars.
Double-barrelled Gemini names for girls
And now for some of our favorite double-barreled options to encompass all the personalities of the twin:
Amelia-Rose

Amy-Leigh

Cora-Lee

Delia-Rose

Emma-Mae

Isla-Rose

Lily-Anne

Lola-May

Sophia-Grace

Scarlett-Rose
Gemini boy names
The first two Geminis on this list are the ones who give the Zodiac its symbol.
They're the twins sitting together in the night sky, and their names are:
Castor. The name of the first of these famous Gemini twins means "pious one."

Pollux. The second of the Gemini twins has a name meaning "crown."
If you have twins yourself, these names could be a great option.
Boy names that refer to twins
Here are our top picks for boy names that mean "twin."
Akello. Hailing from East Africa, this name refers to a baby born after twins. It also means "to bring forth."

Atsu. This Egyptian name simply means "twin."

Didymos. This Biblical name means "twin" or "double."

Foma. From its Hebrew roots, Foma means "twin."

Idogbe. With its Egyptian origins, Idogbe means "brother of twins."

Isingoma. "First of twins"

Kato. "Second of twins"

Maas. This name is used as a Dutch and North German surname and is a variant of Thomas, meaning "twin."

Maso. This Italian name means "twin."

Mukhwana. "Twins"

Odion. "First of twins"

Tamas. This is the Hungarian version of Thomas.

Tamati. And this is the Maori form of Thomas, also meaning "twin."

Tamhas. For the Aramaic version, we have Tamhas.

Thomas. And, of course, this twin name had to make the list.

Togquos. This Algonquin name means "twin."

Tomasz. Here's the Polish version of Thomas.

Tuomo. This is the Finnish Thomas.

Wasswa. "Firstborn of twins."
Famous Geminis names for boys
And now some boys' names inspired by famous Geminis:
Chris. This one belongs to Captain America himself, Chris Evans.

Colin. Mr. Farrell was born on May 31, 1976, making him a Gemini.

John. This one's after JFK, a famous Gemini.

Kendrick. Love Kendrick Lamar? Here's a fitting tribute.

Morgan. Academy Award winner with the unmistakably silky voice, Morgan Freeman is also born under this sign.

Tom. For fans of the Marvel Universe, naming your baby after Spider-Man, Tom Holland, is sure to be a win.

Paul. For those who love to relish in a bit of Beatlemania, Mr. McCartney is one of the more well-known Geminis out there.

Prince. As is this music dynamo. He was a Gemini too.

Salman. If you love the books of Salman Rushdie, you may be pleased to hear that he is a Gemini.

Walt. This one's for lovers of 19th-century poet Walt Whitman, who was also born in the Gemini bracket.
Double-barrelled Gemini names for boys
And, of course, we need some double-barrelled Gemini names too!
Aaron-Jay

Alfie-Jay

Bailey-Ray

Charlie-Wren

Jayden-Lee

John-Paul

Logan-James

Reggie-Lee

Tyler-James
If you're looking for more ideas for baby names, head over to the Peanut community.
Good luck, mama!
👶 More baby name guides:
100 Space Baby Names for Boys & Girls
91 Celestial Baby Names & Their Meanings
267 Heavenly Baby Names That Mean Star
86 Baby Names Meaning Sun
60 Breezy Baby Names That Mean Sky
40+ Awesome Aries Baby Names
78 Lovely Libra Baby Names
110 Scorpio Baby Names
50 Bold Names for Sagittarius Babies
60 Aquarius Baby Names for Your Little Water-Bearer
60+ Perfect Pisces Baby Names for Your Little One