So, you've come back from the doc with news that you're just bursting to tell your BFFs: it's a girl! Or a boy! Or, for some who are about to have their hands really full, one of each!
But before you spill the baby beans, you may want to look for some gender reveal ideas – helping you turn your news into one of the first memories you make on your motherhood journey.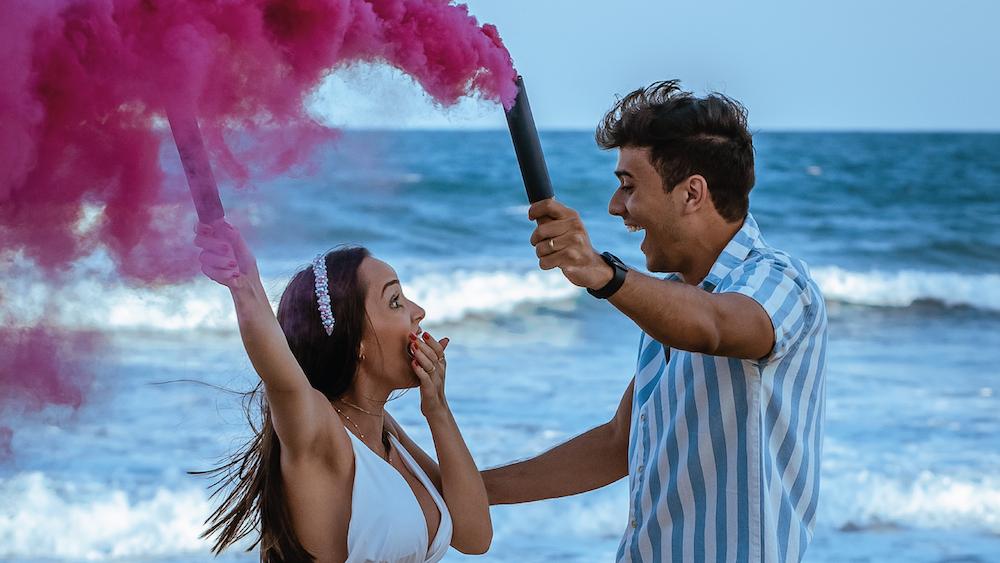 But where do you even start with gender reveals? How do you make your announcement as special as the news that it divulges?
Here's the thing: what will make your announcement truly unique is doing it your way.
That means not trying to simply imitate what looks like the craziest, creative gender reveal ideas on the internet, but rather creating something that is truly representative of your family and the people (oh, and animals) that make it up.
So, without further ado, let's explore unique reveal ideas that will get you well on your way to creating a celebration that reflects your youness.
Important side note: Though the commonly-used term is "gender reveal" – this is actually about revealing the "sex" of your baby.
Sex is biologically defined, whereas gender is socially constructed.
For the purpose of this guide, we'll use "gender reveal" but do bear this in mind!
4 gender reveal party ideas
What are some good gender reveal ideas?
1: Yes, this is explosive news!
If you want to start off your baby's life with a bang, an explosive gender reveal may be the way to go.
And there are so many ways to do it! Pop the info out of a balloon. Strike it out of a piñata. Ignite it from a sparkler.
But of course, if anything fires, pops, or bangs, safety is key.
Explosive revelations can also be a fun way to get your guests involved.
One way to do this is with party poppers: everyone unleashes theirs at the same time to an eruption of color – and BOOM! There you have an interactive and inexpensive way to get everyone in the know.
Oh, and if one of your big questions is what month should you have a gender reveal party? An explosive gender reveal may just force your decision.
Because explosions can be a messy business and you'll want to be outside, guests may appreciate a summer event.
Although this might mean you'd have to keep the news to yourself for a little while longer.
2: Gender reveal cake ideas
Yup. This way you can have your gender reveal and eat it too.
A gender reveal cake is one of the best options for busy mamas.
Look, sometimes you just don't have time to put together a massive shindig that would rival Cirque Du Soleil while at the same time getting all your work done, planning baby room design, and managing everything else that's going on.
By baking or buying a cake with a carefully chosen design or color in the middle of it, your nearest and dearests will find out your soon-to-be not-so-well-kept secret while biting into something delicious. Um. Yes, please.
And with the mini-me inside you, maybe you want to consider mini-cakes?
Cupcakes, cake-pops, and even gender reveal macarons are bite-size treats that can be the perfect combo of style, taste, and simplicity.
So yes. Cakes can work for tight spaces and tight budgets, or as a delectable addition to a more fancy affair.
3: What's in the gender reveal box?
And now for some out-of-the-box thinking.
The gender reveal box is simple: release some sort of magic out of a box (think: balloons, confetti, smoke) to surprise and delight your friends and family.
Boxes can range from the super simple cardboard variety to the devastatingly lavish.
Take a look at this DIY job.
Pretty impressive and surprisingly simple to put together at home.
A word of caution though: don't make it too good, or you may have friends requesting your services for years to come.
And of course, to really pull off the gender reveal box, you have to add a little drama.
Build up the tension. Get everyone on the edge of their seat. Provide a cliffhanger more panic-inducing than the end of the season of your favorite Netflix series.
Check out how this sweet family provided their loved ones with a heartwarming plot twist.
4: Opt for discount store delights
We don't have to tell you that being a parent ain't cheap.
Just on the horizon, you have diapers to contend with, rooms to decorate, at least one more mouth to feed, and toys to buy.
Your budget matters.
The good news is that you don't have to spend a fortune to pull off a truly unique baby gender reveal.
From balloons to banners, table cloths to party favors, cupcake holders to cake trays, your local discount store can become your best friend over your prep time.
Discount store decor also gives you the opportunity to unleash your inner innovator.
Just look at what this Youtuber pulled off.
If you have the time, turning your gender reveal party into a creative project can be an excellent way to ease stress and have fun with your family – and save a dollar or two while doing so.
But what if you are a reveler rather than a revealer?
In other words, what is your job as a guest at a gender reveal party? If you're asking this question, your next one is most likely:
Are you supposed to bring a gift to a gender reveal party?
To answer this, we have to go back to the purpose of the gender reveal party.
For many families, this may be the most important news they have shared since they announced their pregnancy.
If you would like to mark this occasion with a gift that feels meaningful to you, that's awesome.
While gifts are not expected, they are certainly welcome and can be a beautiful way for you to show just how excited you are about the new addition to their lives.
And of course, it's best to opt for gender-neutral gift ideas.
You don't want to be having to secretly slip your gift back into the car after the big reveal has happened.
Just remember that gender reveals are often separate occasions from baby showers - and that you also have the birth and subsequent birthday parties around the corner.
There will be loads of opportunities to shower them all with love, so don't stretch yourself too thin.
Oooh and HOT TIP: if it's your own gender reveal celebration, even if you are not expecting gifts from anyone, set up a small area where they can be collected if they appear.
Trying to find a spot for incoming presents while also battling the chaos of both entertaining and revealing this huge info can be stressful, to say the least.
Ultimately, there are many ways to reveal your baby's sex.
Like most things motherhood: you do you.
If you feel like making a big splash of color and light, go for it.
If on the other hand, you want something a little more low-key, that's fine too.
Do what feels authentic to you and your family.
The most important thing is that you are sharing precious news with loved ones.
In the end, that's what matters most.
💡 More from The 411:
17 Beautiful Baby Shower Themes
10 Baby Shower Themes for Boys
10 Baby Shower Themes for Girls
Baby Shower Etiquette: 7 Guidelines
What to Write in a Baby Shower Card
The Best Baby Shower Invitation Wording Ideas
Baby Shower Favors: Ideas, Cost, and More
15 Baby Shower Games
7 Fun & Memorable Gender Reveal Games
What To Do When You Find Out You're Pregnant