Ah, Greece! It's one of the most beautiful places on earth. And Greek baby names come with millennia of culture and tradition.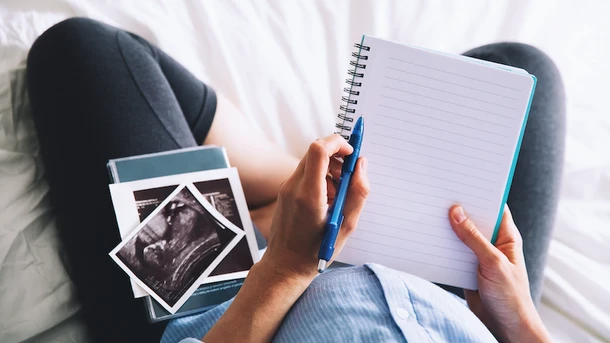 Maybe you want to honor your heritage or tap into ancient history, or maybe you just can't let go of that girl's holiday back in 2010! Whatever your reasons, Greek baby names offer a wide variety of lovely options for boys and girls.
While we've divided them up into Greek names for girls and Greek boy names, there are also various names which are completely unisex – Alex, for example. So here's our big list of Greek baby names for you to choose from.
Ancient Greek Names
Ancient Greece is in the hearts of many contemporary earth-dwellers. With stories that give us continual fodder for pop culture creations, Ancient Greek names are very much alive and well in our society. Whether you're a Classics nerd, a gamer, or an international traveler, finding an Ancient Greek name for your little god, goddess, magical creature or warrior is the perfect tie back to the best of the old world.
Ancient Greek Girl Names
Cassandra: If you're expecting your baby to have a capacity for clairvoyance (hey, maybe it runs in the family), this might just be the perfect name for you. The priestess Cassandra told true prophecies. (The downside was, nobody believed them, but maybe your little one will be able to right this wrong.) While it has an ancient source, it fits perfectly into contemporary times, with shortened versions being Cass and Sandra.
Penelope: You know that pretty mammoth epic called The Odyssey? Well, Penelope was the faithful wife of Odysseus who remained on Ithaca awaiting his return. For like 20 years. Makes you wonder who the real hero of the story was, eh. Penelope is a fantastic choice if you're looking for a meaningful name that slides off the tongue in modern times.
Xenia: As the word for the Ancient Greek concept of hospitality that was so vital to this early civilization, the name Xenia comes with beautifully complex ties to the old world. With connotations of friendliness and kindness to strangers, this option is perfect if you're looking for a name packed with geniality.
Ancient Greek Boy Names
Apollo: One of the most well-known of the Ancient Greek gods, Apollo was in charge of some pretty important stuff. From his position on Mount Olympus, he was the god of music, poetry, the sun, healing and archery. Now that's quite a portfolio – and an awesome name for your son to step into.
Dennis: Who would have thought that Dennis was of ancient Greek origin? It's true! It derives from Dionysus, the Greek god of theatre, wine and fertility (ya know, some of the best things in life) and has also become wildly popular as a name in modern times. (And of course, there's Dennis the Menace which will make scolding easy if your son ever gets out of hand.)
Phoenix: A name that is shrouded in hope, the phoenix was an Ancient Greek mythological bird that rose from the ashes. This name has gained ground over the last few decades and comes with the right mix of contemporary cool and ancient symbolism.
Modern Greek Names
If you're opting for a more modern name that is still ensconced in Greek language and culture, there are some beautiful options to choose from. Some have been adapted from old Greek words and names, while others come to you fresh from the modern world. You may also be surprised to see that some very popular contemporary names have Greek origins!
Greek Girl Names
Agata (Agathi): Meaning good and kind in Greek, this ever-so-lovely name also conjures up images of exquisite agate stones that are supposed to bring with them good luck. Good, kind and lucky? Well that seems like a pretty good recipe to us!
Angelena: If you feel like your little bundle has been sent straight from the heavens, the name Angelena is the perfect moniker. It's a derivative of the Greek word angelos which translates as messenger. What's fun about this one is that it can be shortened to all sorts of cute names: Angie, Angel or Lena - take your pick!
Nerina: Meaning sea nymph, this is the ideal name if you expect to have a little water baby on your hands. And seriously, imagine your daughter telling her friends that her name means something like mermaid? (Caution: this may mean you have Under the Sea playing on repeat in your house. All. The. Time.)
Greek Boy Names
Andreas: The Greek original that spurned the popular name Andrew, this powerful name means manly, strong and brave. Look, when that baby bursts onto the scene in your household with his roaring cry, you'll know you made the right pick.
Basil (Vasilis): If you're assuming that your baby boy will rule the roost, Basil is a perfect name choice. From basileus which means king, you'd be setting him up for a pretty powerful future. He'd also share with the lovable dork Basil Fawlty from the cult classic Fawlty Towers. You can decide whether this is a good or bad thing.
Nikolas: As a variation of the anglicized Nicholas, this popular name links you to Hellenic magic while still having a contemporary sound. What's more, it comes complete with its very own magnificent meaning: victory of the people. Nikolas will give your child a winning start.
And now, your bonus list of 70 Greek baby boy names:
Achilles
Aegeus
Ajax
Adonis
Alexander
Agamemnon
Alexis
Anastasios
Andreas
Apostolis
Aristides
Athanasios
Carolos
Christos
Christopher
Dimos
Dionysius
Dimitris
Elias
Eleftherios
Elpidoforos
Eugene
Evangelos
Fotis
Fay
George
Harabolos
Hercules
Ioannis
Isidoros
Jason
Kostantinos
Kyriakos
Keiki
Leonidas
Marcos
Marios
Matthew
Maximos
Michael
Mixalis
Nektarios
Nikos
Nikolas
Odysseus
Panagiotis
Petros (Peter)
Phillipos (Phillip)
Platon
Sarantos
Socrates
Sotiris
Spartacus
Stavros
Stefanos
Stergios
Stratos
Stylianos (Stelios)
Tasos
Thanos
Theodore
Theophanis
Theophilos
Timoleon
Triantafylos
Vasilios
Vasilis
Xenophon
Zeus (Dias)
Zeno
➡️ Don't miss our full list of Greek baby boy names
Finally, 84 more Greek baby girl names
Agape
Adonia
Agnes
Aleka
Alexandra
Alexia
Aliki
Amaryllis
Ambrosia
Anastasia
Angeliki
Aphrodite
Apostolia
Argyro
Ariadne
Artemis
Athanasia
Barbara
Calisto
Calliope
Calypso
Catherine
Christina
Cleopatra
Corinna
Danae
Daphne
Demetra
Dionysia
Dora
Dorothea
Efstathia
Elina
Eleftheria
Elisavet
Eugenia
Eva
Evangelia
Evanthia
Evdoxia
Fotini
Georgia
Haroula
Helen
Ioanna
Iphigenia
Irene
Kostantina
Kyriaki
Lydia
Magdalen
Maria
Marina
Natalie
Natasha
Nefeli
Nektaria
Nike
Olympia
Ophelia
Panagiota
Pandora
Panorea
Paraskevi
Parthena
Pelagia
Penelope
Phoebe
Polyxeni
Prokopia
Sophia (Sophie)
Stavroula
Stefania
Stela
Thalia
Theodora
Theone
Urania
Vanessa
VarvaraVarvara
Vasiliki
Vassilia
Zenobia
Zoe
➡️ Don't miss our full list of Greek baby girl names
Good luck on the search for Greek baby names. The fact that you have found your way to this corner of the globe in search of your baby's name means you are already on the right track!
101 women are talking about 'greek baby names' on Peanut. Download the app to join the conversation.
👶 More baby names:
96 Romanian Baby Names for Your Bebelus
200+ Spanish Baby Names for Your Bebé to Be
60 Magnifique French Baby Names
130 Czech Baby Names and Their Meanings
49 Bellissimi Italian Baby Names
The Best 239 Arabic Baby Names for Little Boys & Girls
The Top 357 Indian Baby Names And Their Meanings
The Best 153 Egyptian Baby Names & Their Meanings
165 Norse Baby Names for Boys and Girls
The Best 200 British Baby Names for Little Ones
143 Victorian Baby Names with Meanings
111 Nigerian Baby Names
88 Dutch Baby Names
98 Lithuanian Baby Names
450+ Magnificent Norwegian Baby Names (With Meanings)
160+ of the Best Traditional European Baby Names
85 Beautiful Brazilian Baby Names
51 Ancient Roman Baby Names
250+ Adorable Baby Names That Mean Love
The Best 109 Cuban Baby Names With Meanings
Top 51 Dominican Baby Names
70+ Danish Baby Names and Their Meanings