Our bodies undergo all sorts of changes during pregnancy. There's bump of course, but also bloating and indigestion, fatigue, fuzz brain, and random things like bleeding gums and swollen ankles. But there's one symptom that can be really scary: hair loss during pregnancy.
Fortunately, while it is frightening, thinning hair during pregnancy is usually manageable for mamas-to-be.
And in the majority of cases, it will grow back.
But why does it happen? And what can you do about it? Let's find out.
In this article: 📝

Does pregnancy affect your hair?

Hair loss during pregnancy

Other causes of hair thinning during pregnancy

How can I stop my hair from falling out during pregnancy?
Does pregnancy affect your hair?
In short, yes.
Pregnancy can affect your hair in all sorts of different ways – including making it thinner or fall out.
And that's all thanks to your hormones.
When you're pregnant, your estrogen and progesterone hormones start pumping hard.
That's because they help support your fertility and make a nice comfy home for baby, firstly.
But these hormones do other things too.
They help your fetus to develop, loosen your joints, and give you that pregnancy "glow".
But many women will notice the effect on their hair.
Lots of mamas-to-be get much thicker hair thanks to these hormones.
Some report their straight hair going curly – and vice versa.
Others notice more body hair than usual.
Anything's possible, mama. And yep, unfortunately that also includes hair loss.
(Aside: Does a hairy belly in pregnancy mean boy or girl? While some people suggest that a hairy belly during pregnancy means a boy, there's no evidence of this at all.)
Hair loss during pregnancy
The most common conversations around hair and pregnancy relate to those lucky mamas who get luscious locks thanks to their hormones.
A much less well-documented pregnancy symptom is hair loss – but it happens for similar reasons.
Hair loss during pregnancy is most common in early pregnancy, and usually the first trimester.
What's to blame? That's your hormones again. Combined with stress.
Hair loss in early pregnancy is usually referred to as telogen effluvium, which is the technical name for stress-related hair loss.
It's recognizable by the unpleasant way that hair can fall out in clumps, or generally thin across your scalp.
Due to stress, your hair follicles – the little things in your scalp that normally produce hair – shed the hair instead.
And this is interesting because you might not feel stressed, per see.
But sometimes, with your body going through a lot of changes, the strain on your system can cause this stress reaction.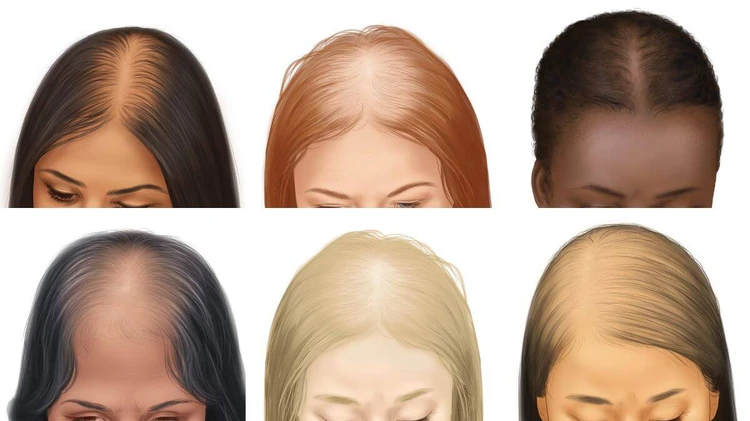 Will my hair grow back after pregnancy?
The good news about hair loss during pregnancy is that yes, it should all grow back as normal after pregnancy – if not earlier.
As your hormones settle a bit, your body – and your hair follicles – should rediscover their natural cycle once more.
Other causes of hair thinning during pregnancy
While telogen effluvium is the most common cause of hair loss during pregnancy, there are alternative causes that might be contributing:
Thyroid problems
It's thought that about 3% of pregnant women develop thyroid problems during pregnancy.
Hypothyroidism – the condition in which your thyroid does not produce as much of the thyroid hormone as usual – is usually the problem, often resulting in hair loss, fatigue, and muscle pain.
We've been talking about hair loss during pregnancy.
But it's also very common for hair loss to happen after pregnancy too.
Remember what we were saying about hormones often causing luscious hair?
After pregnancy, your hormones (usually) return back to normal – and that can sometimes cause brief periods of hair loss.
Anemia
Pregnant women are at greater risk of iron deficiency, and this means you don't have enough blood cells to move all the oxygen around your body that you need. Sometimes, hair loss can be the result.
Sometimes, your hair loss in pregnancy can be the result of something altogether unrelated.
If hair loss is accompanied by a rash, itchiness, or irritation, it could be the result of traction alopecia, where strain or pulling on your hair causes it to fall out. It could also be alopecia areata, an auto-immune condition characterized by unpredictable or cyclical patterns of hair loss.
Is hair loss a sign of pregnancy?
While hair loss can be caused by pregnancy, it is not necessarily a sign that you are pregnant.
So, if you are losing your hair but don't have any other indication that you might be pregnant, it's not safe to make that assumption!
How can I stop my hair from falling out during pregnancy?
There are some ways that you can treat hair loss during pregnancy.
But they won't work on all causes.
So, if you think you are experiencing hair loss as a result of anemia or thyroid problems, do talk to a doctor.
They'll be able to help guide you toward a solution.
You can help prevent hair loss during pregnancy by trying some of the following:
Avoid tight hairstyles. If you usually go for a bun, braids, or ponytail, it might be best to change up the style for the time being. Excessive tension can cause strain on your follicles, making hair loss more likely.

Try to steer clear of hot oils, curling or straightening irons, and other harsh treatments. Your hair may be delicate right now – and it is best if you let it relax.

Use a wide-toothed comb. When combing, wide teeth are better, as they pull less on your hair.

While they can be tempting, avoid medications – such as Minoxidil – that can help regrow hair. These are not advised for women who are pregnant or breastfeeding.