A mama's guide to the hands-free breast pump ‒ how to use them, get the most milk and the best wearable breast pumps currently available.
For any mama, multitasking is a daily necessity.
No one doubts, looking after a newborn is hard work.
Whether it's juggling childcare, jobs, breastfeeding, pumping, family, relationships, and your baby… it's a lot to deal with.
Well, this is where the hands-free breast pump comes in.
It's perfect for the multitasking parent, letting you get on with whatever it is you need to do ‒ all whilst pumping.
If you're researching options, here are our picks of the best hands-free breast pumps and everything you need to know about using them.
Let's go mamas. We've got this.
In this article: 📝

Should a breast pump be hands-free?

How do you hands-free when pumping?

Do you get more milk with hand pump?

Can you get a hands-free pump through insurance?

What is the best hands-free breast pump?

Is it worth buying a hands-free breast pump?
Should a breast pump be hands-free?
As with most things pregnancy and parenthood, there really isn't a "should" or "shouldn't" answer to breast pumping.
It's all about what works best for you, your baby's feeding, and your lifestyle.
So let's take a look at some of the benefits and drawbacks of using a hands-free breast pump.
Hands-free breast pump: the benefits
Greater flexibility: You have your hands free for reading, eating, working, napping, or playing with your children. Whatever you need to do!

Ease of use: With both hands free, you can operate the breast pump controls and deal with bottles or bags of milk.

Speed: Some designs are strap-free, so you can pop it on quickly and remove it without fuss.

Saving time: This is a big one (especially if you're pumping to store milk in advance), allowing busy mamas to get on with other things whilst pumping.

Can be more comfortable: When using a non hands-free breast pump, your posture can sometimes take a hit, but when you're hands-free, you're less likely to be hunched over.

Ideal for exclusive pumping: If you're exclusively pumping (not skin-to-skin breastfeeding, hands-free pumping can make the whole process much easier.

Ideal for breastfeeding in public: As much as we wish it weren't so, there's still sometimes a stigma against breastfeeding in public. If you'd rather keep private, using a hands-free pump can be a more subtle option. You do whatever you're comfortable with, mama. It's your body.
Hands-free breast pump: the drawbacks
Cost: Some high-end breast pumps can be pricey, which can leave you out of pocket.

Latching: Some mamas find it harder to get the right latch with a hands-free breast pump.

Leaking: There can be problems with leaking ‒ especially when doing energetic activities at the same time.

Output: This is different for everyone, but many moms find "hand expression" more effective for increasing output than either manual or hands-free breast pumps.
Do wearable pumps decrease milk supply?
Not necessarily, no ‒ while some mamas may find that they're not able to express as much breast milk per session when using a wearable breast pump, they're not known to actually decrease your milk supply in and of themselves.
If you think your breast milk supply may be decreasing, there could be other reasons.
How do you hands-free when pumping?
If you've used any form of electric breast pump before, the hands-free process should feel familiar. If not though, don't worry, it's quite simple.
All breast pumps come with instructions, but here are a few tips to bear in mind:
Step 1: Wash your hands before assembling your pump.

Step 2: Put on your wearable breast pump. It's a good idea to buy this after baby comes, as your breasts are much bigger once milk is there.

Step 3: Secure the flange (the bit in contact with your body when placed on the breast and nipple), taking time to ensure a comfy fit.

Step 4: Start the pump. You shouldn't feel any leaking milk, and there should be a good seal. Whilst you should feel suction, there shouldn't be any pain.

Step 5: This can be tricky when getting started, but try to relax. Thinking loving thoughts about your little one will help your "letdown" reflex. Adjust the suction as you go, and massage your breasts occasionally to encourage milk flow.

Step 6: Once you've finished pumping, take the pump apart to clean it and properly store any milk as soon as you can. Congratulations, you've done it!
Can you sleep with a wearable breast pump?
Usually, yes, you can sleep while wearing a hands-free breast pump, so you can pump in your sleep!
But you'll need to check with the manufacturer of the specific wearable breast pump ‒ some aren't safe to use while sleeping, although most are.
Do you get more milk with hand pump?
Hands-on pumping generally involves massaging your breast whilst manually pumping, to increase the amount of milk you can pump each session.
This technique helps many mamas drain the breast more fully, and increase milk supply.
In fact, combining breast massage with hand pumping can increase milk volume by 48%.
It's not all about volume though, and hand pumping might not work for your routine or childcare needs ‒ so always go with what feels right for you.
Can you get a hands-free pump through insurance?
It depends on your country and their standard insurance policies.
In the UK, you can speak with your GP about getting a breast pump prescription.
In the US, you can usually get hands-free breast pumps through insurance.
After the Affordable Care Act passed (March 2010), most insurance plans have to cover breast pumps.
They qualify as essential medical equipment and the only exceptions are some "grandfathered" plans (i.e. those bought before 2010).
A word of caution though, some top-of-the-range hands-free breast pumps aren't covered by insurance policies.
There could be rules on what types of pumps you can get (such as manual or electric, or only certain brands) or a budget cap.
If you're unsure, check with your doctors and insurers.
What is the best hands-free breast pump?
If you're searching for the best hands-free breast pump, look no further.
We've considered budget, ease of use, noise, user-friendly apps, weight, and suction to give you our top picks of the six best wearable breast pumps for busy mamas.
All prices are correct at the time of publishing.
Best overall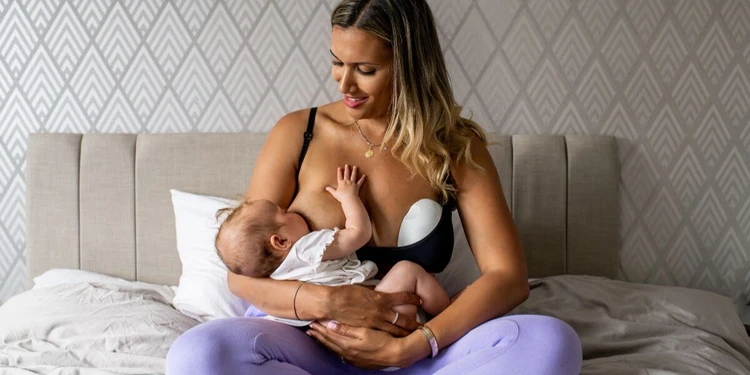 1. 'Made for Me' In-Bra Wearable Breast Pump by Tommee Tippee
Some other breast pumps might make you feel… like a cow being milked.
(Sorry for the weird mental image!)
But the 'Made for Me' Wearable Breast Pump by Tommee Tippee (yep, that Tommee Tippee) actually mimics baby's suction for a more natural-feeling hands-free breast pump.
It sort of works like a really low vacuum, pulsing in waves, as if baby were breastfeeding.
It's great for beginners, too, with a nipple alignment guide light to help you know where best to latch it on for comfort and the most efficient breast milk pumping sesh.
It's cordless, too, so no need for trailing wires and trip hazards with a wireless breast pump!
The best bit? It comes with an app!
So with the Tommee Tippee app, you can control your pump remotely, get insights into how much milk you've collected, and see how long your pumping sessions are.
Plus, if you prefer to pump one breast at a time, you can just buy one ‒ or the pair!
It's easy to feed baby after you've pumped, too ‒ this is one of the only hands-free breast pumps that converts into a bottle, so you can pump and feed using the same container ‒ no more spillages or messing about with extra bottles!
Yeah, it's pretty clear why this is our favorite hands-free breast pump ‒ and it's not even the most expensive one on our list!
Cost: £199.99 for one, £349.99 for two
Best for sleep-pumping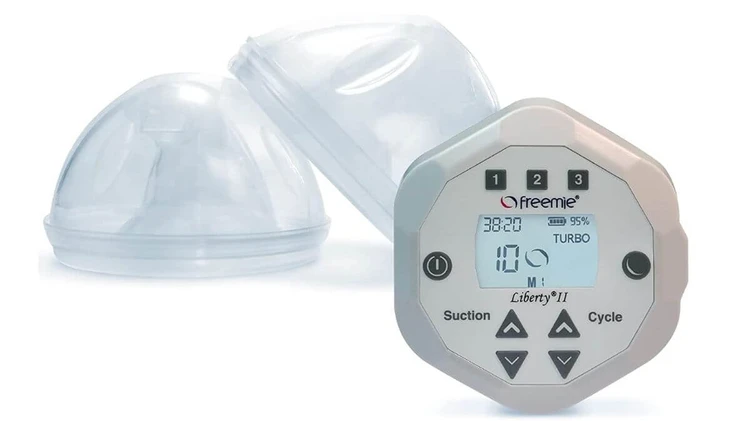 2. Freemie Liberty Hands-Free Breast Pump
Ideal for mamas hoping to catch some zzz's.
It features an amazing programmable sleep timer as well as plenty of great reviews.
Cost: £89.99
Best for quiet
3. Elvie Double Electric Wearable Breast Pump
Moms looking for an ultra-quiet, high-tech pump that you can control and monitor with your phone.
Cost: £499
Best for budget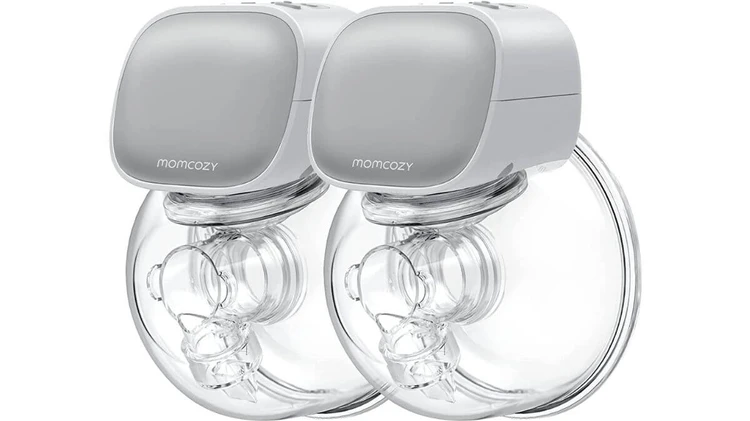 4. Momcozy Double Wearable Breast Pump
A super value option that offers simple, efficient, and comfortable pumping.
Cost: £129.99
Best for style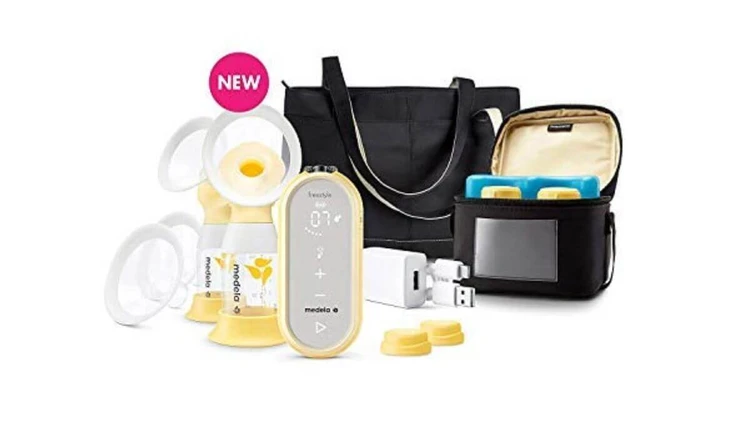 5. Medela Freestyle Flex Breast Pump
One of the most stylish pumps available, with loads of handy extras for moms on the go.
Cost: £349.99
Best for long-lasting battery
6. Bellababy Double Wearable Breast Pump
A cheaper option with great battery life (perfect for busy traveling mamas) that's easy to clean and put together.
Cost: £79.99
Is it worth buying a hands-free breast pump?
That's totally up to you, mama!
But many breastfeeding moms find using a hands-free breast pump makes things a bit easier ‒ you can get things done while getting baby's next meal ready!
We hope you find the best hands-free breast pump for you and your little one!