Happy first day of school! And, um, can we just take a moment to work out how on earth this day arrived so quickly?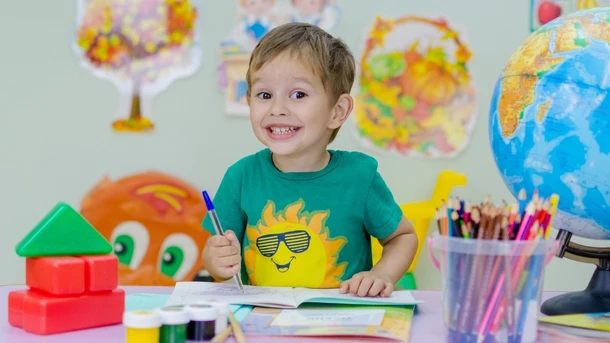 It feels like mere seconds ago they were all babble and poop—and now they're heading off to get an education?
How is this allowed?
You want to make it special. You want to ensure that they have the best time.
You want them to want to go back again the next day. Eek. The pressure.
First, we say, embrace the big feels! If either you or they are overcome with emotion, that's totally fine.
This is a big transition and big transitions sometimes come with tears.
Also, there's no one way to do this thing. Some kids are going to be utterly thrilled to start on their long journey through the education system. Others are going to wonder why on earth you're putting them through this torture.
Basically, what one kid needs is by no means what all kids need.
You know your child. You know what they need on this day.
With that in mind, here's a bit of a framework to make things a little easier.
How do you make the first day of school special?
It's going to be special.
We promise.
Even (and maybe, especially) if emotions run high.
Here are some tips to help you make the day even more memorable:
Make the prep work exciting. Involve them in lunchbox shopping, collecting supplies, etc. You don't have to do the slog work behind the scenes.
Get reviews from older kids. Be it a sibling, a family friend, a neighbor—nothing like getting the lowdown from someone who's recently been through it all.
Create something tangible as a keepsake. Before and after photos are a great idea. Record the experience in words. What did they say when you dropped them off? What was the trip to school like? What were their first words when you picked them up? It'll be fun to look back on all this in years to come.
Leave them a message in their lunch box. A little note or a special trinket can go a long way.
Deep breaths help. A lot. (This one's for you and them.)
What do you wish on the first day of school?
There's no one magic wish that can be copy-pasted into all families.
That being said, if the words are getting stuck in your throat (yep, totally normal), here's some inspiration to help you out. ✨
First day of school wishes
There are so many friends waiting to be made; so many games waiting to be played; so many lessons waiting to be learned. We love you.
Wow! It's your first day of school. So many adventures await. We can't wait to hear all about them. You're our superhero. See you soon.
Do you even know how strong you are? You are going to do so well. Remember that whenever you need us, we are here for you. We are so proud of you.
You have brought us nothing but joy. I guess we should share some of it with your new friends. We love you and are so proud of you.
New books, new friends, new adventures. Off you go! Look how brave you are. We love you so much.
Your only job is to be yourself. And what a beautiful self that is. We can't wait to see what you're going to do.
We can't wait to hear every little detail of how today goes. Now take that fairy dust and sparkle like only you know how.
Be yourself, listen to others, and play your heart out. Those are the only rules. We love you.
It's official! When you go to bed tonight, you will be in big school. We are so proud of you.
When I pick you up later, I want you to tell me the three magical things that happened today. Be on the lookout for them. There's magic everywhere. We love you.
And then, here's some motivation to get you through:
Happy first day of school quotes (for them)
First day of school quotes (for you)
You're also starting off on a journey.
This can be a big transition.
Here's a little inspiration to get you through the day.
Exciting times. 🎉
Wishing you a very happy first day of school!
You might be interested in:
Our 40 Favorite Inspirational Motherhood Quotes
What is Preschool Age?
100+ 'Would You Rather?' Questions for Kids