When choosing Hawaiian baby boy names, you may be surprised to hear the list is quite long! Traditionally, a baby boy in Hawaii will receive a name at birth from their parents or a family elder, and it will usually carry a specific meaning.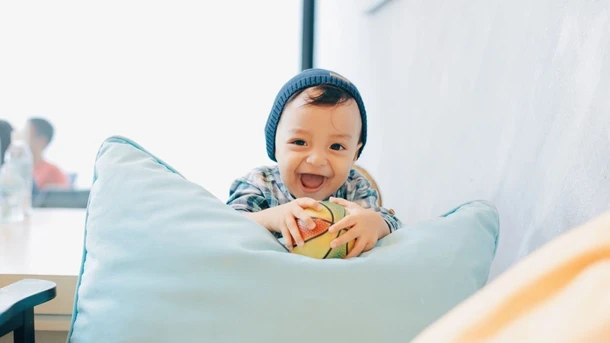 Traditional Hawaiian names for boys originate in names that 'appeared' in dreams or visions, names passed down from ancestors, names based on personality traits, or names which honor a person or important event. For this reason, Hawaiian male names are often deeply meaningful, and frequently prize strength and power.
Nature is also revered in traditional Hawaiian names, with the mountains, sandy beaches, and rich plant-life all making appearances. Let's take a look at some examples.
In this article: 📝

What are some Hawaiian boy names?

What is the rarest name for a boy?

What are cool names for a boy?

What are strong male names?

More beautiful Hawaiian names for your baby boy

Find more Hawaiian baby names
What are some Hawaiian boy names?
The stunning beaches and plant life of Hawaii will have left a lasting impression on any visitor. If you'd like your baby boy to connect with nature, the following names would be a great fit:
Ahe (gentle breeze)
Aolani (heavenly cloud)
Kaimana (power of the ocean)
Kainalu (the surf)
Keola (life)
Keonaona (sweet fragrance)
Konane (shining moonlight)
Makani (the wind)
Pika (rocks)
Uluwehi (lush plants).
Many of these can be found joined together to create longer, even more meaningful names. The rich history and descriptive language that goes into Hawaiian boys' names will give you many choices when it comes to naming your little one.
As with many cultures, Hawaiian baby boy names also often give praise to the gods.
Iokepa
This name has origins in Hebrew through St. Joseph, and means 'God will increase.'

Kalani
Perfect for your little angel, this name literally means 'of the heavens.'

Keona
A great choice for your baby boy, this name means 'God's gracious gift.'

Malulani
Meaning 'protected by heaven,' this name is a solid choice and sounds beautiful.
What is the rarest name for a boy?
On the other hand, you may be looking for a more unique name for your special one. If you are considering going for a rarer Hawaiian boy's name, some of the following may appeal to you:
Kahiau
Meaning 'extremely generous,' this name would make your baby boy stand out from the crowd.

Makoa
A name that links to strength and power, Makoa means 'bold man' and was only given to 12 Hawaiian boys in 2020.
You may also consider some of the more exotic-sounding and mysterious Hawaiian baby boy names, such as Koukakala (mysterious river), Maka'ala (vigilance), or Nahele (woods or forest).
What are cool names for a boy?
If you are looking for cool Hawaiian boys' names, without doubt the most popular is Kai. Meaning 'of the sea,' this name not only sounds cool, but connects with the stunning coastline of Hawaii. Another familiar name may be Keanu, which has been very popular with movie fans in the recent past. Keanu literally means 'cool mountain breeze' and is another name which pays tribute to Hawaii's natural beauty.
Along with paying tribute to nature, Hawaiian names often focus on strength.
What are strong male names?
These Hawaiian boys' names signify power, strength, or fearlessness:
Ailani (high chief/ruler)
Ikaika (strong)
Kekoa (brave and courageous)
Koa (bold warrior)
Lokela (legendary warrior)
Makaha (ferocious)
Nahoa (defiant)
More beautiful Hawaiian names for your baby boy
If you still haven't made your choice, this list of other Hawaiian male names may help:
Aalona
Aheahe
Akamai
Akamu
Akela
Akoni
Anankoni
Aouli
Bane
Ekewaka
Elta
Etana
Eusebio
Haikili
Hale
Haleigha
Hanale
Hani
Hanini
Haulani
Healani
Hikialani
Hilo
Ioane
Iokua
Kaeo
Kahawai
Kahikilani
Kahikina
Kahiko
Kaholo
Kahoni
Kahula
Kahuna
Kaiholo
Kaila
Kalino
Kalon
Kana
Kanoa
Kanuha
Kanye
Kaui
Kawai
Kawika
Kawikani
Kayl
Keimoni
Kelani
Kellii
Kepakiano
Kika
Kilo
Kimo
Koi
Kona
Konala
Kualii
Kukane
KyeKye
Lahahana
Lakopa
Lanakila
Leialoha
Likeke
Liko
Lolana
Lono
Lopaka
Makai
Makanui
Malo
Mano
Maui
Mele
Moani
Moke
Nainoa
Noelani
Nohea
Onaona
Ori
Pekelo
Puna
Wakea
Wilbert
Find more Hawaiian baby names
For more ideas on the best baby names for your little one, why not ask the mamas of Peanut?
👶 More baby boy names:
1000 Popular Baby Boy Names
137 Cool Baby Boy Names and Their Meanings
90 Middle Names for Boys
141 English Names for Boys
The 149 Most Popular Celtic Baby Boy Names
Top 134 Arabic Baby Boy Names
121 Polish Baby Boy Names With Meanings
161 Hebrew Baby Boy Names to Choose for Your Baby
76 Mexican Baby Boy Names for Your Baby
100+ Russian Baby Boy Names for Your Little Boy
The Top 99 Korean Baby Boy Names
80 Strong Baby Boy Names (with Meanings)
76 Brazilian Baby Boy Names & Their Meanings
82 Filipino Baby Boy Names
250+ Adorable Baby Names That Mean Love