When the pandemic hit, it felt like I was in the newborn phase again as I hardly left the house and I was isolated. Like so many other women, I went in and out of mom burnout as the pandemic continued longer than anticipated.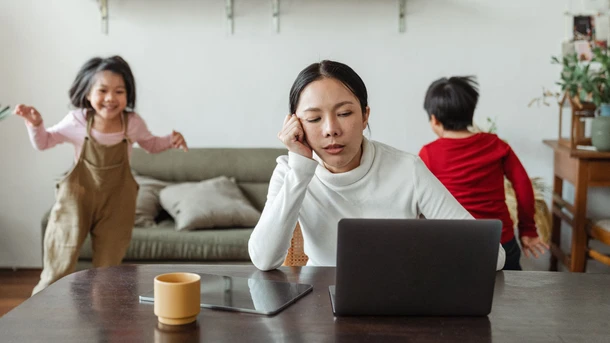 Battling motherhood burnout eventually led to me creating Parent Self-Care as a means to support other parents who were struggling. So, here are the key tools that helped me, as an exhausted mom, and the parents I worked with as a marriage and family therapist.
What is mom burnout?
Burnout was first defined in 1975 by Herbert Freudenberger. According to him, elements of burnout are: emotional exhaustion, depersonalization (decrease in empathy and compassion), and feeling less accomplished.
Based on this definition, parents experiencing burnout are emotionally fraught, have a harder time connecting to their kids, and feel a decreased sense of accomplishment in their parenting.
In 2020 the American Psychological Association found that 46% of parents stated their stress level was between 8 and 10 on a 10 point scale (with 10 being the most stressed).
And while mom burnout isn't a clinical diagnosis, it's important because there's a great degree of overlap between the signs of burnout and the symptoms of depression.
These similarities might include feelings of hopelessness and guilt, increased irritability, difficulty concentrating, isolation, changes in appetite, increased substance use and sleep challenges.
But moms, if you're experiencing burnout there is hope. Here are four ways to help you recover from mom burnout and boost your parenting joy.
How to recover from mom burnout
Prioritize self-care
When you're burned out, self-care might seem like one more thing on the to-do list. The goal is to figure out what realistic and meaningful things will work for you.
When times are tough, these are the self-care activities I put at the top of the list:
Rest. Rest includes sleep, but also relaxing activities such as closing your eyes on the couch for a few minutes, reading, drawing, or watching a comforting or funny tv show.
A good cry. When motherhood is hard, let it out. Crying releases stress hormones, and we often feel a release after a good cry.
Move for mental health. Get some fresh air and walk around the block or do a few jumping jacks. Even a couple minutes of movement can improve your mood.
Laughter. Belly laughs allow us to offload difficult emotions, and it can strengthen relationships. You can text a friend about a funny memory, or turn on that movie that is guaranteed to get you laughing big-time.
Connect to your core values
When you're emotionally exhausted and feeling unsatisfied with what you have accomplished as a parent, come back to your core values.
Focusing on one or two core values can help you prioritize what deserves to take up space in your life, and it gives us a sense of meaning.
If you're unsure what your core values are, you can read this list to help you prioritize what matters to you during this season of motherhood.
For example, if one of your core values is connection then it might be easier to leave the house messy and get some rest feeling positively about a moment of connection with your child earlier in the day.
Embrace community care
Community care went viral in a 2019 Facebook post. This post highlighted what so many mothers were wanting, a focus on community care instead of feeling as though their wellness was an individual responsibility achieved through the "right" self-care practice.
Here's how you can embrace community care when you are in the trenches of mom burnout:
Create the village you need by reaching out to birth workers, childcare providers, medical doctors.
In the U.S., much of the postpartum period focuses on the baby and not the mother. The OBGYN you have been seeing weekly goes away after the 6-week follow up visit and you are left to go back to your primary care physician. We all know it takes more than six weeks to physically and emotionally recover from birth, so you can reach out to other supportive providers such as a night nurse, doula, therapist or doctor about your physical and emotional well-being.
Say yes to seeing friends even when you're tired.
Being with friends gives you energy, even when you're tired. Motherhood can be isolating, so do not let those invitations pass you by to see friends even when you know you will be fighting a few yawns.
Make friends with moms that have older kids.
This is a great way to build your community while also being able to tap into a network that can offer guidance for the next chapter of motherhood. Peanut is a great place to start!
Give back to other moms when you have capacity.
We all remember the moms that were there for us when we were in the trenches, and it feels good to pass on that gift to the mom friends that have children after us when we have the energy.
Create a mom burnout prevention plan
Although mama burnout can be a painful experience, you do learn more about your warning signs so that you can catch yourself before ending up in full burnout mode again.
I've experienced burnout multiple times professionally and as a parent, and each time I'm able to add to my toolkit to better care for myself. Here is a free relapse prevention plan I created specifically for mom burnout.
I hope you can be gentle with yourself as certain seasons of parenthood are more taxing than others. It might not be realistic to avoid burnout as parents, but we do deserve to heal from burnout and enjoy more well-being in motherhood.
💡 More from The 411:
How to Be A Good Mother: 9 Top Tips
What is Mom Anxiety? And How to Cope
10 Life-Changing Mom Hacks From Peanut Mamas
13 Pieces of Advice That New Moms Need to Hear
Mom Groups: What to Know
How to Meet Other Moms
59 Self Care Ideas For Moms
How to Understand Mom Guilt
Mom Burnout: Reasons, Symptoms and Treatments
Peanut: Tinder for Moms (& So Much More!)
Peanut Gave Me a Platform to Find My "Framily", Where Other Platforms Couldn't
14 Best Baby Jumpers for Your Little Leapfrog