What a moment. That moment. The moment when you gaze down at the pregnancy test you've just done (just to be sure, you know) and find out: you're pregnant.
What now? the voice in your head might say.
What happens next? How do I tell him I'm pregnant?
Finding out you're pregnant can bring with it a range of emotions—for both you and your partner.
If your pregnancy is unexpected (which applies to about 45% of pregnancies in the US), it's totally normal to feel a bit shocked or anxious.
And even planned pregnancies, when they finally happen, can bring feelings of surprise.
But sharing the news with your partner is important. Hopefully, you're on this journey together.
And telling them is just the start.
In this article: 📝

How long should I wait to tell him I'm pregnant?

Do you have to tell the guy if you're pregnant?

How do I tell him I'm pregnant?

How to tell your partner about a surprise pregnancy
How long should I wait to tell him I'm pregnant?
It all depends on the nature of your relationship and your unique situation.
If this is the good news you've been waiting for weeks/months/years, by all means tell your partner immediately!
But if it's an unplanned pregnancy, you may want to wait until you are 100% sure.
Home pregnancy tests are fairly reliable, but a blood pregnancy test with a medical professional is your best bet.
This is usually done at around five weeks, when your hCG levels start to climb.
And if yours is more a situationship than a long-term partnership, this gives you time to prepare for the conversation.
Pregnancy news can be a lot to handle—it's a big life change (even if you're on the TTC journey).
Making sure you're in the right space mentally to receive any type of reaction is highly important.
Unfortunately, there is no way to control someone else's reaction.
What you can do is be as prepared as possible and have steps in place no matter the response.
Do you have to tell the guy if you're pregnant?
So, you're definitely pregnant, but you and the father are definitely not together.
Depending on the connection and the circumstance, "do I tell him I'm pregnant?" is a pretty big question.
Legally, you do not have to tell the father that you're pregnant.
But whether you feel he deserves to know is entirely up to you.
No situation is the same, and let's face it, relationships are complicated.
If you had no plans to have the father be a part of your life, the biggest deciding factor should be what are the benefits of letting him know.
This includes weighing up your emotional safety.
And remember, even if he decides not to be involved, legally, both parents must provide financial care for their child.
But this is only if the biological father admits paternity in writing or both partners can agree to paternity.
And should you choose to keep the news to yourself, the father can always apply for paternal rights down the line should they find out.
At the end of the day, it all comes down to what benefits you and the child—a decision only you can make.
But if the only thing holding you back is the awkward conversation, maybe take some time to process and plan.
With the right support behind you, you'll be in a far better place to choose right by you and your new baby.
How do I tell him I'm pregnant?
If you're a little unsure how to go about telling your partner you're pregnant, these tips might help you to get your head around the conversation.
Here are 5 tips for telling him, "I'm pregnant!":
1. Don't be in a rush
Think carefully about when would be the best time to talk, and make sure that neither of you have anything to do or anywhere to be.
Especially if your pregnancy is unplanned, you might need to chat through a number of important things.
2. Tell him in person
If you can, tell your partner in person. Important news like this often doesn't come out quite right in a text or an email.
It's better to be together so that you can read each other's facial expressions and body language.
3. Talk about how you feel
Open up about how the news has made you feel.
Being honest about your feelings of apprehension or excitement (or both!) might give your partner permission to do the same.
4. Don't take responsibility
It takes two people to make a baby—you didn't get pregnant all by yourself.
If you or your partner aren't quite sure how to handle the news, try to be gentle and kind towards each other.
And remember that you always deserve to be treated with dignity and respect.
5. Let them share their feelings
By now, you've had a bit of time to digest the news.
For your partner, it's brand new.
You might find that they go from zero to total glee in two hot seconds.
Or they might need a bit of time to come round to the idea.
Listen to what they say and try to be patient if you can.
There are many options available to you if your pregnancy is a surprise.
If you decide that you would rather not keep your baby, try to speak to your partner about it.
If this conversation is too difficult, try and talk to a friend or family member.
You could also call the National Abortion Federation for free. They'll be able to help you.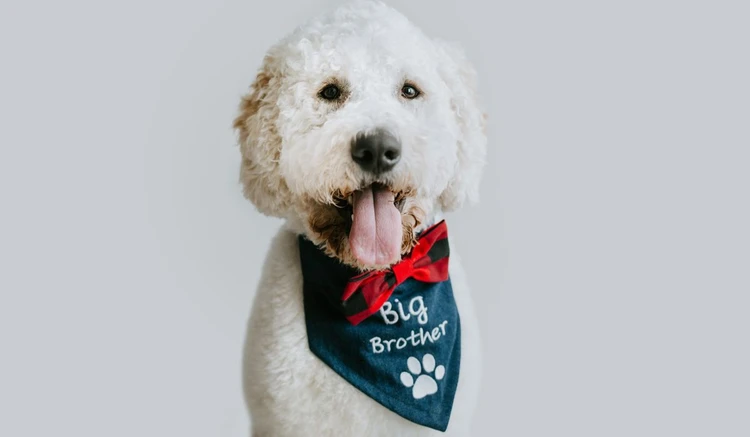 How to tell your partner about a surprise pregnancy
If your pregnancy is less of a "we need to talk" kind of surprise and more of an "I've got some incredible news" kind of surprise, here are a few fun and creative ways to tell your partner:
1. Throw diapers in your grocery bags
Ask your partner for a bit of help unpacking the groceries, and watch their face as they pull out milk, bread, carrots, diapers. Wait. Diapers!?
2. Get the older kids involved
Not your first? If you've already got an older child, grab a T-shirt that says "I'm going to be a big brother/sister" and wait for your partner to notice.
You can buy a wide range of these sorts of T-shirts online.
3. Say cheese
Suggest a group picture the next time you have a family dinner.
As everyone comes together and says, "Cheese", shout out, "I'm pregnant!".
You'll love having everyone's reactions caught on camera.
4. Be the second to find out
This one takes some patience.
Take your pregnancy test but before you get the results, leave it on the bathroom counter for your partner to find.
5. Best parent ever
Sometimes you've got to get cheesy.
Serve up your partner's coffee in a "best mom/dad/parent ever" mug or give them a brand-new "dad/mom/parent of the year" t-shirt.
6. Scatter some clues
Stash a baby magazine next to the toilet.
Place a pacifier next to their bedside lamp.
Leave a baby name book beside the kettle.
Your partner will put the pieces together in no time.
7. Don't wait
Don't plan anything too elaborate.
Just be spontaneous by letting them know the minute that you do, even if this means waking them up in the middle of the night.
8. Give plenty of proof
You both might need a bit of convincing that you are, in fact, pregnant.
Do a series of tests and spread them all out – one positive result after another.
9. The best gift
Wrap a red ribbon around your belly and invite them to unwrap it.
On the tag, write two simple words: "I'm pregnant".
10. Food first
They say that the way to a man's (or anyone's!) heart is through his stomach.
Why not say it with food?
Prepare cupcakes with "I'm pregnant" written in icing.
11. Enlist the furkids
Your furkids came first, so it's only fair that they have a role to play, too.
Pop a bow around your dog or cat's neck with a little tag breaking the news.
12. Write it down
Write a little message on your tummy and see if they spot it while you're getting changed.
Something like "10% loading" is funny, cute, and a little bit cryptic.
13. Baby food
As another food-related idea, why not create a meal made of "baby" foods, such as baby ribs, baby potatoes, and baby spinach?
Ask them to guess your meal's theme.
There's no right or wrong way to tell your partner you're pregnant.
And for some, there's no way of predicting how it will be received.
The best move you can make is to take time to prepare yourself and go with what feels true to you
And remember, there's a whole community on Peanut waiting for you. ❤️