OK listen. If you're wondering how many diapers do I need for a newborn— we'll tell you the truth. You're going to need a lot of diapers. It's just a fact of life with kids. Whatever you have stockpiled so far, multiply it by ten— for the first month. You're looking at around 2,000 diapers for baby's first year. Don't panic— it's only for a few years depending on when you conquer potty training.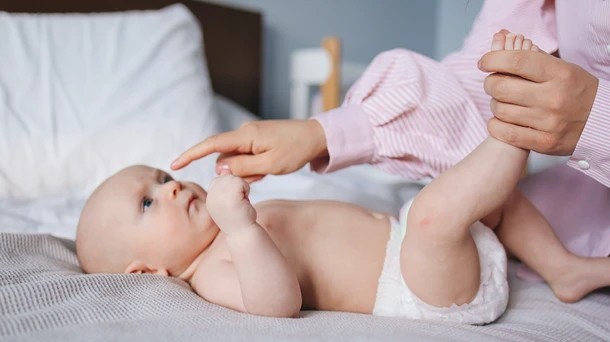 As far as the basics go, understanding diaper size is the first you'll want to learn. Diapers generally come in newborn size (0) followed by sizes 1, 2, 3, 4, 5 and 6. Here is the Pampers size chart to make it really easy, but it can also be handy to know how much your baby weighs:
Size newborn (0) diapers weight is less than 10 lbs
Size 1 diapers weight is 8-14 lbs
Size 2 diapers weight is 12-18 lbs
Size 3 diapers weight is 16-28 lbs
Size 4 diapers weight is 22-37 lbs
Size 5 diapers weight is 27+ lbs
Size 6 diapers weight is 37+ lbs
How many diapers per day?
Newborns need their diaper changed 8+ times per day. And with nervous parents, who desperately want baby to stay dry (you'll understand when diaper rash hits for the first time), it could be more than 10 per day. It's not an exact science for new parents, but a subscription is a great idea for something you'll be needing on the reg. Using AI technology, they know the diaper size and quantity you'll be needing per day and beyond.
Brands like DYPER, Honest and Happy Little Camper can deliver weekly/monthly based on your request. Even Amazon Family lets you subscribe and save on their diaper brands. A typical newborn box (designed to last 4 weeks based on DYPER's algorithm) means you'll be stocked up and ready to go month by month. That means no running out of diapers just when you need them most.
How long will I use newborn diapers?
Newborn size doesn't last very long, so do yourself a favor and keep your first box sealed. You may jump right into size 1, which lets you skip the newborn size entirely (and return said box). Since the newborn size diaper is meant for babies up to only 10 lbs, try the size 1 and if it's not roomy (you don't want any room, especially at the waist and leg opening) just start here. Our advice? Keep plenty of Size 1's around. You'll be using these for a while.
How many diapers do I need per month?
During the newborn months, you'll go through about 250 diapers per month. Diaper companies know this so they package newborn size and size 1 diapers in packs of about 70 (a generous week's worth). Hello Bello (created by parents Dax Shepard and Kristen Bell) offers great "bundles" that include exactly what you'll need per month as far as diapers and wipes. The included quantity decreases as the baby grows. Size 6 diapers, for example, come in quantities of about 120 per month.
How many diapers do you need the first year?
The good news is that you use less and less diapers over time. By month 6, you'll be down to about 150 per month, equaling about 1500-2000 per year. Yes, it's a lot (and this is why eco-minded and budget conscious people DO go the cloth route), but make sure to join any rewards program you can. This may be the time to sign up for Target's 5% discount card (hell yes!) or to join BJ's or Costco for their very well-priced diaper discounts. As your baby nears one year you may even start entertaining the dream (or reality) of potty training. If and when this is successful, you'll transition to nighttime diapers (for naps and sleeping) and only need quantities of about 14 per week.
And if you're wondering whether diapers expire, they technically last up to 3 years, but you can realistically use them for much longer.
How many baby wipes do I need?
This is also a big expense, as you'll be using a lot (seriously, a lot) of wipes during the diaper wearing months and years. It really helps to buy large quantities (again, BJ's, Costco, etc) to cut down on price. You'll likely use 2-3 at every diaper change— and way more for those extra crazy poops that seem to travel up and around every single nook and cranny. So for a newborn, plan on using a 150 pack per week. Trust us, you don't ever want to be caught without wipes at the ready. Go with the 500+ pack or multi-pack boxes and save on cost and packaging waste.
post: 68480
Are there eco-friendly diaper brands?
A lot of the usual suspects (Pampers, Huggies, Luvs) have made a real effort at being more healthy for the baby and for the environment. For example, Pampers Pure has no chlorine, no fragrance and no parabens for baby's sensitive skin and Huggies Special Delivery diapers are plant-based (no chlorine, fragrance or parabens as well). If you're looking for a newer, more "clean" generation of diapers, Peanut mamas love Seventh Generation, Honest, Eco Pea, Andy Pandy, Babyganics, and Nest Diapers for their more overall-eco awareness.
How many cloth diapers do I need?
If you're on a mission to be more eco-minded, go for cloth diapers. This is hands down the best diaper type for the earth and for your little peanut. But… we're not lying when we say that it's going to take some effort on your part to take on cloth full force.
It will save you a lot of money, especially in the long run, as cloth diapers are reusable and often expand in size (thanks to many extra snaps/closures) to last for many, many months. To get started with cloth diapers, we recommend a set of 10-12 in your arsenal. If you aren't laundering them or hand-washing them every day, you may want a few more in the rotation once you're committed. You can buy liners or inserts as well - you would need one per change, so about 10 per day for newborns - depending on just how earth-friendly you want to be versus how tolerant you are of cleaning all. that. poop.
For more advice and guidance, why not ask the mamas of Peanut?
👶 See next:
10 Best Baby Changing Tables, Chosen By Real Moms
How to Change a Diaper
How Many Burp Cloths Do I Need?
How to Give a Newborn a Sponge Bath
Newborn Hiccups: Why They Happen & How to Stop Them
How To Wash Cloth Diapers
Mucus in Baby Poop: What to Know
How Many Crib Sheets Do I Need?
Diaper Bag Essentials Not To Forget
Is Baby Powder Safe?
Bringing Your Newborn Baby Home from Hospital
Newborn Chapped Lips: Why It Happens and What to Do
5 Best Diaper Pails Chosen By Real Moms
What to Know About an Infected Umbilical Cord
What You Need to Know About Yeast Diaper Rash