IVF (in vitro fertilization) gives hope to a lot of people who want to grow their families. But choosing to take the leap can be complicated.
Knowing that you want to have a baby is usually something that comes from your heart, not your head.
The problem is, IVF can be so expensive that the majority of people have to factor money into the decision too.
IVF cost varies a lot depending on which clinic you choose, your health insurance, and what kind of procedure you need.
Here's a quick guide to what you can expect.
In this article 📝

How much does it cost to get pregnant by IVF?

How much is IVF out of pocket?

IVF cost: More things to consider
How much does it cost to get pregnant by IVF?
It's difficult to say exactly how much IVF treatment costs because every situation is different.
Doctors usually refer to "rounds" or "cycles" of IVF.
A cycle consists of preparing your body to ovulate, harvesting the eggs, fertilizing them, implanting an embryo, and lots of close monitoring before and after.
Some women get pregnant after only one round of IVF, others will go through the process more than once.
On average, an IVF cycle costs somewhere between $12,000 and $17,000. Why the massive price range in the cost of IVF? Because each clinic will have a different charge for each part of the process:
Fertility testing can cost $2,000–4,000.

Your consultation with the doctor can cost $300–750.

The medications can cost $3,500–5,000.
Bloodwork and ultrasounds can cost $2,000-3,500.

Egg retrieval can cost $2,000–3,000.

Fertilizing the eggs in the lab and preparing them for transfer can cost $2,000–4,000.

Anesthesia can cost up to $750.

The embryo transfer can cost $1,500–5,000.

Storing frozen embryos can cost $600-1,000 per year.
You might also need to factor in
The cost of donor sperm – $300–1,000.

The cost of donor eggs ­– up to $30,000.

Genetic testing for the embryos – $1,500–6,000.

ICSI (intracytoplasmic sperm injection, where a single sperm is injected directly into the egg) – $1,500–2,500.
Given the range in price for each individual step, you can see why it's so difficult to estimate the cost of IVF before you approach a clinic.
How much is IVF out of pocket?
The out-of-pocket cost of IVF differs a lot depending on your insurance provider and the clinic you choose.
If you choose to travel to a clinic, ticket prices, accommodation, and food are also significant costs to consider.
Thankfully, IVF cost with insurance is often lower.
A lot of providers will cover your doctor's consultation, the monitoring, and part of your medication costs, if not more.
There are also some states where there's a mandate for health insurance to cover a certain amount of fertility treatment.
IVF cost: More things to consider
When you first approach an IVF clinic, you might have to do some digging to find out how much you're going to have to pay, and whether there are any options to help ease the financial strain.
You might be feeling overwhelmed already, but it can help to have these things on your radar.
Find out exactly what's included
If one clinic seems much less expensive than the others, make sure you know exactly what they're including and what's bringing the cost down.
For example, one question that's always worth asking is how much contact you'll have with the fertility doctor rather than the technicians.
Look at the success rates
As well as looking at the bottom line, you should be able to research a clinic's success rates.
If they have a track record that suggests you might need fewer cycles before you get pregnant, it could work out as a savings.
Ask about payment programs
Some clinics have payment programs to make IVF more affordable.
Spreading the cost over several months or years can make the big bill more manageable.
Think about refund options
And if you're eligible for a refund program, it means that if you don't get pregnant after a certain number of cycles, you get some of your money back.
The downside here is that these programs can end up costing more if you do get pregnant quickly.
IVF bruising
IVF isn't just a financial cost, it can also be a physical cost.
Many people who undertake IVF experience IVF bruising.
It's usually nothing to worry about, but if you are concerned, speak with your doctor.
Not sure what IVF bruising looks like on your skin tone and body type? We've got you covered: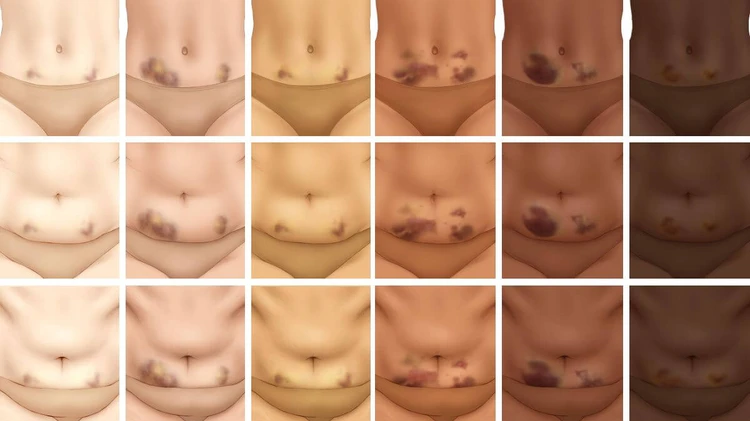 And last of all, remember that IVF can take a lot out of you emotionally as well as financially.
It's easy to say "it'll be worth it when you hold your baby," but the journey can still be tough.
You don't have to go it alone – the Peanut Community is there for support.
💡 More from The 411:
Fertility Treatments: 7 Options if You're Struggling to Conceive
Do Fertility Supplements Work?
Ovulation Tests: How They Work & When to Use Them
6 Essential Oils for Fertility
What is a Reproductive Endocrinologist?
What to Understand About Egg Freezing
AMH Levels: What Do They Mean?
Do Prenatal Vitamins Help You Get Pregnant?
How Much Does It Cost to Freeze Your Eggs?
40 Fertility Foods & the Science Behind Them
Becoming and Being a Lesbian Mom