When we discovered that 70% of pregnant women were suffering extreme loneliness because of the pandemic, we knew we had to step in.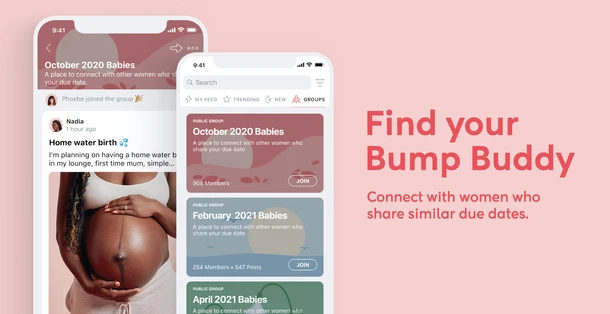 Here at Peanut, our core mission has always been to provide support, community, and connection. We're committed to building tools to make women's lives better.
And at a moment in time where pregnant women are experiencing such a monumental life change, the pandemic has created a bigger need for these tools than ever before.
That's why we're excited to announce the launch of Bump Buddies, a new way for expectant mamas sharing similar due dates to connect, chat, and share advice with each other.
What's Bump Buddies?
With pregnancy classes and IRL meet-ups cancelled, having virtual ways to meet women who understand what you're going through has never been so important.
Our new Bump Buddy groups make that simple.
They connect mamas-to-be who share similar due dates to help them navigate every stage of pregnancy, as well as foster new and supportive friendships with women going through the same joys and challenges - from first scans to birth plans!
How does Bump Buddies work?
When you join Peanut, you'll be able to add your pregnancy to your profile and tell us how far along you are.
Using this information, we then automatically add you to a group dedicated to your due date and location. Clever, huh?
To find your group, simply head to the profile tab and tap 'My Groups'. You'll find something like 'July 2021 Babies 🇺🇸'.
Don't just take our word for it
*"I joined Peanut during the pandemic and it has helped me cope with isolation in this strange time.
Just knowing there are other women in the world going through the same feelings and emotions as you makes you feel you are not alone." - Eleni*
"Being pregnant during a pandemic has been lonely and scary. Being on Peanut helped me relax as I can chat with other women and learn new things to prepare myself for motherhood. It's nice knowing that we're all in this together." - Katy
And if you're not currently expecting, why not pass this on to a friend who is?