Still getting over the isolation of the pandemic? Here are my tips on how to make mom friends, post-pandemic, to combat anxiety and loneliness.
After over two years of hardships and loneliness taking a toll on our mental health, the light at the end of the tunnel is always growing brighter.
Vaccination rates are on the rise, and safety protocols in place around the world all point to progress being made and a chance to finally get together in person.
So it's a great time to get back out there and reconnect with other moms.
But how do you make mom friends in a post-pandemic world?
In this article: 📝

Social struggles in a pandemic

How isolation has affected moms

How can an introvert make mom friends?

Where to meet other moms for the first time
Social struggles in a pandemic
Returning to life as we know it feels pretty complicated.
We've grown accustomed to social distancing, wearing masks, and just not interacting with others as we normally would.
So it's no surprise that we're left wondering how to safely socialize again as things begin to improve.
Those first few encounters may leave you feeling a little socially awkward as you struggle to greet an old friend or family member after months of no contact.
You may go in for a hug and kiss and then stop yourself — trying to decide if waving and blowing a kiss from afar is better.
You second guess yourself, not knowing which greeting is actually appropriate in the moment.
Maybe you lost touch with newer friends and acquaintances after not seeing and talking for months.
You wonder if it's a relationship worth nurturing again and how to reconnect after the Covid pandemic.
Or perhaps, you're unsure of where to even start connecting and simply make new friends.
Whatever the case, rest assured you are not alone.
Socializing safely after surviving a pandemic is a predicament all moms face.
Find friends near you
Over 17M connections made by 3M+ women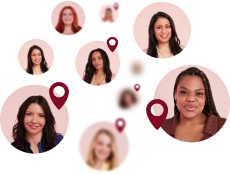 How isolation has affected moms
Isolation from loved ones and the lack of human interaction have contributed to loneliness and depression in many people, including mothers.
New mom loneliness is a real thing during the postpartum phase ‒ add to that a pandemic and things can really spiral.
A report from Harvard found that 51% of mothers with young children feel serious loneliness.
Expecting moms and moms of little ones are also susceptible to postpartum depression when a support system is lacking.
It makes sense, how a supportive village of friends and family is needed to survive the physical and emotional demands of motherhood.
How can an introvert make mom friends?
So how do you begin to find that support during a pandemic?
It's all about taking things in steps.
Communicate comfort levels
One of the first things you can do as you prepare to initiate contact with others, is to get clear on your comfort level when it comes to socializing again.
Meaning, are you only looking to meet up with friends outdoors?
Are you vaccinated?
Would you feel more comfortable wearing a mask?
The Centers for Disease Control (CDC) has come out with new guidelines describing which types of gatherings are safe to do without a mask, depending on vaccination status.
You can use that as a guide to get started and decide what is appropriate for you and your family.
Then, make sure you understand how the other person feels and communicate expectations so you are both on the same page.
This will help alleviate nerves and avoid any awkwardness in person.
The last thing you want, is to be unsure of how to interact with friends and compromise anyone's safety.
Reconnect with old friends
While you might assume it's been a little too long to connect with people you were just getting to know before the pandemic hit, the reality is, everyone is craving connection.
That mom from the preschool playgroup, the neighbor with a new baby, or the woman you use to join for drinks, could all benefit from another adult friend to talk to.
Sometimes there are mental obstacles to overcome — like the feeling that no one remembers us or that we don't belong.
You and other friends alike, may experience this, especially after being isolated for months.
And chances are, those acquaintances you haven't seen or heard from since last year, want to get together just as much as you do — they just don't know where to start.
So if you feel a tug and want to reach out, get the lines of communication going with a simple invite out for a walk to catch up.
How do you make small talk with other moms?
If you're anxious about what to say when you're meeting with other moms, here are a few tips that I found really helped:
Swap stories ‒ every mom has a story to share, so share yours and listen to theirs.

Ask how they chose their child's name.

Ask for their opinion on something that you've been thinking about or struggling with. Some ideas are baby-led weaning, baby milestones, nursing clothing, or the best places in your area to bring baby.

If you're not sure how to start a conversation, Peanut has some great icebreakers for when you first connect with another mom in the app.
Find friends near you
Over 17M connections made by 3M+ women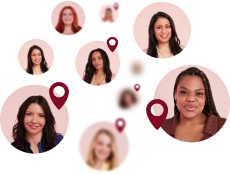 Where to meet other moms for the first time
And another big pain point for new moms during the pandemic?
Meeting other moms for the very first time!
The pandemic has made it nearly impossible to get together with people outside of your home.
It can feel like it's robbed you the opportunity to join those mommy and me classes in person for the social benefits.
Social networks like Peanut are a great way to start connecting with moms to break-the-ice.
The app matches you with local moms based on similar interests and goals— so it's easier to connect with like-minded moms in the same stage of life.
Whether you have a newborn, a three-year-old or baby on the way, Peanut makes breaking the ice a little easier to help you form meaningful connections and make friends.
It's a wonderful way to safely connect with moms online first, and then pick a date to meet-up in person when ready!
And by then mama, you will have mastered the should-I-wave-or should-I-hug, pandemic greeting dilemma!