Looking for a mum friend? Someone who's been there and gets it? We got you, with tried and tested tips on how to make mum friends near you.
Making friends as a mum can be hard, especially when you're a new parent.
But when you're a mama, sometimes you need someone to talk to – specifically, a friend who is also a mum.
Someone who's been through the same stuff – wiped baby bottoms, been up all night, and survived "the witching hour", tantrums, and potty training.
Oh, and preferably someone who doesn't mind a little buddy coming along on your friend dates.
It might feel like you're alone in your journey as a mum, but really, there's a whole planet full of other mums who are in the same boat.
So whether you're looking for a playdate for your little one, a new mum group to join, or just someone to chat with over coffee, there are plenty of ways to meet other mums and make lasting connections, through the ups and downs of motherhood.
So, how do you do it? Who are these other mamas? And where can you find them?
Relax, mama, we've got you covered, with tried-and-true tips from our very own Peanut community of mums.
In this article: 📝

Tips for meeting other mum friends

How to meet other mums near you

Are there any apps to find mum friends near me?

How to meet mums in your local city

How do I meet other pregnant mums?

How to make mum friends
Find friends near you
Over 17M connections made by 3M+ women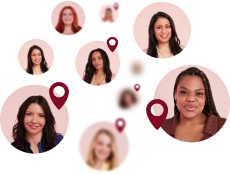 Tips for meeting other mum friends
Let's get straight into it with tried and tested tips on how to make mum friends, from real women.
"Start with wine or coffee! Works every time…" ‒ Jess

"Find something you like or are passionate about (a hobby or organization), and find mama friends through that interest ‒ sometimes, I find if you already have some common ground, it makes it easier to find other topics to talk about, and a topic you can fall back on during those awkward lulls!" ‒ Sarah

"Keep at it. Even if one mum friend doesn't work out, your bestie could be right around the corner." ‒ Amy

"I've made loads of friends at baby groups we go to. In some groups, some mums are not up for making friends, but others are, so just try some groups and get chatting. Let your babies lead! We have lots of free groups in churches, too." ‒ Lisa

"You have to prioritise your friends. Have some time with them every week and let the father/family babysit." ‒ Catherine

"Go. To. The. Park! Your kids will burn off energy and there will be other mums to talk to." ‒ Noor

"Put yourself out there, be yourself, keep the conversation going, ask questions to get to know each other better, go places to meet people (parks, school things, beach, zoo). Honestly, I'm still working on making some good friends, but I've noticed that it's helped when I put myself out there and get out of my comfort zone." ‒ Cassandra

"I just reach out to people and be friendly. I've made some decent connections by just putting myself out there and reaching out to new people!" ‒ Madison

"Try not to cancel! If you've arranged to meet other mums, especially if you're a new mum, it can be so easy to just put it off. Don't!" ‒ Bree

"Babies are the best opener. If you're not sure what to say to a potential mum friend, just ask how old their kid is, tell them how old yours is, and you'd be surprised how quickly you just start chatting." ‒ Rebecca

"It's just putting yourself out there and being forward. Cause like a lot of women right now are all in the same boat, especially post-lockdown like we just all have felt kind of lonely. I've noticed when I just flat out say that whenever I meet someone new, the other person typically agrees and feels the same." ‒ Brandi

"I searched online for mummy-and-me events near me, went to a couple ‒ a few were crap, but some were really good, and I chatted to some other mums there." ‒ Lisa

"I think it's all about making time for one another even if it's just for 10 mins throughout the day. That's how you keep a friendship flowing." ‒ Adele

"One of the best places I have met mum friends is the local library; 4 so far!" ‒ Kim

"Be flexible, and expect the same from your friend. You both have kids, so there will be times when you plan to hang out but your baby is still napping, or your friend's child has a fever. It happens. With mum friends, it's key to be flexible with schedules. Also, don't be nervous if your new friend doesn't text you back right away – she probably has a good reason." ‒ Becki

"Don't force it. Making new friends can be like dating. You might hang out with a new mum friend a couple of times but then realise you don't have much in common. That's okay! There are plenty of fish in the sea. Keep trying!" ‒ Sofia

"Forget about the age difference. This goes for the mamas and the kids. If the other mum is 40 but you're 25, you might still have a great time. Or if one of you has a baby and the other has a 2-year-old, the kids might still have a lot of fun together." ‒ Aisha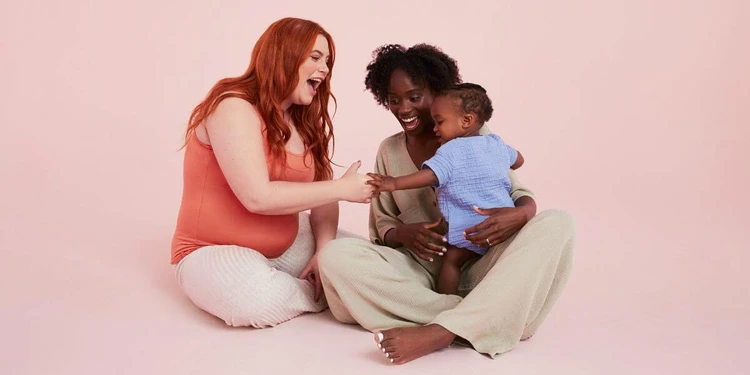 How to meet other mums near you
Meeting other mums is a great way to make new friends, get support and advice, and have fun with your kids.
It can be hard to find other mums in your local area, but with a few creative steps, you'll be able to connect with other like-minded mums.
Taking the time and effort to put yourself out there can lead to some great friendships and meaningful connections.
So, if you're looking for ways to meet other mums near you, read on to find out more about how to go about it!
1. Join local mum groups
Meeting other mamas is all about finding where they hang out.
The great news is that there are usually lots of options.
If you live in a larger city, there's a good chance you can find some mum groups to join.
A quick Google search of "mum groups near me" should show you a few options, along with local bulletin boards, school newsletters, and libraries.
And if you join a mum group and don't like it, you don't have to stay in it.
Some mum groups may have regular meetups, playdates, or hangouts, which can make it easier to break the ice.
If an in-person mum group is feeling a bit intimidating at the moment (which is totally understandable, mama), why not try something virtual?
Ever since the pandemic, online relationships have become much more meaningful ‒ just because you haven't met someone in person doesn't mean there can't be a connection.
You're sure to find plenty of locally-based groups that gather virtually (or even hybrid groups that have both physical and virtual get-togethers).
2. Get online
It can be easy to overlook the social aspect of social media in the midst of filters, face-tweaking, and seemingly flawless households (no one's house is that clean if they have kids!).
But social media can be a wondrous device for connecting with nearby mums – or even those from distant places.
3. Find local mummy-and-me classes
In most towns and cities, there are mummy-and-me classes, for newborns, babies, and toddlers.
First, try local community centres and libraries ‒ they often have baby and toddler playgroups, reading groups, and even dedicated mama groups.
These can be great places to meet mamas in your area.
Find friends near you
Over 17M connections made by 3M+ women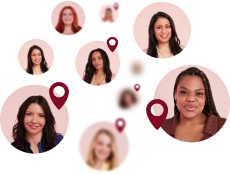 4. Go to local mummy coffee mornings
A little less 'formal' than mum groups, with coffee mornings, you can just rock up at your local coffee shop (if they're hosting a mum coffee morning), get your much-needed cup of joe, and get chatting with other mums.
If there aren't any mummy coffee mornings near you, but there is a cafe, then why not start one yourself?
Ask the coffee shop owner if they're happy to host, create the event on social media, and put up a few posters in the cafe.
Then see what happens!
5. Go outside
Unless you live very remotely, chances are that there are other families who live around you.
See another mama walking around with a stroller? Say hi!
She'll probably be happy to talk to another adult.
Parks are a great place to meet mum friends, too ‒ and yes, you are totally allowed to use your child as a wingman.
Is your toddler playing side-by-side with another toddler at the playground?
Suggest to the other child's parent that you should have a playdate!
Does your child have a birthday coming up?
Invite a couple of their best friends and their mums to a special small birthday party or outing.
6. Use the school run
If you do school drop-off or pick-up, take a little extra time to make small talk with the other parents.
You can also try getting involved with a bake sale, the PTA, or another school organisation.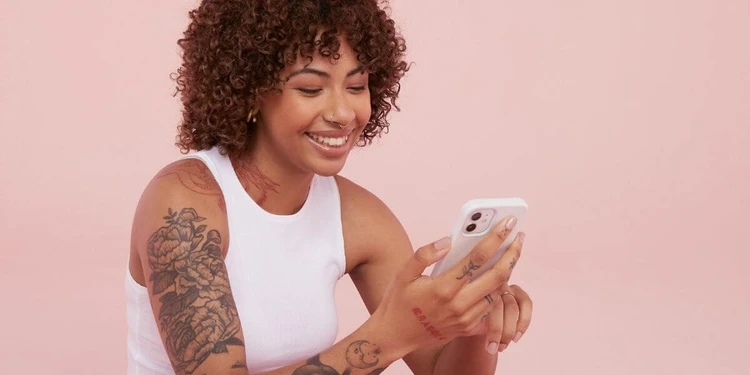 Are there any apps to find mum friends near me?
Yes, it's the Peanut app!
It's a safe, online space for women to chat and seek advice from each other.
On Peanut, you can connect with other mums one-on-one, participate in mum Groups (local or for shared interests), join audio-only Pods (no need to glam up for us!) as well as ask questions and share stories with the Peanut mum community.
Plus, you can even get tips from qualified professionals.
Interested? Of course you are!
Find out more about Peanut here.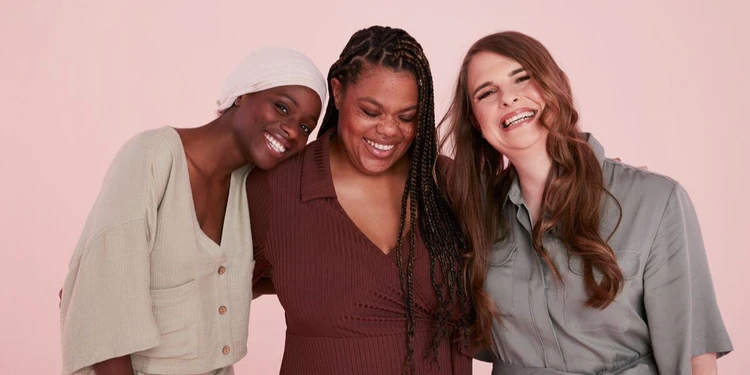 How to meet mums in your local city
Looking for a mum group near you?
No need to scour the web, we've got the best groups right here, wherever you are.
England
If you want to be part of a wider group of UK mums based in England, you're sure to be welcome here.
You can even make friends with people further afield, and pay them a visit during your next staycation with the kids!
So from Land's End to Northumberland, you'll find mamas from all over England here.
London
The hustle and bustle of The Big Smoke can be overwhelming, and so having a strong support system of local mum friends is invaluable.
From baby yoga classes and visits to the park to grabbing coffee or seeing the sights (London Eye is free for under threes), having a friend to share the highs and lows of mamahood with is a great source of comfort.
So go on ‒ arrange a get-together with other London mums!
Need some inspo for venues? How about the Tate Modern, the Science Museum in South Kensington (there's an amazing sensor section for little 'uns), or a stroll around Hampstead Heath, if you're lucky and it's a sunny day.
Birmingham
There are plenty of activities to keep you and your little ones busy in Birmingham, like visiting the botanical gardens or spending the day at LEGOLAND.
You'll never run out of things to do with your Birmingham mum friends ‒ how about meeting up with the kids at the National SEA LIFE Centre, Teenie Weenies indoor soft play area, or get some fresh air at Cannon Hill Park?
Manchester
From the school run to the dreaded teenage years, you'll never be short of a listening ear in Manchester.
Plus, you get to take part in all the fun family activities that Manchester has to offer, like the SEA LIFE Aquarium, Stockeld Park, or even the library.
And don't forget the all-important coffee catch-ups with your mum friends - you'll need those to stay sane!
Leeds
Leeds is home to a great range of activities and attractions for families, from parks and playgrounds to museums and galleries ‒ Harewood House Trust, Diggerland, or even the trampoline park!
You can also find lots of local support groups and classes, offering advice and guidance on parenting.
With so much going on, you will never be lacking in things to do with your new mum friends.
Nottingham
With a range of family-friendly activities, parks, and attractions, there's something to suit every family in Nottingham.
It's a vibrant city, with plenty of culture, events, and activities to enjoy with your family or mum friends.
Whether you're looking for a day out, or something more adventurous, motherhood in Nottingham has something for everyone ‒ how about organising a meet-up at Planet Bounce, Wollaton Hall, or painting your own pottery at Razzle Dazzle Pots (honestly, it's more fun than it sounds!)?
Bristol
Bristol has long been known as a hub of creativity, with a wide variety of unique mother-and-baby classes, from music to swimming, Bristol is a great place for mums to bond with their little ones and make life-long mum friends.
The city also offers plenty of support for new mums, from local breastfeeding groups to postnatal yoga classes ‒ and they're great places to meet other mums!
Need more ideas of where to arrange your mum friends get-together?
How about the Hippodrome for a baby-friendly play, a jaunt around the Bristol Aquarium, an educational (but fun) trip to Windmill Hill City Farm, or a relaxing walk around the University of Bristol Botanical Gardens?
Scotland
With the rolling hills and glistening lochs, Scotland is a paradise for mums and kids alike.
From the picturesque cities of Edinburgh and Glasgow to the rural villages of the Highlands, there's something for every kind of mum to enjoy.
And mum friends in Scotland are always there ‒ whether you're swapping stories of parenthood over a cuppa or taking the kids out for a day of fun.
So meet up with our Scottish mums ‒ bring the kids or go solo.
Here are some ideas for where to meet up: Edinburgh Castle, Loch Ness (Nessie aside, it's a beautiful place for a walk), Willow Tea Rooms, or Active Kids Adventure Park.
Wales
From Folly Farm and Zip World to a trip to the cinema or one of the many local parks, there's always something to do in Wales as a mum!
Whether you're looking for a playdate for your kids or a night out for yourself, mum friends in Wales are the best.
Northern Ireland
From the bustling streets of Belfast to the rolling hills of County Down, mums in Northern Ireland have plenty to do.
And if you're looking for mum friends to do all that with, we've got you covered.
Looking for somewhere baby-friendly in Northern Ireland to meet up?
How about the Botanic Gardens, Roar Explore soft play area, or Belfast Zoo?
Ireland
Being a mum in Ireland is amazing!
You get to explore the wonderful Irish countryside, from the Cliffs of Moher to Blarney Castle.
So, grab a mum friend, get out there, and explore the Emerald Isle!
Some ideas for baby and toddler-friendly meet-up spots in Ireland: St. Stephen's Greek Park, Greenan Maze, Warrenpoint Beach, or Kylemore Abbey make great visits.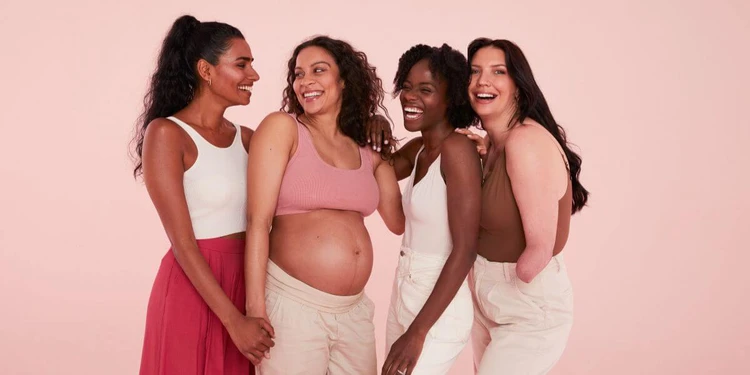 How do I meet other pregnant mums?
If you're looking for other pregnant mums to hang out with, you've come to the right place!
There are plenty of ways to meet other pregnant mums, so don't be shy.
Plus, if you find someone with a similar due date, you could have a mum friend (and your baby's playdate) for life!
So go on, get out there and meet some new mums!
Prenatal classes and birth preparation classes
If you're looking for other mums-to-be, consult your OB-GYN for local prenatal class.
You can also look into private classes or workshops run by certified childbirth educators.
These classes are often offered in the evenings or on weekends, so make sure you check their schedules in advance.
They're great for learning more about the birthing process and helping to prepare you mentally and emotionally for the big day.
When you're there, don't worry about what to say, just find out the due dates and experiences of the other expecting mums ‒ you're bound to discover some shared experiences and soon enough you'll have a pregnant mum friend!
Pregnancy exercise classes
How about giving prenatal yoga, swimming for expecting mothers, or pilates during pregnancy a go?
They're a great way to stay active and make pregnant friends.
See if the gym in your area offers classes specifically tailored to pregnant women and give them a try.
There are some free or low-cost pregnancy exercise classes that are open to the public, too.
So if you're on a budget, these could be an ideal option.
Find friends near you
Over 17M connections made by 3M+ women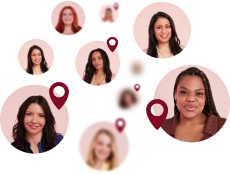 Pregnancy groups
Finding a pregnancy group can be a great way to connect with other mums-to-be who understand what you're going through.
If you're looking to join a pregnancy group, the first place to start is by asking your doctor.
They might know of organised meet-ups and support groups in your area that you can attend.
You can also keep an eye out for notices in local cafes, libraries, and shops.
Another great resource is online forums and support groups.
A simple Google search should turn up a few options where you can connect with other expecting mums and learn more about pregnancy.
These days, it's easier than ever to find a pregnancy group that fits your needs.
With a little bit of research, you should be able to find one in no time!
Find your Bump Buddy
Ever heard of a Bump Buddy?
Well, it's someone who has the same due date as you!
On Peanut, you can join a Group of other pregnant mamas with a similar due date and share your pregnancies together.
And for those looking for advice and support from other mums who have been in the same situation, or are right there with you, there's an even larger 'Pregnancy & Motherhood' Group where real mums can chat and give each other advice.
So if you're pregnant (congrats!), pick out your due date month and find your Bump Buddy: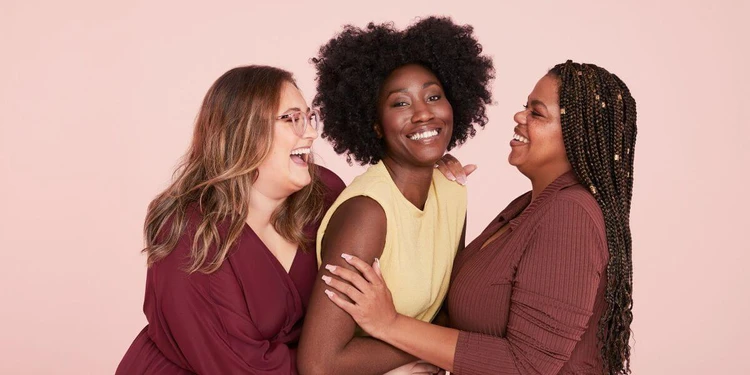 How to make mum friends
So, you've met some other mamas. Cheers to that!
But how do you turn these mamas into friends?
Well, here are some talking points to get things started (because all friendships start somewhere):
Get to know them: Have conversations, ask them questions, and share stories and experiences.

Do activities together: Plan events, sports, crafts, or other fun activities that you can do together.

Take an interest in their lives: Ask how their day was, talk about their hobbies and interests, and show that you care about their well-being.

Spend quality time together: Think about ways to create opportunities for meaningful conversations and shared experiences.

Follow up: Reach out to them after you've met to stay in touch and check in on how they're doing.

Invite them to events: If there are events and activities that you enjoy, invite them to join you.

Offer help: If they need help with anything, offer to lend a hand.

Keep in touch: Stay in regular contact through email, text, phone calls, or even Peanut, so they know they can rely on you.
Yes, making new mum friends can be awkward.
But you can do it ‒ everyone starts somewhere.
Good luck out there!
Find friends near you
Over 17M connections made by 3M+ women