If you're looking for something exotic or want to pay tribute to your heritage, Indian baby names are a great place to start. While many cultures tend to favor pretty timid names for women and strong, war-like names for men, this is not the case with Indian names.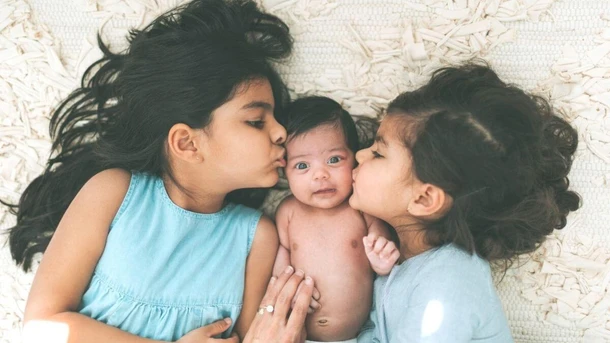 Instead, both Indian girl names and boy names focus on common themes such as beauty, divinity, and nature – with some religious references as well. To celebrate the birth of your beautiful baby boy or girl, pick from our list of Indian first names below.
In this article: 📝

What are some cool Indian names?

What are some Indian names for a boy?

What is a good Indian name for a girl?

Which is the rarest name in India?

190 more Indian baby names

Discuss your Indian baby names with other mamas
What are some cool Indian names?
As cultural delights like Bollywood and Bhangra music continue to grow in popularity, Indian names have begun to develop a pretty 'cool' reputation. But how can your little one be the coolest kid on the block? Choose from one of these en vogue monikers:
Cool Indian names for girls
Adah – meaning 'decorated'
Anaisha – meaning 'special'
Ananya – meaning 'unique' as well as a reference to the goddess Parvati
Asmee – meaning 'self-confident'
Ishana – meaning 'rich'
Ishita – meaning 'desire' or 'greatness'
Kaia – meaning 'stability' or 'from the Earth'
Kashvi – meaning 'shining'
Kimaya – meaning 'divine'
Krisha – also meaning 'divine'
Larisa – meaning 'cheerful'
Mahika – meaning 'dewdrops'
Mirai – meaning 'miracle'
Navya – meaning 'young'
Rebecca – meaning 'captivating'
Shanaya – meaning 'first ray of the sun'
Shrishti – meaning 'universe'
Taara – meaning 'star.'
109 women are talking about 'Indian baby names' on Peanut. Download the app to join the conversation.
Cool Indian names for boys
Aarav – meaning 'wisdom'
Akanksh – meaning 'desire'
Alex – meaning 'to protect'
Anant – meaning 'infinite'
Bhuv – meaning 'heaven'
Dasya – meaning 'a gift from God'
Gian – meaning 'master of knowledge'
Hem – meaning 'gold'
Idhant – meaning 'luminous'
Ishank – meaning 'peak of the Himalayas'
Jash – meaning 'fame'
Jay – meaning 'victory'
Kahaan – meaning 'universe'
Kevin – meaning 'handsome'
Laksh – meaning 'destination'
Mohammad – meaning 'the praised one'
Nimit – meaning 'destiny'
Raj – meaning 'king'
Ranbir – meaning 'brave warrior'
Raunak – meaning 'shining'
Rishit – meaning 'the best'
Sadhil – meaning 'perfect'
Taarush – meaning 'conqueror'
Taksh – meaning 'Lord Ganesha'
Vivaan – meaning 'full of life'
Yash – meaning 'fame'
Zuber – meaning 'pure.'
What are some Indian names for a boy?
If you prefer the traditional, here are some of the most common Indian names for boys:
Anaka
Anala
Anandita
Anang
Ananta
Anbarasi
Anbu
Andal
Bakul
Balabhadra
Balakrishna
Brahma
Chahna
Chaitali
Chaitanya
Deshan
Durga
Gambhira
Gulshan
Hanita
Hansika
Harsha
Harshad
Himesh
Jivan
Johar
Kalinda
Kalindi
Kalynda
Lakshman
Lalika
Mahavir
Mahavira
Mahesh
Monisha
Nalin
Naman
Nameen
Neena
Sareek
Sareeq
Sariq
Shaili
Shakeela
Shashi
Soma
Tanaya
Tanea
Tenaya
Tippoo
Tipu
Udayan
Umed
Vanita
Varoun
➡️ Don't miss our full list of Indian baby boy names
What is a good Indian name for a girl?
Can you see that we're pretty spoiled for choice in both boys and girls? Similarly, you'll find more common Indian names for girls here:
Aditi
Ahalya
Aja
Alka
Amar
Amata
Ambar
Anala
Angee
Anila
Anjali
Anju
Anjuli
Anuradha
Artha
Candy
Charu
Damayanti
Devi
Divya
Drisana
Durga
Eshana
Hansika
Indu
Ishani
Jaya
Kaeya
Lata
Monisha
Neesha
Nisha
Rashana
Rashanda
Salena
Salina
Sana
Shaila
Shaili
Shalee
Shaleena
Shalena
Shalene
Shanta
Shantai
Shanti
Shyla
Shylah
Tanaia
Tenaya
➡️ Don't miss our full list of Indian baby girl names
Which is the rarest name in India?
Some of the rarer Indian names may have religious connotations, but are no less beautiful and the perfect choice for your baby. Consider names such as:
Rare Indian names for boys
Aaban – 'name of the angel'
Balakrishnan – 'young Krishna'
Calvert – 'shepherd'
Devesh – 'Lord Shiva'
Eashan – 'Shiva'
Fakir – 'a saintly person'
Gangesh – 'Lord of the Ganges River'
'Hardeep' – 'lamp of God'
Ishan – 'Lord Shiva of wealthy sun'
Rare Indian names for girls
Arshia – 'heavenly divine'
Baldev – 'the mighty God'
Christine – 'Christian faith'
Dharmini – 'religious'
Gurinder – 'Lord'
Harbhajan – 'a devotee absorbed in the Lord'
Ishwin – 'one who praises the Lord.'
190 more Indian baby names
Still not convinced? Try some of these on for size:
Boys
Aarav
Aarush
Aayush
Avyaan
Advik
Akarsh
Anay
Atharva
Arhaan
Ahaan
Arnav
Adhrit
Aryaman
Bhaavik
Bhavin
Chitaksh
Daksh
Darshit
Devansh
Dhanuk
Dhairya
Divij
Divit
Divyansh
Ehsaan
Eeshan
Faiyaz
Farhan
Gatik
Gauransh
Hardik
Himmat
Hriday
Hridaan
Hunar
Ishir
Ikshit
Ishaan
Ivaan
Izaan
Jaiyush
Jivin
Kanav
Krishiv
Kiaan
Kushagra
Krish
Lakshay
Lauhit
Lakshit
Manan
Manav
Medhansh
Moksh
Navodit
Nimit
Nirvaan
Nishith
Ohas
Ojas
Parv
Pranay
Pratham
Purab
Raghav
Ranbir
Reyansh
Ritvik
Ryan
Rudransh
Saatvik
Savar
Sahil
Saksham
Samar
Samarth
Shaan
Saihaj
Shayak
Shlok
Shray
Stuvan
Suveer
Taksh
Tanvik
Tanmay
Tejas
Ujjwal
Umang
Uthkarsh
Vaibhav
Vihaan
Viraj
Virat
Vivaan
Yug
Yuvaan
Yuvraj
Zain
Girls
Aadrika
Aarya
Akshara
Anahita
Anaisha
Anika
Anvi
Ananya
Arushi
Aradhya
Bhamini
Charvi
Dhriti
Disha
Diva
Drishya
Ela
Eshana
Eenakshi
Hamsika
Hrishita
Hrida
Inaaya
Inayat
Ishita
Ishani
Ira
Jaisvi
Jhanvi
Jivika
Jiya
Kashvi
Kavya
Keya
Khanak
Khushi
Kiara
Kimaya
Lasya
Lavanya
Mahika
Maitreyi
Mannat
Miraya
Mishika
Medhasvini
Myra
Naira
Naisha
Nakshatra
Navya
Nayantara
Nehmat
Nitara
Nitya
Ojasvini
Oorja
Pari
Parinaaz
Pihu
Pranavi
Prisha
Renee
Rhea
Riya
Rudrani
Saanvi
Samaira
Sana
Sara
Seher
Shanaya
Sharanya
Siya
Suhana
Tanya
Tarini
Tiya
Trisha
Urvi
Vanya
Vaidehi
Vardaniya
Vedika
Vihaana
Yashasvini
Yashvi
Zaina
Zaira
Zara
Zoya
Discuss your Indian baby names with other mamas
For more ideas on the best baby names for your little one, why not ask the mamas of Peanut?
👶 More baby names:
150 of the Most Cool and Rare Baby Names
250 One Syllable Girl Names
200+ Spanish Baby Names for Your Bebé to Be
60 Magnifique French Baby Names
70 Chinese Baby Names
71 American Baby Names
82 Hebrew Baby Names
49 Bellissimi Italian Baby Names
The Best 239 Arabic Baby Names for Little Boys & Girls
The Best 153 Egyptian Baby Names & Their Meanings
165 Norse Baby Names for Boys and Girls
30 Persian Baby Names With Their Meanings
The 60 Ultimate Turkish Baby Names With Meanings
143 Victorian Baby Names with Meanings
111 Nigerian Baby Names
88 Dutch Baby Names
98 Lithuanian Baby Names
50 Inspiring Indonesian Baby Names