While fertility challenges can seem like a lonely journey, you are far from alone.
According to the CDC, over 10% of people struggle with fertility in the United States each year.
That's why we make it a priority here at Peanut to support everyone on their fertility journeys.
Sometimes a comforting word or quote is just what you need to get through the day or bring you comfort.
Our collection of inspirational quotes about infertility offer peace, comfort, and reassurance.
Whenever you're feeling a little low, these quotes are here for you.
You can bookmark this page and come back whenever you need consolation.
It's moments like these where we moms and moms-to-be have to stick together and support one another.
Sometimes it's not even about saying the right thing, but knowing someone is there for you.
In this article: 📝

What is a quote about fertility?

Wanting a baby quotes

Infertility quotes from the Bible

What do you say for infertility?

What is the infertility symbol?

How much does it cost to see if you are infertile?

How do you prove infertility?
What is a quote about fertility?
The best quotes about infertility are ones that bring you a sense of peace and hope.
They reassure you that you're on the right path and that someone is looking out for you.
No matter where you find yourself, take respite in these TTC quotes that are focused on trying to conceive and wanting a baby.
"Whatever the struggle, continue the climb. It may be only one step to the summit." ‒ Diane Westlake

"Something profound happens when you wake up in a calm green pasture on the other side of the treacherous storm that you thought would end you. You discover who you are beyond the unimaginable. You discover what you are made of. Suddenly, the thing that may have broken you becomes the very thing that empowers and emboldens you." ‒ Jodi Sky Rogers, Mending Softly: Finding Hope & Healing After Ectopic Pregnancy Loss

"The struggle you're in today is developing the strength you need for tomorrow." ‒ Robert Tew

"I find hope in the darkest of days, and focus in the brightest. I do not judge the universe." ‒ Dalai Lama

"Sometimes, struggles are exactly what we need in our life. If we were to go through our life without any obstacles, we would be crippled. We would not be as strong as what we could have been. Give every opportunity a chance, leave no room for regrets." ‒ Friedrich Nietzsche

"Don't expect everyone to understand your journey, especially if they've never had to walk your path." ‒ Anonymous

"The world was selfish, unjust. How could so many undeserving people be given the opportunity to raise children they didn't even want while so many worthy individuals didn't get the chance?" ‒ Brittainy C. Cherry, Disgrace

"Parenting begins the moment you make any conscious effort to care for your own health in preparation for enhancing your child's conception." ‒ Carista Luminare-Rosen

"Just keep swimming." ‒ Dory, Finding Nemo

"Even if it has not been your habit throughout your life so far, I recommend that you learn to think positively about your body." ‒ Ina May Gaskin

"A blessed home is not a home full of kids, but a home where there is peace, harmony and understanding." ‒ Michael Bassey Johnson, The Infinity Sign

"Most of the important things in the world have been accomplished by people who have kept on trying when there seemed to be no hope at all." ‒ Dale Carnegie

"Don't compare your struggles to anyone else's. Don't get discouraged by the success of others. Make your own path and never give up." ‒ MJ Korvan

"Every cloud has a silver lining." ‒ John Milson

"Let your hopes, not your hurts, shape your future." ‒ Robert H. Schuller

"You may have to fight a battle more than once to win it." ‒ Margaret Thatcher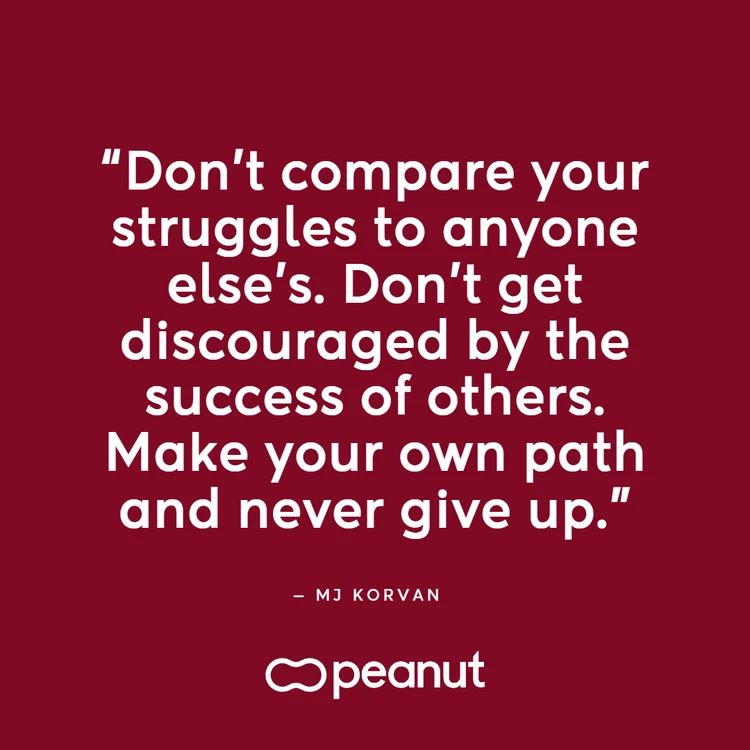 "It's not that motherhood is out of reach, it's that it's just out of reach. It's not that motherhood didn't happen, it's that it almost did and, in fact, still could. The difference between the grief of infertility and other reasons for mourning ‒ the loss of a spouse, for example ‒ is in that promise of 'just,' in 'almost,' in 'still could." ‒ Alexandra Kimball, The Seed: Infertility is a Feminist Issue

"Doubt kills more dreams than failure ever will." ‒ Suzy Kassem

"A strong woman looks a challenge dead in the eye and gives it a wink." ‒ Gina Carey

"Throughout my life, there were a few hard days. Days where even when I tried to be happy, my heart still cracked, and Mother's Day was one of those. For others, it stood as a celebration. For me, it spoke of loss and failure." ‒ Brittainy C. Cherry, Disgrace

"I'm thankful for my struggle because without it I wouldn't have stumbled across my strength." ‒ Alex Elle

"What if infertility isn't a war but an awakening? What if it's not about death but about a renaissance?" ‒ Rekha Ramcharan, Manifesting Motherness: Healing from Infertility

"Above all, be the heroine of your life, not the victim." ‒ Nora Ephron

"It always seems impossible until it's done." ‒ Nelson Mandela

"Yesterday I dared to struggle. Today I dare to win." ‒ Bernadette Devlin

"The struggle of life is one of our greatest blessings. It makes us patient, sensitive, and Godlike. It teaches us that although the world is full of suffering, it is also full of the overcoming of it." ‒ Helen Keller

"Is there any point in breathing if this is what the world is asking me to face?' You think to yourself. Somehow though, whether through madness or magic, you find a way to. You keep breathing even when you don't think you can. You surprise yourself." ‒ Jodi Sky Rogers

"Life is tough, my darling, but so are you." ‒ Stephanie Bennett-Henry

"Women often endure infertility, pregnancy, infant loss, miscarriages, and stillbirths in isolation, because while sadness is a socially palatable response to these often life-altering events, rage, frustration, jealousy, and guilt are not." ‒ Soraya Chemaly, Rage Becomes Her: The Power of Women's Anger

"For everyone going through infertility and conception hell, please know it was not a straight line to either of my pregnancies. Sending you extra love." ‒ Anne Hathaway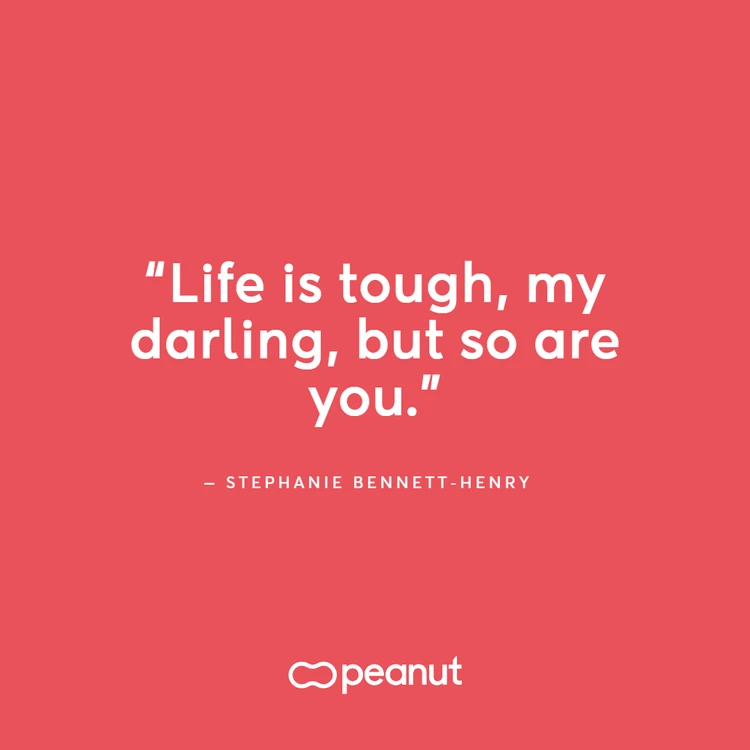 "They don't get the particular nature of this grief, how it's less about the loss of a potential child than it is about the endless possibility that there may yet be an actual child." ‒ Alexandra Kimball, The Seed: Infertility is a Feminist Issue

"Infertility often comes with grief and loss. You have to let go of the vision of how long the journey will be and learn to flow and become stronger through the process." ‒ Halle Tecco

"There's a unique pain that comes from preparing a place in your heart for a child that never comes." ‒ David Platt

"The greater the storm, the brighter the rainbow." ‒ Anonymous

"Sometimes it's hard to see the rainbow when there's been endless days of rain." ‒ Christina Greer, Two-Week Wait: Motherhood Lost and Found

"Hope is that thing with feathers that perches in the soul and sings the tune without the words and never stops… at all." ‒ Emily Dickinson

"For so many women and not just women in the spotlight, people feel very entitled to know, 'Do you want kids?' A lot of people, especially people that have fertility issues, just say 'no' because that's a lot easier than being honest about whatever is actually going on. People mean so well, but they have no idea the harm or frustration it can cause." ‒ Gabrielle Union

"Infertility is this huge emotional roller coaster. If you want in your heart more than anything to have a baby, it's the hardest thing you will ever go through physically, emotionally, and financially." ‒ Cindy Margolis

"When the world says, 'give up,' hope whispers, 'try one more time.'" ‒ Anonymous

"The most alluring thing a woman can have is confidence." ‒ Beyoncé

"It is one thing, I was discovering, to think, "Maybe I won't have kids," and quite another to be told, "Maybe you can't." This is how impatience turns to desperation." ‒ Peggy Orenstein, Waiting for Daisy: A Tale of Two Continents, Three Religions, Five Infertility Doctors, an Oscar, an Atomic Bomb, a Romantic Night, and One Woman's Quest to Become a Mother

"The struggle is part of the story." ‒ Anonymous

"I got some bad news today and didn't have anyone to share it with… but I guess I gotta tell someone. To all the women out there struggling with fertility, I feel ya. The universe works in mysterious ways and sometimes it all doesn't make sense… but I hope there's light about to shine through all the dark clouds." ‒ Rebel Wilson

"I am learning to trust the journey even when I do not understand it." ‒ Mila Bron

"She who is brave is free." ‒ Seneca

"She is brave and strong and broken all at once." ‒ Anna Funder

"Our greatest glory is not in never falling, but in rising every time we fall." ‒ Confucius
Wanting a baby quotes
Looking for trying to conceive quotes?
Here are infertility hope quotes that you can write on your mirror, put on a card, or post on social media.
"The littlest feet make the biggest footprints in our hearts." ‒ Anonymous

"A great adventure is about to begin." ‒ Winnie the Pooh

"Listen to the mustn'ts, child. Listen to the don'ts. Listen to the shouldn'ts, the impossibles, the won'ts. Listen to the never haves, then listen close to me … Anything can happen, child. Anything can be." ‒ Shel Silverstein

"Making the decision to have a child — it's momentous. It is to decide forever to have your heart go walking around outside your body." ‒ Elizabeth Stone

"It is because of hope that you suffer. It is through hope that you'll change things." ‒ Maxime Lagacé

"And you begin again and sometimes you lose, sometimes you win, but you begin again. Even though your heart is breaking, in time the sun will shine and you will begin again." ‒ Barry Manilow

"Creating a family in this turbulent world is an act of faith, a wager that against all odds there will be a future, that love can last, that the heart can triumph against all adversities and even against the grinding wheel of time." ‒ Dean Koontz

"And sometimes against all odds, against all logic, we still hope." ‒ Dr. Meredith Grey, Grey's Anatomy

"Hope is a​n embrace of the unknown​." ‒ Rebecca Solnit

"Hang on to your hat. Hang on to your hope. And wind the clock, for tomorrow is another day." ‒ Mary Anne Radmacher

"Courage doesn't always roar. Sometimes courage is the little voice at the end of the day that says, 'I'll try again tomorrow.'" ‒ E.B. White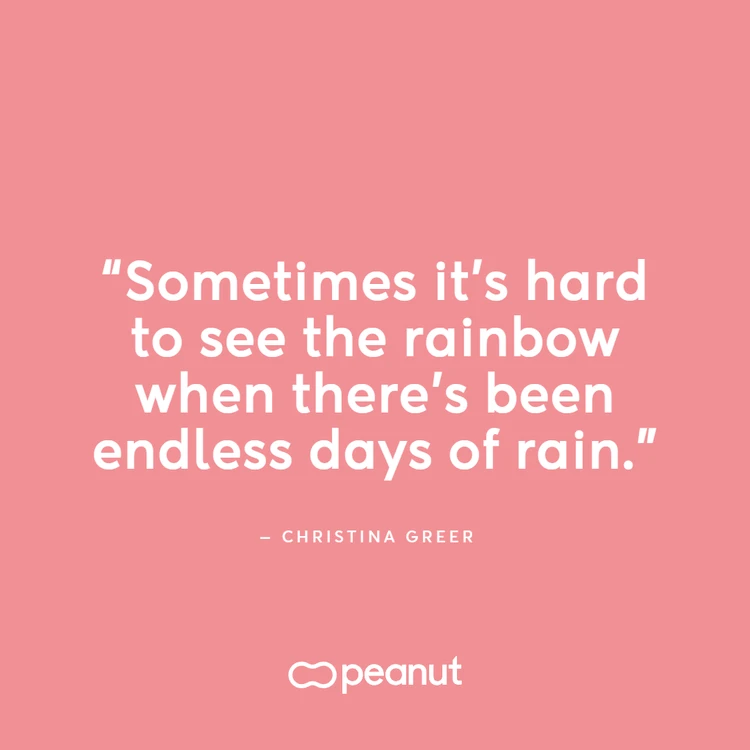 "Love recognizes no barriers. It jumps hurdles, leaps fences, penetrates walls to arrive at its destination full of hope." ‒ Maya Angelou

"Believe me, the reward is not so great without the struggle." ‒ Wilma Rudolph

"Hope is being able to see that there is light despite all of the darkness." ‒ Desmond Tutu

"Fear never builds the future, but hope does." ‒ Joe Biden

"You don't have to see the whole staircase, just take the first step." ‒ Martin Luther King, Jr.

"There is purpose in your season of waiting." ‒ Megan Smalley

"Even miracles take a little time." ‒ Fairy Godmother, Cinderella

"What we don't need in the midst of struggle is the shame for being human." ‒ Brené Brown

"When you're at the end of your rope, tie a knot and hold on." ‒ Theodore Roosevelt

"The darkest hours are just before dawn." ‒ English Proverb

"A baby fills a place in your heart that you never knew was empty." ‒ Anonymous

"Hope is that thing inside us that insists, despite all the evidence to the contrary, that something better awaits us if we have the courage to reach for it and to work for it and to fight for it." ‒ Barack Obama
Infertility quotes from the Bible
Some of the best TTC quotes come directly from the Bible.
Take peace and comfort in these words found in both the Old and New Testaments.
"Let all that I am wait quietly before God, for my hope is in him. He alone is my rock and my salvation, my fortress where I will not be shaken. My victory and honor come from God alone." ‒ Psalm 62:5-8

"'For I know the plans I have for you," declares the Lord, "plans to prosper you and not to harm you, plans to give you hope and a future.'" ‒ Jeremiah 29:11

"But those who hope in the Lord will renew their strength. They will soar on wings like eagles; they will run and not grow weary, they will walk and not be faint." ‒ Isaiah 40:31

"May the God of hope fill you with all joy and peace as you trust in him, so that you may overflow with hope by the power of the Holy Spirit." ‒ Romans 15:13

"And you shall be secure, because there is hope; yes, you shall dig about you, and you shall take your rest in safety." ‒ Job 11:18

"We don't yet see things clearly. We're squinting in a fog, peering through a mist. But it won't be long before the weather clears and the sun shines bright! We'll see it all then, see it all as clearly as God sees us, knowing him directly just as he knows us!" ‒ 1 Corinthians 13:12-13

"And my God will meet all your needs according to the riches of his glory in Christ Jesus." ‒ Philippians 4:19

"We wait in hope for the Lord; he is our help and our shield. In Him, our hearts rejoice, for we trust in His holy name. May your unfailing love be with us, Lord, even as we put our hope in you." ‒ Psalm 33:20-22

"So humble yourselves under the mighty power of God, and at the right time he will lift you up in honor." ‒ 1 Peter 5:6

"The Lord will fight for you; you need only to be still." ‒ Exodus 14:14

"For we are God's handiwork, created in Christ Jesus to do good works, which God prepared in advance for us to do." ‒ Ephesians 2:10

"Trust in the Lord with all your heart, and do not lean on your own understanding." ‒ Proverbs 3:5

"Delight yourself in the Lord, and he will give you the desires of your heart. He will make your righteousness shine like the dawn, the justice of your cause like the noonday sun." ‒ Psalm 37:4-5

"God is our refuge and strength, an ever-present help in trouble." ‒ Psalm 46:1

"Do not be anxious about anything, but in every situation, by prayer and petition, with thanksgiving, present your requests to God. And the peace of God, which transcends all understanding, will guard your hearts and your minds in Christ Jesus." ‒ Philippians 4:6-7

"When you pray, don't babble on and on as the Gentiles do. They think their prayers are answered merely by repeating their words again and again. Don't be like them, for your Father knows exactly what you need even before you ask him! Pray like this: Our Father in heaven, may your name be kept holy. May your Kingdom come soon. May your will be done on earth, as it is in heaven." ‒ Matthew 6:7-10

"For nothing will be impossible with God." And Mary said, "Behold, I am the servant of the Lord; let it be to me according to your word." ‒ Luke 1:37-38

"From the ends of the earth, I call to you, I call as my heart grows faint; lead me to the rock that is higher than I." ‒ Psalm 61:2
What do you say for infertility?
When someone is struggling with infertility, it's best to respond with empathy, such as "This must be so tough, I'm so sorry" or "I know this hurts. I care for you and I'm here for you on this journey".
Other things you can say are, "What can I do to help?", "I'm always here for you." or "How are you doing this week?".
Checking in with your friends and family and reminding them that you care are the best things to do when someone is living with infertility.
You can also send them a note on Mother's Day, Father's Day, or other milestones that may be more challenging for them.
Choose one of our infertility quotes to include in your message or card.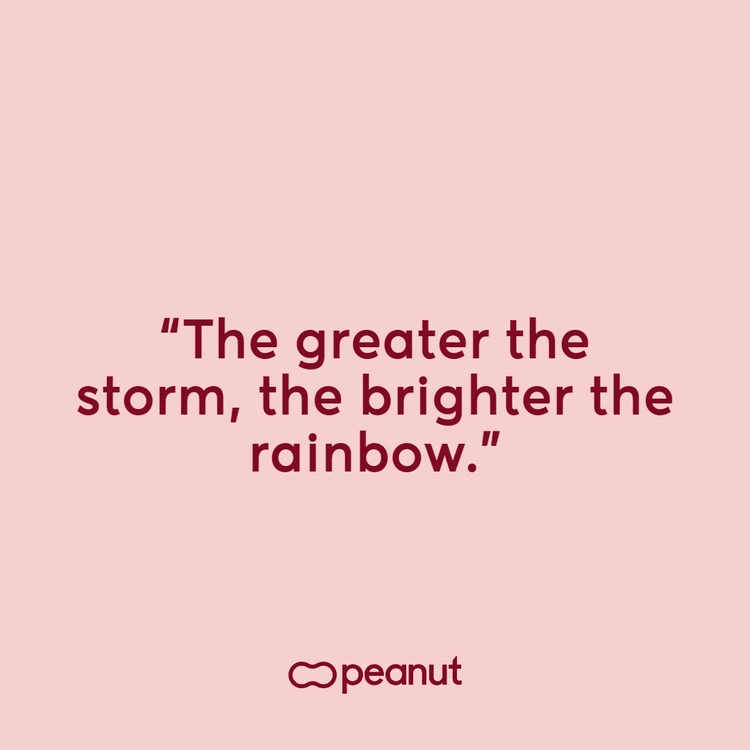 What is the infertility symbol?
The infertility symbol is a pineapple because it is a powerful shape that reminds women to stand tall and strong while staying sweet and loving on the inside.
Women living with infertility might wear pineapples but so do family and friends who want to show support and solidarity.
Pineapples have been thought to help with the implementation of your embryo transfer.
But this theory is more anecdotal than scientific.
You can find pineapples on clothing, apparel, jewelry, and more.
How much does it cost to see if you are infertile?
Infertility tests range in cost from $50 for semen analysis to $400 for blood tests, though costs can reach up to $1,000 in some geographic areas for basic infertility information on hormone levels, sperm, and ovarian reserves.
Check with your primary care provider or OB-GYN for the estimated costs in your area.
How do you prove infertility?
You can prove infertility through a variety of tests including semen analysis, hormone testing, genetic testing, ovulation testing, hysterosalpingography, ovarian reserve testing, and imaging.
Other procedures include testicular biopsy, hysteroscopy, and laparoscopy, although these are less common methods.
If you have questions about your fertility, talk with your primary care physician or OB/GYN to discuss the next steps and possible test options.
No matter where you're at in your fertility journey, know that you are surrounded by a community of support.
Get in touch with other women like you here on Peanut.
You are not alone.
"We all slip somewhere near in space, but almost never cross paths. It is a beautiful, well-groomed woman standing at the counter and selling jewelry to you. It is a girl running a flower stall. It is your neighbor who greets you daily in the lift. It is a woman who works with you in an office. It is your French teacher. It is an Instagram girl who moved to live by the sea. It is the girl who sat next to you in the underground. It is a woman who just walked past you on the street. It is a relative with whom you haven't been speaking for ten years. These infertile women are among us. This woman is me." ‒ Karina Savaryna, Not Pregnant