Peanut's community is rooted in values of care, kindness and empathy. We're on a mission to create a safe space for women online and want to reward those who take positive steps on our platform.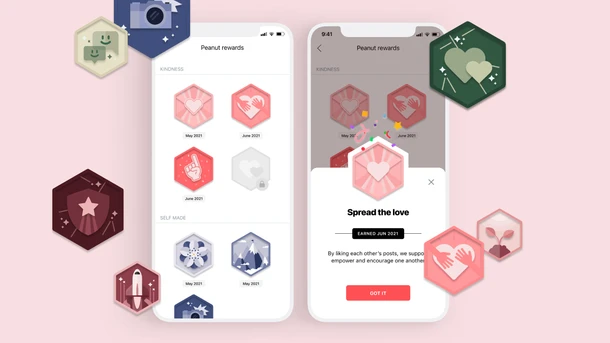 Our new feature, Rewards, allows you to earn badges for the positive acts you do on Peanut every day. From keeping our community safe and supporting other women to completing your profile, we want to show you our appreciation. These badges will appear on your profile so other people in the community can see how great you are!
How does it work?
Rewards can be accessed by navigating to your profile tab. Under 'My Badges' you can explore which badges you have unlocked or are waiting to unlock.
If you've already hit a milestone or completed a certain activity, some badges will already be rewarded. For those that you haven't unlocked just yet, tap them to understand what you need to do. We have no doubt you'll be able to unlock them all!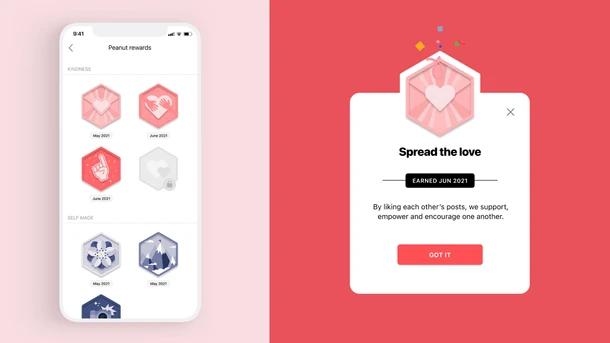 What are the different types of Rewards on Peanut?
Self-Made
You'll discover self-made rewards after you've started perfecting your Peanut profile. Having photos, prompts, and an engaging bio not only gets you a badge, but helps you make more meaningful connections. It's a win-win.
Social Butterfly
We get it, putting yourself out there can be difficult. So this set of Rewards gives you a pat on the back for being so courageous and taking the first step to find friendships, start conversations and create communities.
Safety
Our guardian reward recognizes anyone that helps to keep Peanut safe. It's a way of encouraging you to look out for other women and speak up if you see something that goes against our guidelines.
Chatty
Engaging in meaningful conversations helps others know they're not alone and can really brighten someone's day. Chatty badges will appear on your profile if you're regularly chatting with other women on Peanut.
Kindness
Cheering others on when they need it or sending a virtual hug can have a big impact on someone's mood. Small acts of kindness can go a long way and help to make Peanut a safer and kinder space.
Once you've had a chance to check out your Rewards, do let us know what you think. Your feedback helps us make Peanut a better place!