From new recipes to relationships, it's amazing what you can find on Peanut.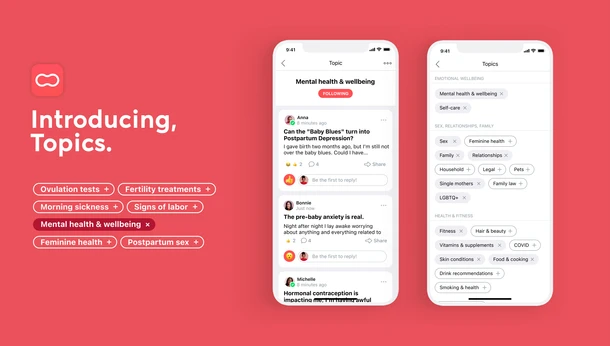 Until now, your feed might've featured a whole host of different posts under broad themes like Motherhood, Love & Sex, or Trying To Conceive. But sometimes you want to discover content that matters to you, right?
So, starting today, we're giving you more control over what you see with Topics.
Topics is a new way to customize your Peanut experience and navigate to more meaningful content and communities. By only choosing the Topics that you want to see - from ovulation tests and fertility treatment to baby development and feminine health - you'll find groups of people who share those interests and experiences.
How it works
Customizing your Topics
Head to your feed settings to customize your Topics whenever you want. We've organized them by life stage and interests, so it's easier than ever to navigate to what's most important to you.
The premise is simple. If you're interested in a Topic, follow it. If you're not, just unfollow. This helps us show you more relevant content in your feed. So if you'd rather not see any pregnancy tests or announcements, simply tap to unfollow and you'll never see them again. Period.
You can choose to re-follow a Topic with a single tap, at any time. You're always in control.
Where will I see Topics?
From now on, you'll see Topics tagged on all posts, and if you tap on them you can explore all the content within that Topic.
And when it comes to posting on Peanut, we'll suggest a few Topics to go alongside each of your posts, and we'll ask you to add at least one more. Once you've posted, whoever is following that Topic will be able to see your content and interact.
Once you've had a chance to try Topics, let us know what you think. Your feedback helps us make Peanut a better place, so we've created a dedicated space here for you to share your thoughts.