Irish baby girl names overflow with history, beauty, and sophistication. When choosing a name for your new baby princess you'll be spoilt for choice. Traditional Irish names have their roots in the ancient cultures of the Vikings and Celts and have been popular choices for many centuries across the English-speaking world.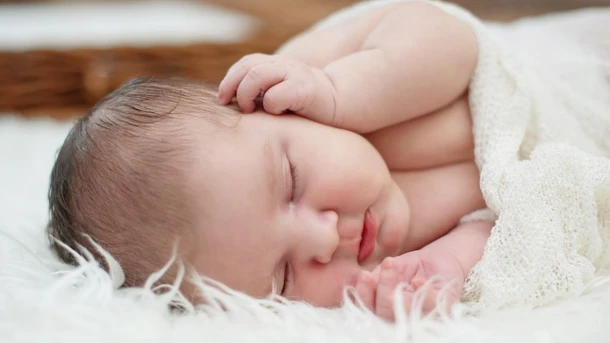 The history of Irish female names is not all that makes them special; they are also beautiful to look at. The spellings of traditional Gaelic names really embody the ancient and mystical land of Ireland.
Table of Contents 📝

What is the most popular Irish baby girl name?

What is the rarest Irish girl name?

What are the top 10 Irish girl names?

What is the rarest girl name?

More Irish names for girls

Find Irish baby name inspiration on Peanut!
What is the most popular Irish baby girl name?
So, which is the most popular? There are many candidates for this title. In fact, many traditional Irish girls' names are now popular all over the world. Most of these names gain their meaning from beauty or nature, including the most popular:
Fiona
A beautiful, traditional name, Fiona comes from Gaelic and is the female equivalent of the male name Fionn. It prizes beauty and translates as 'being bright and fair.' When looking for a name for your beautiful baby girl, Fiona would be an excellent choice.
What is the rarest Irish girl name?
But what if you are searching for a more unique Irish name for your special one? Luckily, there are also many candidates in this category. And just because some of these names are rarer does not mean they are any less beautiful.
Blathnaid
Another gorgeous Gaelic Irish girls' name, Blathnaid means 'flower in bloom' and is pronounced 'bla-nid'. A lovely and mysterious name, Blathnaid would suit any beautiful baby girl. A spelling variation of this name is Blanaid.
If you are not sold on the unique names then perhaps one of the more well-known Irish baby girl names will be your favorite.
What are the top 10 Irish girl names?
Once again, these Irish names celebrate beauty and nature, and below you will find the top 10 including their historical meanings:
Aisling (meaning 'imagination', pronounced Ash-lin.)
Aoife (meaning 'charming', pronounced Ee-fah.)
Brianna (meaning 'noble'.)
Kayleigh (meaning 'beautiful figure'.)
Kiara (meaning 'girl with beautiful dark hair'.)
Maeve (meaning 'happiness'.)
Niamh (meaning 'shining', pronounced Neev.)
Roisin (meaning '[rose]9https://www.peanut-app.io/blog/baby-names-that-mean-rose)', pronounced Ro-sheen.)
Saoirse (meaning 'independence', pronounced Seer-sha.)
Shannon (meaning 'mystical river'.)
Many of these names are now popular across the world. Now, let's take a look at another more unique name.
What is the rarest girl name?
Aoibheann
A unique Irish girls' name, Aoibheann looks stunning when written down and will ensure your princess has a name that makes her proud. Pronounced Eev-een, the name comes from Gaelic and means 'fairness and beauty', perfect for your baby girl.
109 women are talking about 'Irish baby girl names' on Peanut. Download the app to join the conversation.
More Irish names for girls
If you still haven't made up your mind, here are 87 more gorgeous Irish female names:
Aednat
Aibreann
Ailbhe
Aine
Alanis
Alannah
Alexandra
Bebhinn
Betha
Brighid
Caireann
Caitlin
Caoimhe
Cara
Chloe
Claire
Cliodhna
Clodagh
Cordelia
Daimhin
Daire
Dearbhorgail
Deidre
Delaney
Dervil
Eabha
Ealga
Eileen
Eimear
Eireann
Eithne
Eithne
Emlyn
Fiadh
Finley
Gail
Geileis
Gormlaith
Grainne
Guinevere
Hiolair
Iona
Isabelle
Ite
Jane
Jilleen
Keela
Kelly
Kira
Laoise
Leah
Leianne
Logan
Lorna
Maire
Maolisa
Maureen
McKenna
Meghan
Muireann
Neala
Nessa
Nuala
Oonagh
Orla
Orlaith
Quinn
Raicheal
Riegan
Riona
Sarah
Shalene
Shay
Sile
Sinead
Siobhan
Siomha
Talulah
Tamsin
Tara
Teagan
Toireasa
Tracy
Trevina
Ula
Ultana
Vanessa
Find Irish baby name inspiration on Peanut!
For more ideas on the best baby names for your little one, why not ask the mamas of Peanut?
👶 Find more girl baby names:
Top 1001 Girl Names: The Ultimate List
Top 91 Finnish Baby Girl Names & Their Meanings
105 Gorgeous Mexican Baby Girl Names & Their Meanings
21 Girl Names That Start With A
92 English Names for Girls
90 Middle Names for Girls
161 Cool Baby Girl Names And Their Meanings
168 Celtic Baby Girl Names for Your Daughter-to-Be
118 Arabic Baby Girl Names for Your Baby Daughter
The Best Polish Baby Girl Names for New Babies
115 Hawaiian Baby Girl Names for Your Baby Daughter
The Top 191 Hebrew Baby Girl Names for Your Baby
174 Indian Baby Girl Names for Your Little Daughter
The 111 Best Japanese Baby Girl Names
163 Scottish Baby Girl Names
90 Strong Baby Girl Names & Their Meanings
220+ Beautiful Norwegian Baby Girl Names
50+ Beautiful Biblical Baby Names for Girls (& Meanings)
216 Awesome Australian Baby Girl Names & Meanings
250+ Adorable Baby Names That Mean Love