Looking for beautiful and strong Jamaican baby names for your imminent arrival? Jessum peace (oh my gosh!), have we got you covered.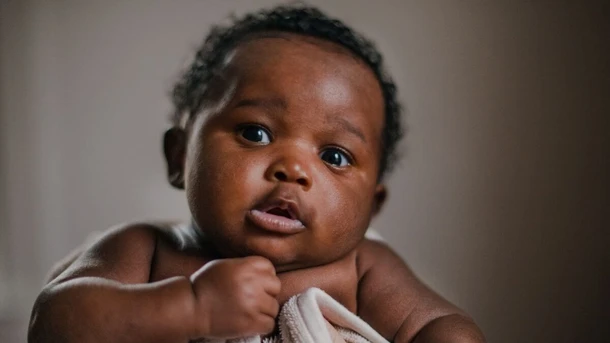 The beautiful Caribbean island of Jamaica has a fascinating and difficult history, one that includes indigenous South American settlers, Spanish conquistadors, and English invaders.
It played a critical role in the Atlantic slave trade, and many Jamaicans today can trace their roots to West Africa.
Jamaican names often draw on this rich heritage, and you're likely to come across some familiar Spanish, English, and African names in the list below.
Some names have emerged that are uniquely Jamaican, though. Take a look!
In this article: 📝

20 traditional Jamaican names

Jamaican names for boys

Jamaican names for girls

Common Jamaican names

Gender-neutral Jamaican first names
20 traditional Jamaican names
These 20 names have a very typically Jamaican lilt to them. You can almost hear that unmistakable accent.
Abigay: This Jamaican version of Abigail means the joy or happiness of Yahweh. Yahweh is the father of rejoicing. ♀️

Abisai: Means my father is a gift. ♂️

Amoy: Means beautiful goddess. ♀️

Cedella: Means beautiful princess. ♀️

Damerae: Means boy of joy. ♂️

Dymond: A Jamaican version of the name Diamond. ♀️

Femi: Means God loves me. ♀️

Glenmore: One of the most popular baby names in Jamaica, Glenmore refers to a place in Jamaica. ♂️

Ini: This beautiful, simple name means time. ♀️

Irie: This popular Jamaican means one who believes in spreading harmony. ♀️

Jevaun: The Jamaican form of Evan, this name means young warrior. ♂️

Kaleisha: Means a woman who is strong-willed. ♀️

Karalana: Means pure and peaceful. ♀️

Khenan: This Jamaican name means the rising sun. ♂️

Llanzo: The Jamaican form of Lance, Llanzo means servant or God-like. ♂️

Roje: A typically Jamaican name, Roje means guard or sentinel. ♂️

Sanka: Remember Sanka from the 1993 film Cool Runnings? The guy with the lucky egg? This Jamaican name means soulful. ♂️

Trinika: Means Holy Trinity. ♀️

Usain: Runners will be familiar with Usain Bolt, the world-record-holding sprinter. It means beautiful. ♂️

Vittorio: An old Jamaican name that means victor. ♂️
107 women are talking about 'Jamaican baby names' on Peanut. Download the app to join the conversation.
Jamaican names for boys
For your baby boy, choose from longer Jamaican names like Badrick and Zidane to short one-syllable names like Ife and Mao.
Adio: A name of African origin, Adio means righteous.

Agwe: This Native American name means water.

Ajani: A Nigerian name meaning victor.

Arley: An Old English name that means hare's meadow.

Badrick: This English name means ax ruler.

Barkley: A Scottish name, meaning birch tree meadow.

Chilton: From the Old English, meaning farm near the well.

Ghana: This name makes reference to the West African country, and also means strong warrior king.

Ife: An African name, Ife means love in Yoruba, a language spoken in West Africa.

Jaden: A Hebrew name that means God heard.

Latent: This name of Jamaican origin means victory or crown of laurel.

Mao: Mao is a shortened version of the African name Maocha, which means flowering.

Zidane: A name from the Quran that means increase, growth, and progress.

Ziggy: This German name means victorious protector.
Jamaican names for girls
These girls' names strike a balance between being both lovely and lyrical, and strong and powerful.
Alvita: This Latin name means lively.

Amelia: An Islamic name, Amelia means diligent and hardworking.

Brianna: A Celtic name that means strong, ascending woman.

Chandice: Meaning extremely talented and smart.

Jada: An Arabic name meaning God's gift.

Jalissa: Means noble one.

Ladonya: Means bread kneader.

Lakresha: An English name that means gift of life.

Omnira: A Yoruba name that means liberation.

Sabryna: An Arabic name that means patient and endearing.

Taniyah: Taniyah means joyful or beautiful.

Tashelle: Tashelle refers to girls born on Christmas day or having a likeness to God.

Tianna: This historically Greek name means princess.

Vea: A Spanish name that means seen.
Common Jamaican names
This list includes quite a few names that might sound familiar to you, such as Bob (as in Marley!), Chloe, and Daniel.
But there are some interesting and unusual names too, like Ionie, Latoria, and Rohan.
Aidan ♂️

Alton ♂️

Amancia ♀️

Amoy ♀️

Andrew ♂️

Anthony ♂️

Bob ♂️

Bunny ♂️

Chloe ♀️

Christopher ♂️

Clifton ♂️

Clive ♂️

Courtney ♂️

Dajuan ♂️

Daniel ♂️

Delroy ♂️

Delyse ♀️

Deshane ♀️

Desomond ♂️

Devon ♂️

Donavan ♂️

Durene ♀️

Eithan ♂️

Fitzroy ♂️

Gabrielle ♀️

Garfield ♂️

Glenroy ♂️

Hopeton ♂️

Horace ♂️

Ionie ♀️

Iriye ♀️

Jahmar ♂️

Jaqweshia ♀️

Joshua ♂️

Junior ♂️

Kalisa ♀️

Kenise ♀️

Kenroy ♂️

Kingsley ♂️

Kiyana ♀️

Latoria ♀️

Leroy ♂️

Linford ♂️

Livington ♂️

Lloyd ♂️

Louise ♀️

Mark ♂️

Martisha ♀️

Merlene ♀️

Nigel ♂️

Oniel ♂️

Peta-gay ♀️

Radcliff ♂️

Raeni ♀️

Renford ♂️

Requiem ♀️

Rita ♀️

Rohan ♂️

Ronica ♀️

Shamar ♂️

Sharisha ♀️

Shanice ♀️

Sheldon ♂️

Shenice ♀️

Straleen ♀️

Tamila ♀️

Taniyah ♀️

Tarone ♂️

Teddy ♂️

Tiana ♀️

Tiyanna ♀️

Tony ♂️

Tyonna ♀️

Usher ♂️

Vegas ♀️

Vinisha ♀️

Virtudes ♀️

Winston ♂️

Xaviera ♀️

Yendi ♀️

Zade ♀️

Zekia ♀️

Zhade ♀️
Gender-neutral Jamaican first names
Not sure if you're having a girl or a boy, or would prefer your little one to have a gender-neutral name?
These names are used interchangeably for boys and girls in Jamaica.
Bailey: An Old English name that means fortification.

Dale: This German name means valley dweller.

Jayden: Like Jaden, this is an alternative spelling of a Hebrew name that means God heard.

Kimona: This Jamaican name means enchanting.

Kingston: An Old English name that means ruler and also the capital city of Jamaica, of course.

Kymani: An African name, Kymani means adventurous traveler.

Maven: Maven is of Hebrew origin and means one who understands.

Omario: This is the Jamaican version of Omar and means eloquent and articulate.
Still looking for ideas? Check out these other baby name guides:
​​218 Beautiful Exotic Baby Names With Meanings
58 Biblical Baby Names
100 of the Most Popular Ethiopian Baby Names
111 Nigerian Baby Names
100+ Swahili Baby Names & Their Meanings
The Best 153 Egyptian Baby Names & Their Meanings
78 Haitian Baby Names for Your Little Love