It's the most important meal of the day, but making a quick, balanced, kid-friendly breakfast in the chaos of a weekday morning can sometimes feel like a challenge.
And even when you've found a recipe that works for your family, there are days when everyone wants to shake things up a bit.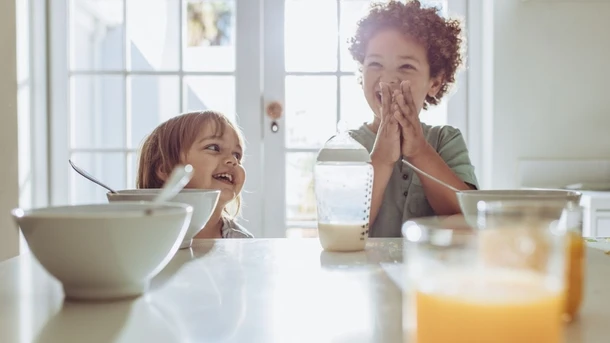 If you're looking for breakfast inspiration, we've got you covered, mama.
Easy breakfast ideas for kids
The best kids' breakfast ideas take care of all their nutritional needs:
Protein for their growing bodies.
Long-lasting carbohydrates for energy.
Vitamins and antioxidants for their immune systems.
And healthy fats to make sure their bodies can absorb all that goodness.
And, of course, it also has to:
Taste delicious
Please everyone
And not create a mountain of dishes that's going to take the rest of the morning to clean.
This list is full of recipes that tick all these boxes. If you believe there's more to a kid-friendly breakfast than toast and cereal, you've come to the right place. Let's get started.
Yogurt and fruit: You don't need a recipe for this one, just some natural yogurt, and your kid's favorite chopped fruit. Add some oats or low-sugar muesli for extra fiber. You could even layer the ingredients in a clear glass to make a 'breakfast sundae'.
Lots of experts recommend choosing whole milk dairy products rather than the reduced-fat versions until your child is 5.
Banana Cream Pie Overnight Oats: Did someone say time-saving? You can make this recipe the night before and serve it up while you're still waiting for your coffee to kick in.
Instant Pot Frittata Breakfast Casserole: Fruit is a breakfast staple, so why not veggies? An Instant Pot makes this recipe even easier. Your perfectly fluffy, cheesy eggs will be waiting for you whenever you've solved today's morning crisis.
Easy Scrambled Eggs: The 'proper' way to cook scrambled eggs is slowly, over a low heat, while stirring constantly. But keeping your back to your kids for 10 minutes and never leaving the stove just doesn't work for a lot of families in the mornings. Thankfully, you can also make fluffy scrambled eggs in the microwave. Your kids might even like to help with the whisking.
Avocado Toast: Lots of kids love toast. You can up the nutritional value by smashing some avocado and spreading it on top. Season it with a little lemon juice to keep the sodium down, and add some cottage cheese for an extra boost of protein.
Funny Faces Toast: Sometimes it's okay to play with your food. Instead of spreading peanut butter (a great source of healthy fats) on toast and pushing it across the counter, try making silly faces with fresh berries and dried fruit. What are bananas for if not to chop in half to make a smiley face?
Healthy breakfast food for kids
Looking for kid-friendly breakfast ideas that are even healthier? All these recipes are vegetarian, too.
Raspberry Smoothie Bowl: It looks like a bowl of bright pink soup, and there's all kinds of yumminess as a garnish on top. What kid could say no?
Summer Smoothies: You can also serve smoothies from a traditional glass. They're a great way to introduce fruits that your child would otherwise prefer not to eat. Depending on what you have in the fridge, you can make smoothies with either fruit juice or dairy as a base. This makes them spontaneous and super flexible as well as quick to make.
Sweet Potato Kale Frittata: Another breakfast dish you can make in advance and then grab in the morning.
Veggie Breakfast Burritos: This recipe even recommends cooking a big batch, freezing them in foil, and warming them in the mornings when you're short on time.
Veggie and Quinoa Egg Bites: Have your kids tried quinoa? They'll love it in these crispy, cheesy, veggie-packed bites that cover all the nutritional bases.
Weekend treat breakfast ideas for toddlers and kids
Remember the smell of pancakes, fresh waffles, or bacon and eggs on weekend mornings when you were a kid?
Family traditions that center around food can be really magical and, when you have some extra time, preparing something special can be a great way to make memories.
Whether you value your me-time on a Saturday morning to cook something just how you like it, or you want to watch as your kids learn to cook with you, let's take a look at some different weekend breakfast ideas to try.
Peanut Butter and Chocolate Chip Pancakes: Who could say no to chocolate for breakfast? You can upgrade any pancake mix with chocolate chips and a few spoons of nut butter, or make the batter from scratch.
Honey Nut Cheerio Turnovers: Lots of kids love Honey Nut Cheerios. This recipe turns their favorite cereal into a pastry turnover treat.
French Toast Bowls: French toast is good. French toast topped with syrup and sweet berries is an out-of-this-world weekend treat.
Instant Pot French Toast Casserole: Or here's another French toast idea. Cook it for 30 minutes in an instant pot while you enjoy your coffee (hopefully in peace, if your kids are old enough to sleep in on the weekends). You can even add praline streusel topping and vanilla icing on very special occasions.
Banana Oat Chocolate Chip Muffins: Whole grain muffins like these taste like a treat to kids. They'll want seconds, and you'll get the satisfaction of knowing that they've had the potassium, protein, and vitamins they need for their day.
Breakfast pops: Ice cream for breakfast? Don't panic. These pops are more like a frozen smoothie. They're healthy but special, and they're an amazing breakfast for the middle of the sticky summer holidays.
Breakfast Banana Split: Replace the ice cream with yogurt and the sprinkles with granola, and you have another breakfast dessert. Kids will love to build their own banana splits, and you can even drizzle some honey as a final flourish.
You can find more ideas for healthy food for babies, toddlers, and kids here:
6 Helpful Tips for Fussy Eaters
The Best First Finger Foods
Best Baby Food Recipes
Best Finger Foods for a Baby
When Can Babies Have Honey?
Toddler Lunch Ideas You'll Both Love