Looking for a beautiful Korean name for your baby girl? Good idea, because so many of them mean just that – "beautiful." And that's just scratching the surface.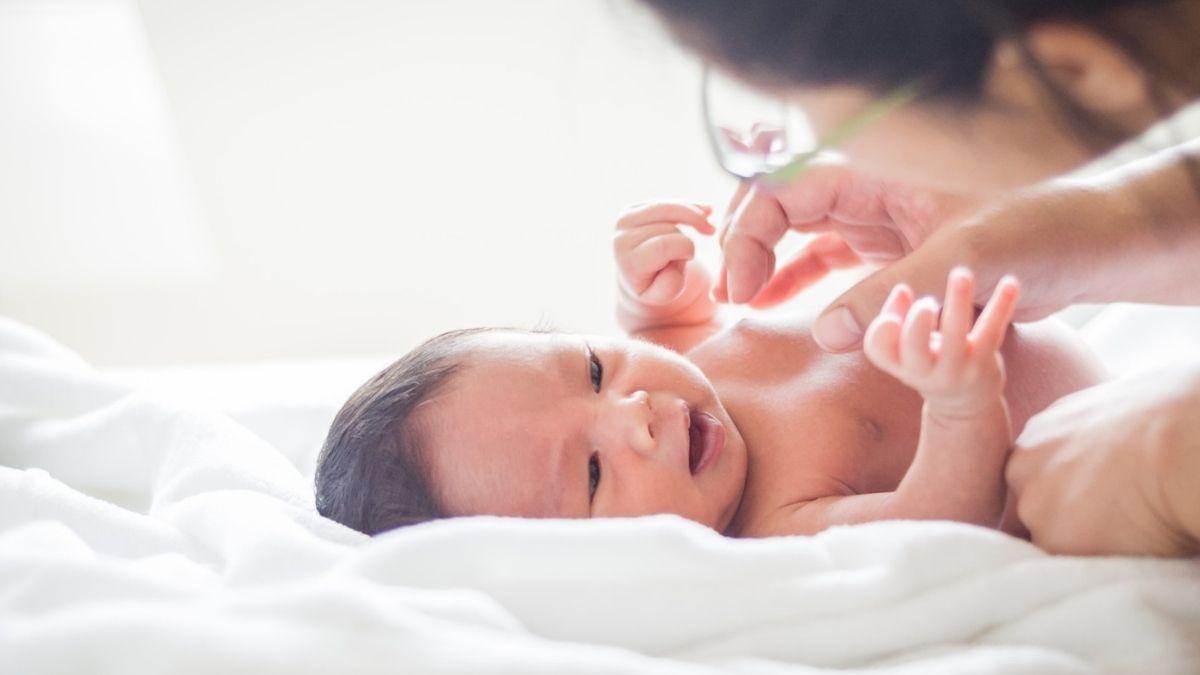 These melodic baby names offer literally thousands of complex, deep, and meaningful combinations, from Eun-Kyung ("graceful gem") to Heejin ("precious pearl"), Jin-Ae ("truth, love, treasure"), and Haneul ("heavenly sky").
So, whether you want to honor your family's Korean heritage, or you're hunting for a truly unique baby name, our list of 99 Korean girls names has you covered.
In this article: 📝

How are Korean baby girl names chosen?

What are some common Korean baby girl names?

Even more Korean baby girl names

Find more baby-naming inspiration with Peanut
How are Korean baby girl names chosen?
Before we get to our list of unique Korean girl names, it's important to understand the Korean naming process. If you're already up to speed, you can skip this bit. If not, read on.
Essentially, Korean baby names are made up of two to three elements (often three syllables, sometimes up to five). The first part is for the family name, and the next part is the given name.
Here's how it works:
The first syllable is the family name (similar to a Western surname).
The second syllable is typically the generational name or dolimja (돌림자). This part shows that the baby belongs to a certain generation in a specific family.
The third syllable is a unique name, often picked by the grandfather or a professional namer.
The given names are then usually hyphenated and made up of two elements, each with separate meanings. For example, this would result in a name like Lee Hyo-Ri(이효리), where "Lee" is the family name, and "Hyo-Ri" is the given name.
So, what are some of the best Korean female first names? Scroll on to find out!
Note: Korean names are often written in Hanja or the Hangul alphabet. Below, we've provided the more common translations.
Korean female names and meanings
Here's our top 25 Korean girl names and their meanings:
Ae-Cha: Meaning "loving daughter," Ae-Cha can also read as "aecha" when written in Hangul (애차) – and that means "favorite car." Maybe sit on that translation until she's driving you crazy as a teenager!
Ari: Pretty. Lovely. Beautiful. That's what this bite-sized name means. Perfect.
Binna: This sweet-sounding name means "to shine," which is ideal for your little diamond.
Bong-Cha: Most parents try to avoid playing favorites, but all bets are off with this name. Bong-Cha translates as "superior daughter."
Bo-Bae: Following a bit of a theme here, Bo-Bae translates as "precious treasure." Yes, she is.
Boram: "Valuable" or "worthwhile." Naturally!
Choon-Hee: This one means "spring girl." Just what you need if she's born when the flowers bloom.
Da-Eun: Joining Da ("many") with Eun ("charity," "kindness," or "mercy") gives you a name overflowing with meaning.
Dal-Rae: Derives from the verb "dalraeda," which means to soothe.
Dan-Bi: Meaning "sweet rain" or "long-awaited rain" Dan-Bi could be a beautiful rainbow baby name.
Eun: As above, this short and sweet name means "kindness" or "charity."
Ga-Ram: Meaning "river," this name flows with purpose.
Gyeong-Ja: "Celebrate child." And we just know you will.
Hana: This name means "one" or "my favorite." Sorry, siblings!
Haneul: "Heavenly sky." Does it get more beautiful than that?
Hyun-Joo: Meaning "virtuous jewel," this name is pure and special.
Iseul: This one simply means "dew." A lovely name for your little dewdrop.
Jae: "Talent," "ability," or "wealth." Take your pick, mama.
Ji-Hye: The most common meaning of this Korean girl's name is "bright" or "wisdom."
Ma-Ri: This one means simply "the best." And to you, better than all the rest.
Myeong: Meaning "bright," "light," or "clear," this wonderful name sparkles.
Nabi: As your little one leaves the cozy cocoon of the womb behind, this name rather fittingly means "butterfly."
Nari: This one means "lily" – every bit as lovely as the flower it's named for.
Sun-Young: All a parent really wants is for their child to be "kind-hearted" – which is what this name means.
Yeong-Ja: If you want your daughter to grow up fearless and full of adventure (and who doesn't?) then Yeong-Ja could be a winning choice. It means "brave child."
How long can Korean names for girls be?
Most of the names on our list are short and snappy, and with good reason.
Since 1993, rules in South Korea have prevented given names from being registered if they're longer than five-syllable blocks.
This regulation came in response to some parents giving their children extremely long names, like the 16-syllable Haneulbyeollimgureumhaennimbodasarangseureouri. This tongue-twister was accidentally given to a baby girl when her parents excitedly proclaimed her to be "more lovely than the sky, stars, and clouds" – and the registrar dutifully wrote it down.
Hey, we all get carried away sometimes!
What are some common Korean baby girl names?
These were the most common Korean girl names in 2019:
Seo-Jun
Ha-Joon
Do-Yun
Eun-Woo
Si-Woo
Ji-Ho
Ye-Jun
Yu-Jun
Ju-Won
Min-Jun
And what about cute Korean girl names?
Here are some truly adorable female Korean names worth considering:
Aera
Ara
Areum
Bong-Cha
Chija
Cho
Cho-Hee
Dallia
Deji
Eun-Kyung
Haw
Hea
Hiah
Jang-Mi
Jia
Jin-Ae
Kyong
Kyung-Mi
Mee
Mi-Cha
Mi-Hi
Mi-Kyong
Mi-Ok
Mi-Sun
Mi-Young
Molan
Moon
Myung-Hee
Sang-Hee
Sena
Sun-Hee
Even more Korean baby girl names
Still searching for the perfect Korean name for your baby girl? We've got you. Add these delightful (and adaptable) names to your shortlist:
Ahnjong
Bora
Chul
Dasom
Eun
Hae
Heejin
Hiah
Hwa-Young
Hyo-Sonn
Hyun-Ki
Kyung-Hu
Kyung-Soon
Ja
Myung
Nam
Paenji
Sam
Seohyun
Sook
Soomin
Soon-Bok
Soo-Gook
Soo-Yun
Sun-Hi
Suseonhwa
Yeo
Yeona
Yon
Yoonah
Yoon-Suh
Young-Hee
Young-Mi
Find more baby-naming inspiration with Peanut
The best thing about Korean names is that loads of them are unisex. If the names above haven't grabbed you, don't worry.
Check out our list of Korean baby boy names for more baby-naming ideas. Or if you're simply searching for cool and rare baby names, you'll find them on Peanut, too.
And if you need a second, third, or fourth opinion, the mamas and mamas-to-be in our community will be happy to help. Download the app today.
👶 Find more baby girl names:
Top Girl Names: The Ultimate List
161 Cool Baby Girl Names And Their Meanings
90 Middle Names for Girls
57 Italian Baby Girl Names
168 Celtic Baby Girl Names for Your Daughter-to-Be
250 One Syllable Girl Names
The 111 Best Japanese Baby Girl Names
85 Persian Baby Girl Names for Your Daughter-to-Be
The 76 Best Turkish Baby Girl Names
100+ Russian Baby Girl Names for Your Baby
174 Indian Baby Girl Names for Your Little Daughter
212 French Baby Girl Names
153 Greek Baby Girl Names And Their Meanings
100 Spanish Baby Girl Names With Their Meanings
90 Strong Baby Girl Names & Their Meanings
82 Filipino Baby Girl Names
50+ Beautiful Biblical Baby Names for Girls (& Meanings)
216 Awesome Australian Baby Girl Names & Meanings