Looking for sexy maternity lingerie ideas? We've got you covered (or uncovered!). Let's help you feel as sexy as can be.
The maternity section at most shops might have you convinced that clothing for mamas-to-be is all about soft cotton tees and sweatpants that are the total opposite of sexy.
We're here to set the record straight.
Sexy maternity lingerie is definitely a thing.
Being pregnant is incredibly sexy, and with the maternity lingerie, you'll be able to see it (and feel it), too.
In some ways, getting in the mood while you're growing a bump is the easiest thing in the world.
Your hormones are on a pretty wild ride, and you might find that your libido is giving you yes signals more than normal.
If that's the case, enjoy it, mama.
Unless your doctor says otherwise, sex during all three stages of pregnancy is usually totally safe.
But feeling sexy can also be a little tricky.
Your body's changing, and you might find that your usual underwear or lingerie doesn't fit as it once did.
Your bra's underwire might be digging into you a bit, or your breasts might feel pushed or squished in uncomfortable ways.
If that's the case, it might be time to go shopping. 🛍️
In this article: 📝

Bras and panties

Bodacious bodysuits and delightful dresses
Bras and panties
Spice up the underwear you wear every day with a few pieces that make you feel feminine and sexy.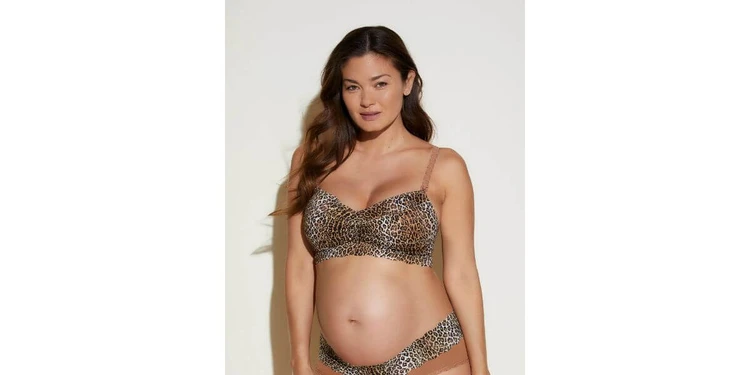 1. Casabella Never Say Never Printed Mommie Nursing Bralette
Nothing says grrr quite like leopard print!
This saucy set combines soft, gentle edges with some patterned fun.
The wireless bralette isn't only super comfortable, but it also has clip-off straps so that you can nurse with it once your little one arrives.
Where? Cosabella
How much? Bralette: $85, hotpants: $34
Sizes? S, M, and L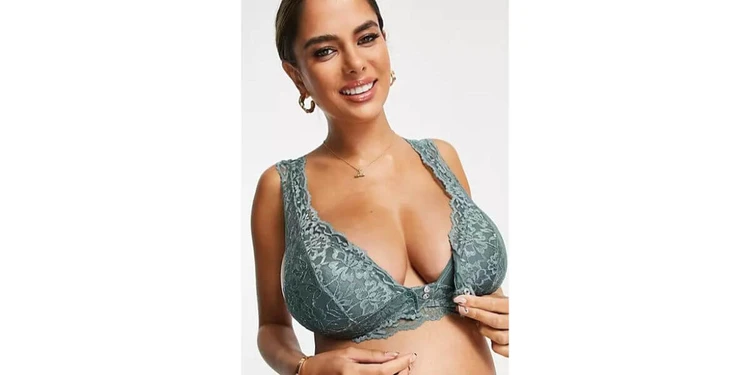 2. Mamalicious Maternity Nursing Lace Bra in Dark Green
You're going to need access to your boobs more than ever before, mama.
But that doesn't mean they need to be clad in cotton (at least not all the time).
This sexy, cleavage-inducing bra is wireless and has clip fastenings that can be opened and closed with one hand.
Easy and sexy.
Where? ASOS
How much? $42
Sizes? XS, S, M, L, and XL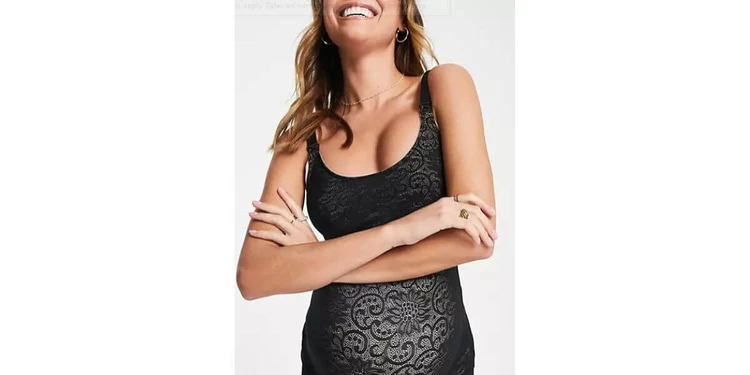 3. Lindex Super Soft Nylon Blend Barely-there Lace Over-the-Bump Maternity Brief
These briefs take the high-waisted trend to a whole new level — like a whole new, just-below-your-boobs level.
They're designed to fit you from bump to baby, showing off the beautifully patterned lace as your belly grows.
Where? ASOS
How much? $26
Sizes? XS, S, M, L, XL, and 2XL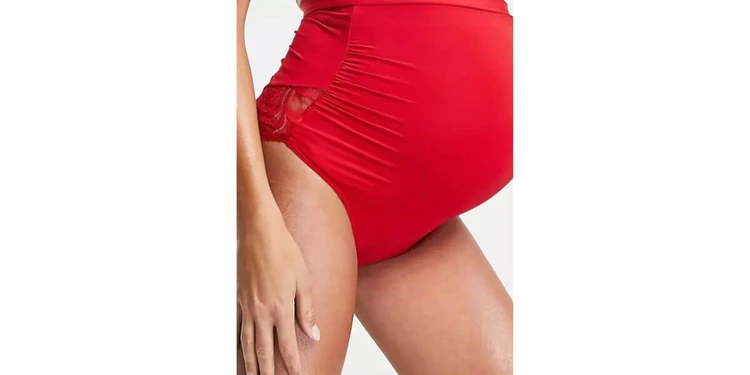 4. Lindex MOM Elsa Overbump Lace Brazilian Briefs in Red
Another high-waisted option, but this time in red (because is there anything more classic than red underwear?).
This pair boasts a Brazilian cut and a comfy stretchy over-the-bump band.
Where? ASOS
How much? $21
Sizes? S, M, L, and XL
Bodacious bodysuits and delightful dresses
Of course, you might also want to cover up completely — but in something sleek and sultry, like lace or satin.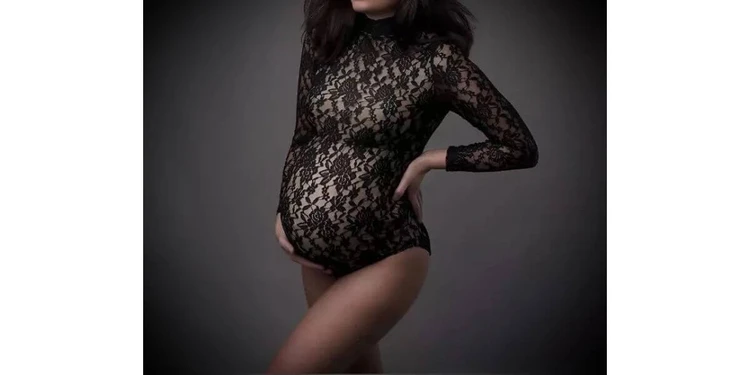 5. Kokonberri See-through Lace Maternity Bodysuit
Like the black Lindex briefs above, but a full bodysuit, all the way to neck and wrists.
This piece would be beautiful for a pregnancy photoshoot
It's also available in blue, red, pink, and white.
Where? Etsy
How much? $33
Sizes? M, L, and XL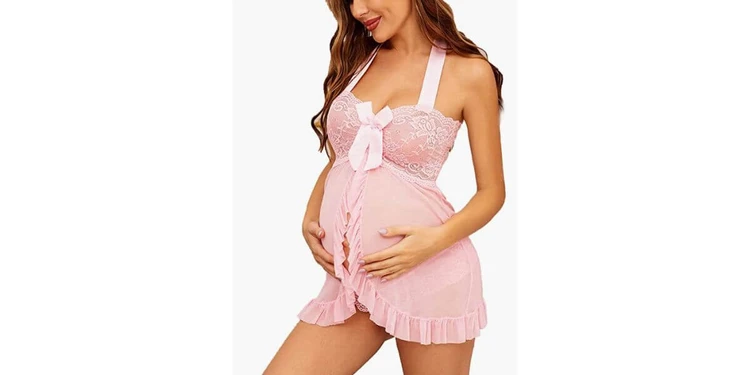 6. Avidlove Lace Babydoll Maternity Lingerie
This lace and mesh silky soft babydoll outfit is perfect for that ultra-feminine look.
It's got a flirty flyaway front and a wide satin halter tie.
It also comes with a pair of matching lace tanga panties.
Where? Amazon
How much? $8.99-$16.49
Sizes? XS, S, M, L, XL, 2XL, 3XL, 4XL, and 5XL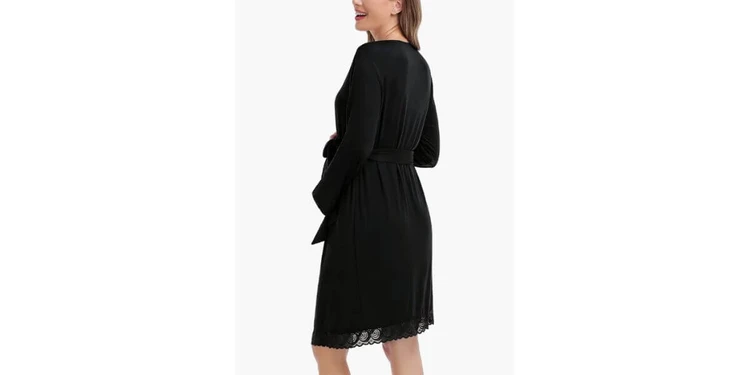 7. 2-piece maternity nightgown
If you're looking for something simpler and subtler, this nightgown has it all.
Its flattering cut gently hugs all the right bumps and curves, and it'll fit beautifully after pregnancy, too.
It comes in black, dark gray, pink, navy blue.
Where? Amazon
How much? $28.99-£35.49
Sizes? XS, S, M, L, XL, and XXL
8. Lucille maternity and nursing gown
This one's both pretty and practical.
Its flattering waist can grow with your baby bump and will still fit comfortably once your little one is in the world.
Its clip-down cups are ideal for nursing and pumping.
It comes in crimson, midnight, rose petal, pistachio, and vintage pink.
Where? Amazon
How much? $42.99
Sizes? XS, S, M, L, XL, 2XL, and 3XL
This is your body at its most sexy and powerful, mama.
Celebrate it.
Flaunt it!