A maternity photoshoot can be a wonderful way to remember this incredibly special, gone-in-the-blink-of-an-eye time in your life.
Before you know it, your little peanut will be here, and you'll be so glad you set aside some time to capture what you looked like before they arrived.
There are a few key things to keep in mind as you go about pulling your perfect maternity photoshoot together. Let's start by looking at what you could wear.
In this article 📝

Maternity photoshoot dresses

Top tips for a great pregnancy photoshoot

Couple maternity shoot ideas

Creative maternity shoot ideas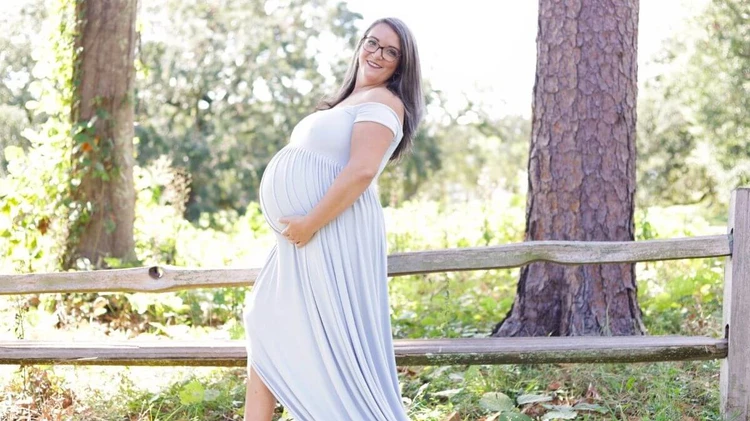 Maternity photoshoot dresses
The most important thing here is to be comfortable, mama. Don't try to wear something that doesn't feel like you.
1. Long and flowing
A long, flowing dress, something tied around your breasts but hanging loosely around your belly, can make you look and feel light and feminine.
2. Body-hugging
If ever there was a time to celebrate your body's beautiful bumps and curves, this was it (although we hope that you celebrate your body all the time). Wear something tight and fitting to show off your baby inside.
3. Go for color
Many maternity dresses come in soft muted colors, such as whites and beiges. Stand out from the rest by picking a dress that comes in a bold striking color, like a rich green or a daring purple.
4. Lacy lingerie
Of course, you don't need to wear a dress at all. If you're aiming for a sexier shoot, slip into some of your favorite lingerie and strike a sensual pose.
5. Elegant evening gown
Long, elegant gowns are all the rage for maternity photoshoots – and with good reason. There's something so striking about seeing a woman and her pregnant belly in an elaborate gown.
6. Floral forever
Flowers make a beautiful addition to a pregnancy photoshoot. If over-the-top dresses aren't your thing, wear a light, pretty floral dress and top it off with a flower crown. You could also hold a small bunch of flowers in your hand.
Need some more inspiration? Check out our 28 Show-Stopping Maternity Photoshoot Dresses.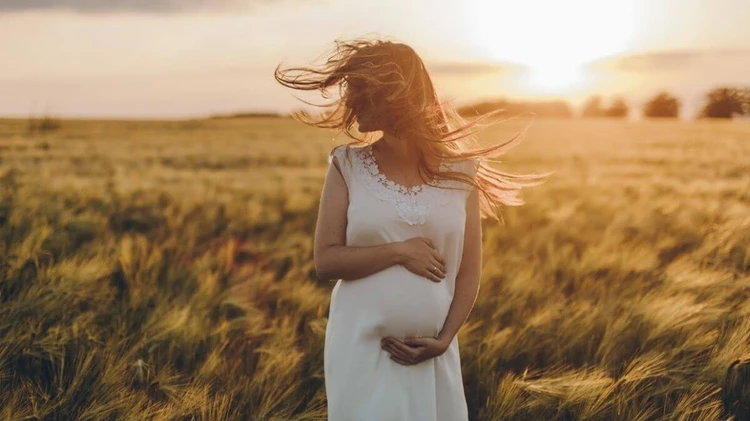 Top tips for a great pregnancy photoshoot
Now that you've found something to wear, the following tips will help you create a great pregnancy photoshoot.
7. Find the right photographer
While it might be tempting to ask your cousin to shoot your maternity pics on an old iPhone, you're much more likely to get great shots if you get a pro on board. This doesn't have to break the bank. Shop around. Find someone you can afford and take a look at their portfolio or Instagram page to make sure you like their style, too.
8. Get the timing right
We're not talking about the time of day here (more on that in a minute). We're talking about your timing, mama. Schedule your shoot too soon, and you won't have much of a baby bump to show. Schedule it towards the end of your pregnancy, and you might feel a bit too uncomfortable or tired. Sometime between 31 and 36 weeks is ideal.
9. Location, location, location
Where are you happiest? Where do you feel most at ease? Maybe you love sitting on your front porch or taking walks around your local park. If you live in a very urban environment, taking some streetside snaps can help to capture where your life is at right now.
10. Look at the lighting
Your photographer will know how important this is, so don't be surprised if they ask you to be available in the early morning or late afternoon. The middle of the day brings harsh light and terrible shadows; rather opt for golden hour.
11. Embrace the season
Every season has its beauty. Get outside and soak up the world around you. A walk through a tree-lined park in the height of summer can be just as beautiful as a bundled up belly in the snow.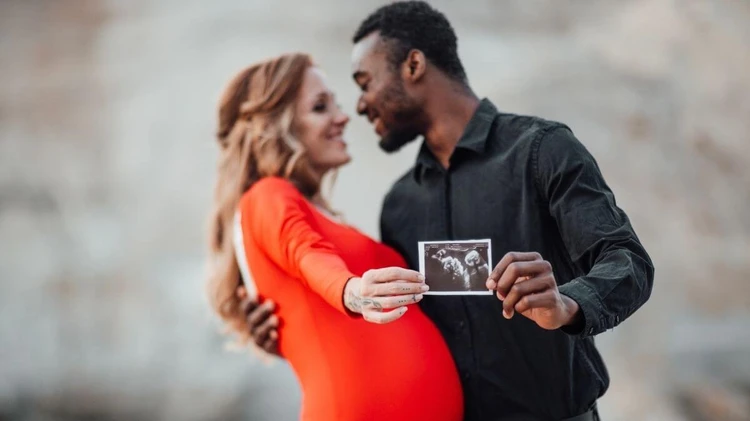 Couple maternity shoot ideas
If you're in a relationship or planning to co-parent, your photoshoot won't be complete without your partner in it, too.
12. Go for a walk
Shots of the two of you walking can be quite symbolic of the journey you're about to embark upon together.
13. Visit your local
What's your favorite local spot? The pizza place down the road? That coffee shop on the corner? Grab a few shots of you having something to eat or drink in a place you love, but this time, with your bump.
14. Get up close and personal
Photographs of your belly are important, of course, but a few Intimate portraits of the connection between you and your partner will reveal your emotional side.
15. Gather the village
It takes a village to raise a child, so the saying goes. Bring together the people in your life who are on this journey with you. They might be your or your partner's parents, a few key family members or friends, or maybe your baby's soon-to-be godparents.
Creative maternity shoot ideas
Let's be honest, maternity shoots can get pretty cheesy pretty quickly. These ideas will help your shots look fun and creative, rather than sappy and sentimental.
16. Remember your furkids
Before your baby, you had furkids. Having your dogs and cats in shot can be a great reminder of what life was like before you added a brand-new human to your family.
17. Remember your other kids, too!
Maybe you don't only have furkids, but real-life children, too. Make sure they get involved. Shots of your other children interacting with you and your tummy can be genuinely sweet.
18. Those blue suede (baby) shoes
There's nothing more adorable than a pair of baby shoes. Incorporate a pair into your shoot by holding them against your bump. Other props, such as babygrows and letter boards, work well, too. Get creative.
19. Use the nursery
Your baby's nursery can make their arrival feel very real. Taking some shots in this special space is sure to bring out some wonderfully excited, happy expressions in you and your partner – every photographer's dream.
20. Studios and silhouettes
This one might make camera-shy mamas a little nervous. But stepping into a studio for some bold black and white shots, or some striking silhouettes, can show off your pregnant body in a whole new light (literally!). This process is easier if you're working with a photographer you know and trust, someone who makes you feel comfortable and at ease.
21. Be candid
There can be something so vulnerable and sincere about candid pregnancy shots. Take some pictures of you, your partner, your children, your furkids, or any combination of the above, making a meal in the kitchen or chilling on the couch for something really authentic.
22. Milk bath
A feminine, ancient way to celebrate your bump.
Read more about how to have a [milk bath maternity photoshoot here]((https://www.peanut-app.io/blog/milk-bath-maternity-shoot).
When your little one is chatting up a storm, telling you about their day, and asking questions at a rate of knots, your maternity pictures will be such a happy reminder of the incredible path you've traveled.
This is just the beginning, mama!
Here are a few other things to help you prepare for your little one's arrival:
16 Baby Girl Nursery Themes
18 Baby Boy Nursery Themes
8 Instagrammable Nursery Decor Ideas
Preparing for Childbirth: Helpful Things to Know
18 Labor Tips For Moms
19 Maternity Swimsuits Pregnant Mamas Love
8 of the Best Maternity Overalls for Stylish Moms-to-Be
18 Best Maternity Jeans Picked by Real Moms-to-Be