Summer's coming in hot mama! Flowy cotton dresses aren't your only option to beat the heat. Check out our top 10 maternity shorts to keep you cool.
The reality of pregnancy means that, for a good long while, you might feel like you're smuggling a watermelon under your shirt.
Add to that some extra weight, your good ol' pregnancy hormones, and the heat of summer, and it's no wonder you're feeling hot and bothered.
Enter our good friend and summer go-to, maternity shorts!
They're comfy, practical, and full of fashion promise, so we've made a list of the ten best maternity shorts for your growing belly.
In this article: 📝

Maternity biker shorts

Maternity jean shorts

Maternity overall shorts:

Maternity Bermuda shorts:

Maternity loungewear shorts

Everyday maternity short favs

What week of pregnancy do you need maternity clothes?

Can tight pants hurt my baby?
Maternity biker shorts
Think cycling shorts without the amusing bum padding.
Fashionable, comfy, and surprisingly versatile!
1. Foucome Maternity Yoga Shorts
These shorts are great for exercise, with soft, comfortable fabric that fits over your belly.
You have your choice of cute designs and colors to keep things fun.
And there are pockets. 🙌
These super stylish and practical maternity bike shorts just make sense.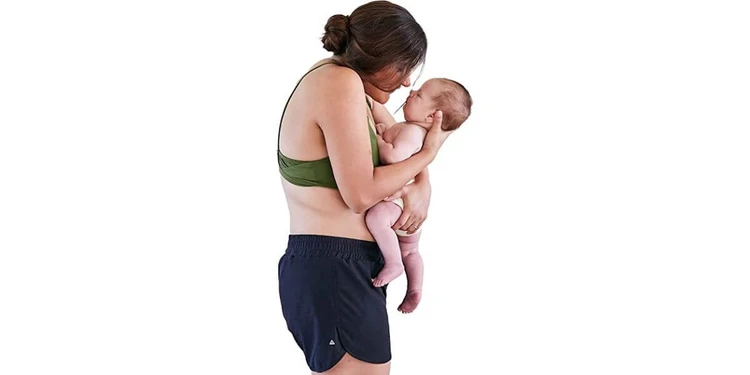 2. Anook Athletics Women's Austin Shorts Active Pregnancy Shorts
These loose, traditionally styled maternity athletic shorts sit comfortably under the belly and they'll be soft and stretchy enough for postpartum too.
Win-win.
Maternity jean shorts
Maternity denim shorts are a wardrobe casual classic, perfect for a summer's day.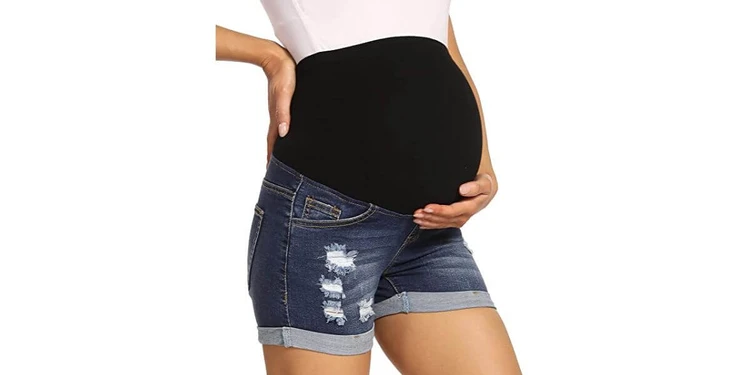 3. Foucome Women's Maternity Ripped Jean Shorts
These beauties have a low rise to fit under the belly and a comfortable elasticated waistband.
Soft and cotton-rich, they'll do you right on a walk in the park, a summer BBQ, or a trip to the store.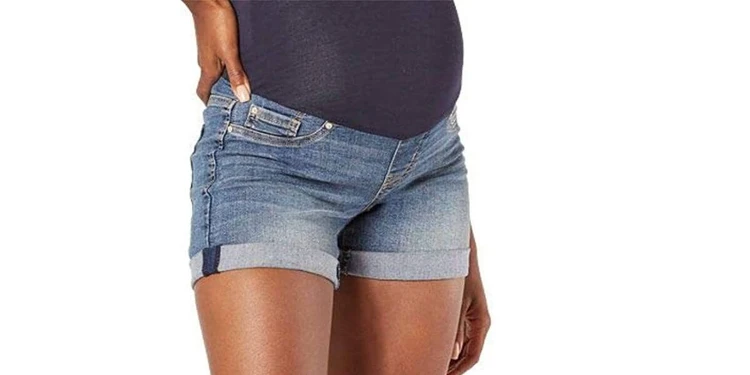 4. Signature by Levi Strauss & Co. Gold Label Women's Maternity Mid-Rise Shortie Shorts
Although pricier, these are a great option for mamas who want something a little longer in the leg.
Maternity overall shorts:
If overalls are your jam, check out our guide to the classic maternity overall.
5. Motherhood Maternity Women's Indigo Blue Destructed Side Panel Denim Shorts
These distressed overall shorts have clever elasticated side panels so they'll grow with your bump.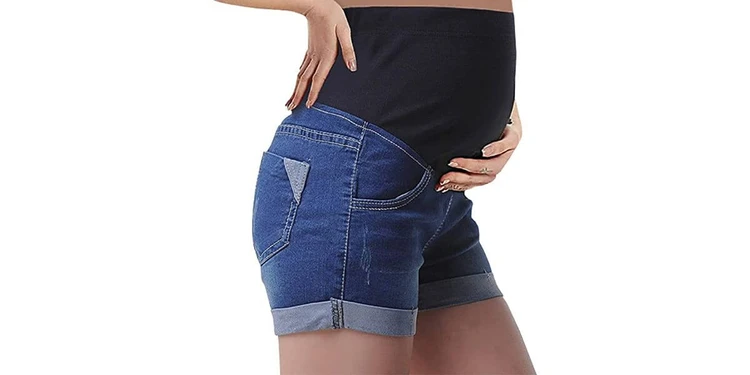 6. Cichic Women's Plus Size Maternity Shorts
This classic denim short goes up to 6 XL.
High-waisted and cotton-rich, these are built for everyday comfort.
Maternity Bermuda shorts:
Bermuda shorts are a little on the longer side.
They're cut to hit just above the knee, making them the perfect choice to dress up or down.
Wear them with a blouse and gorgeous sandals for a lunch date or with white sneakers and a maternity tank for running errands.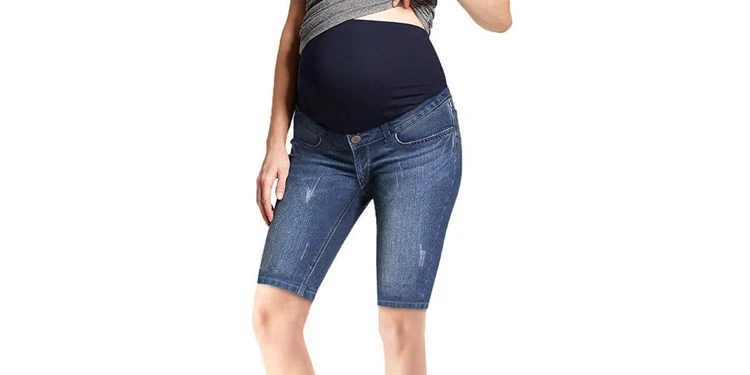 7. Hybrid & Company Women's Super Comfy Stretch Maternity Bermuda
Available in (almost) every color with a stretchable U-shaped waist design, these maternity shorts work equally well in the immediate postpartum period.
Maternity loungewear shorts
Looking for something to wear while you kick about the house?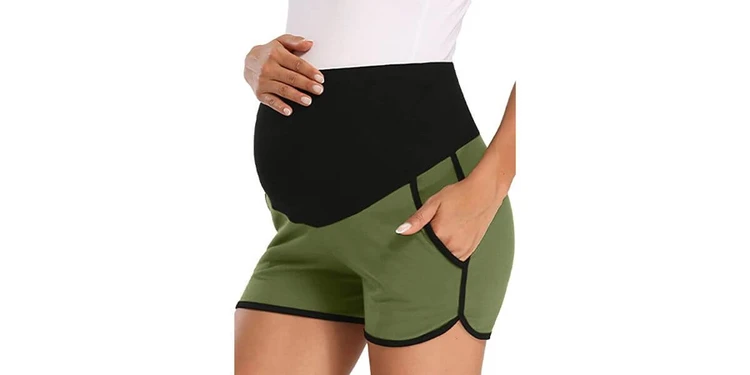 8. Fitglam Women's Maternity Shorts
These great loungewear shorts slip on easily and come in lots of different colors and prints. Fancy a floral? Tripping for tie-dye? Aching for animal print? They've got it all!
They'll work for your afternoon nap and a quick trip to the store.
Everyday maternity short favs
Sun's out, bump's out!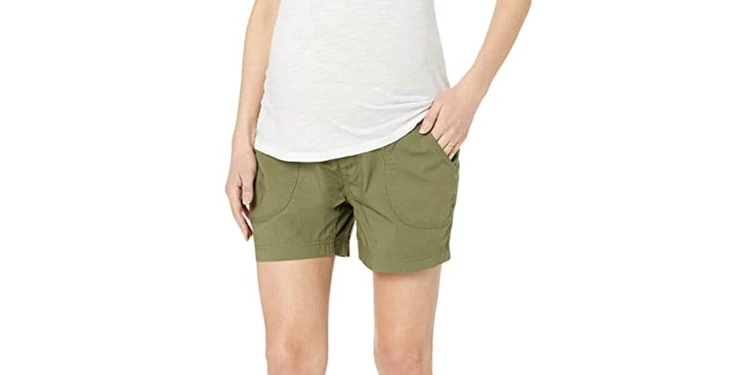 9. Motherhood Maternity Women's Secret Fit Belly Poplin Short
These pregnancy shorts come in a variety of classic colors.
We love the look of the khaki paired with a simple white T.
Cotton-rich with a seamless panel over the belly, these are less fitted than other options giving you that effortless, casual yet stylish look and keeping you cool.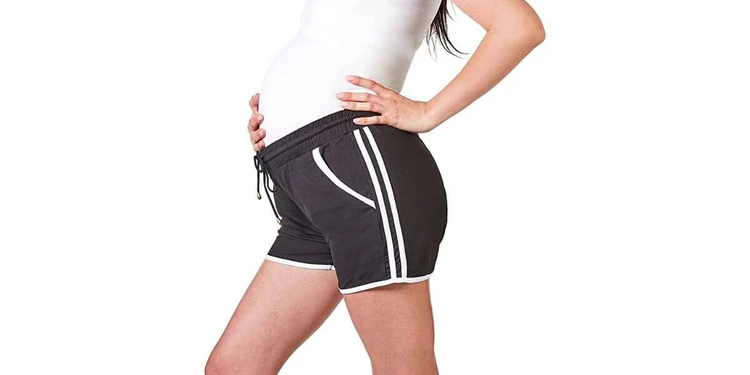 10. INDERO Soft Underbelly Maternity Shorts
These cuties come in a few different patterns up to size X-Large.
We love the sporty black style for an athleisure look.
What week of pregnancy do you need maternity clothes?
This totally depends on you and your body.
While it may just be bloating or that fun pregnancy symptom of constipation, you might feel your belly growing almost immediately.
Most women, though, start seeing a bump around 12 weeks when the uterus has grown enough that it "pops" up and out of the pelvis.
Other mamas-to-be may find that they can wear their regular clothes all the way up to 24 weeks.
Our best advice is to keep comfortable and size up as and when you need to.
And if you're wondering, "When should I start wearing maternity shorts?", the answer is the same.
Whenever you feel like it, mama!
Can tight pants hurt my baby?
There are no specific studies to suggest that wearing tight clothing can harm your baby.
Experts do say, though, that clothing that constricts the pregnant belly can be less than ideal for you, mama.
It can cause and contribute to back pain, yeast infections and meralgia paresthetica (A.K.A tingling, numbness and burning pain in your outer thigh).
This doesn't mean that kaftans are your only option (although we must admit they're crazy comfy).
Think fitted rather than tight.
That's the reason why many pregnancy shorts and trousers come with a wide elastic band at the waist.
It should be comfortable and snug but not confining.
The most reliable gauge of what's safe is your own comfort.
If you feel restricted, it's time to change.
Keep cool and carry on, mama!