With your little bundle on the way, you get the honor of handpicking a name just for them. From all the names in the world, you can choose one that feels right, carries meaning, and may even have cultural or familial significance. And with Mexican baby girl names, there are plenty of beautiful choices that are bursting with meaning. Whether you're connected to Mexican culture through tradition, beliefs, or a love for the Spanish language, there's a stunning collection of names to choose from.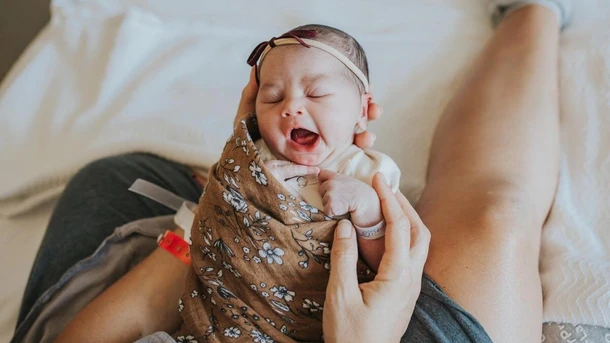 From Margarita and Sofia to Luciana and Neva, there are dozens of pretty Mexican baby girl names to try on with your last name. Whether you're looking for unique Mexican girl names or traditional options, we've got plenty of inspiration.
From our list of 105 Mexican girl names (paired with their meanings!), jot down a few that stand out. You can revisit your top choices in the coming weeks or discuss them with your partner. After all, choosing the perfect name should be fun and stress free.
In this article: 📝

Popular Mexican baby girl names

Unique Mexican girl names

Traditional Mexican girl names (that are making a comeback)

Beautiful Mexican baby girl names

Rare Mexican girl names

What are Latina names?

What's a Mexican girl name?

What are some Aztec girl names?
Popular Mexican baby girl names
A handful of Mexican girl names continue to top the charts year after year. And we understand why. These popular Mexican baby girl names are full of beauty and meaning — and might just be the right one for your little peanut.
Sofia: Wise or wisdom.
Maria: Star of the sea, or in reference to the Virgin Mary. Other variations include María del Carmen, María Elena, and María Guadalupe.
Luna: Moon.
Malena: Woman from Magdala.
Antonia: Priceless, praiseworthy.
Guadalupe: References Our Lady of Guadalupe, nickname Lupe.
Ariana: Very holy.
Camila: Young ceremonial attendant.
Amelia: Industrious.
Lucía: Light.
Miranda: To be wondered at.
Irma: World.
Valentina: Healthy, strong, also references St. Valentine.
Elena: Shining light.
Elisa: Devoted to God.
Unique Mexican girl names
Looking for rare Mexican girl names that are still stunning? Thanks to Spanish being a romance language, all of these names are as beautiful as they are distinct. Here are the top unique Mexican girl names and their meanings.
Pia: Righteous or pious.
Araceli: Altar of heaven or altar of the sky.
Solana: Sunshine.
Xiomara: Valiant, ready for battle.
Xaviera: Bright, splendid, references St. Xaxier.
Estelle: Star.
Rocio: Dew.
Sancha: Holy.
Faustina: Lucky.
Bonita: Beautiful, pretty little one.
Fernanda: Adventurous, brave.
Zaneta: Small apple.
Ula: Well-spoken.
Noemi: Pleasant, variation is Noehmi.
Teodora: Gift of God.
Traditional Mexican girl names (that are making a comeback)
Want a timeless name for your baby girl? Many traditional Mexican women's names are back in the limelight. A name from this list will certainly stand the test of time.
Ana: Gracious.
Verónica: True image.
Margarita: Child of light, common nickname is Rita.
Daniela: God is my judge.
Victoria: Victory.
Martina: Warlike.
Catalina: Pure.
Frida: Peace, also a nod to Frida Kahlo.
Leticia: Full of joy.
Tianna: Princess, common nickname is Tia.
Alejandra: Defender of mankind.
Gloria: Glory.
Claudia: Lame.
Lia: Bearer of good news.
Adalia: Kind, noble, other variations are Adelina, Adella, and Adelita.
Valeria: Health, strength.
Sara: Princess.
Olivia: Olive tree.
Irene: Peace.
Beautiful Mexican baby girl names
Because Spanish is a charming language, there's plenty of sweet Mexican girl games that roll off the tongue. Many of these beautiful Mexican names make for great middle names, too.
Vanessa: Butterfly.
Isabella: Devoted to God, variation of Elizabeth.
Aurora: Dawn.
Stella: Star.
Carmen: Song.
Gabriela: God is my strength.
Adelina: Kind, noble.
Liliana: Lily.
Clarisa: Bright, clear, shining.
Marina: Sea maiden.
Mira: Extraordinary, to be admired.
Mora: Little blueberry.
Luciana: Light.
Lola: Strong, also reference to Our Lady of Sorrows, the Virgin Mary.
Violeta: Purple.
Bianca: Fair, white.
Jacinta: Beautiful girl, hyacinth.
Adana: Created by God, earth.
Dia: Day.
Rare Mexican girl names
Want a Mexican girl name that isn't on the top 10 list? Here are unique Mexican girl names that are just as beautiful as the most popular ones.
Gracia: Grace, an alternative is Graciana.
Tierra: Earth.
Paloma: Dove.
Vittoria: Victory.
Querida: Beloved.
Jade: Green gemstone.
Ramona: Wise one, protector.
Neva: Snow, the variations include Nevita and Nivea.
Osana: Health.
Shoshana: Lily.
Kemena: Strong one.
Zita: Seeker.
Olina: Protector.
Florencia: Blooming, flowering.
Salvadora: Savior.
Yomaris: Sun.
Mireya: Miraculous.
What are Latina names?
Latina names are names connected with Hispanic and Latino culture — and many of the names have Spanish roots. Latina names are common in countries like Mexico, Guatemala, Honduras, Costa Rica, Argentina, Colombia, Ecuador, and across Central and South America. Many parents in the United States choose Latina names for their children due to their heritage, religion, family tradition, and because many Latina names are elegant.
What's a Mexican girl name?
Mexican baby girl names are female names found in the Latina culture and Spanish language. Common Mexican girl names include Maria, Camila, Guadalupe, and Elena, though there are hundreds of beautiful Mexican girl names.
What are some Aztec girl names?
Aztec girl names include Toci, Rosario, Akna, and Metzli, and stem from the Aztecian culture and tribes, the indigenous people of Mexico. These names are also referred to as Nahuatl names because they come from the Nahuatl people. Most Aztec names are derived from words representing nature, mother earth, and religion. Aztec names often refer to flowers, rainbows, weather, animals, and gods and goddesses.
Don't miss also: 75 Mexican Baby Names to Inspire You
If you're looking for more Spanish name ideas for your little one, check out these names for your bebé-to-be.
Have a current frontrunner for your baby girl? Share with your fellow mamas on Peanut.
👶 More baby name inspiration:
150 of the Most Cool and Rare Baby Names
Top Girl Names: The Ultimate List
57 Italian Baby Girl Names
21 Girl Names That Start With A
71 American Baby Names
90 Latin Baby Names
49 Bellissimi Italian Baby Names
60 Magnifique French Baby Names
118 Arabic Baby Girl Names for Your Baby Daughter
The Best 91 Polish Baby Girl Names for New Babies
115 Hawaiian Baby Girl Names for Your Baby Daughter
174 Indian Baby Girl Names for Your Little Daughter
The 111 Best Japanese Baby Girl Names
The Best 99 Korean Baby Girl Names
100 Latin Baby Girl Names & Their Meanings
90 Strong Baby Girl Names & Their Meanings
82 Filipino Baby Girl Names
50+ Beautiful Biblical Baby Names for Girls (& Meanings)
90 Portuguese Baby Girl Names
65 Brazilian Baby Girl Names With Meanings
216 Awesome Australian Baby Girl Names & Meanings
100 Canadian Baby Names With Their Meanings