The right mom group can be a great source of support and encouragement when you have a new baby.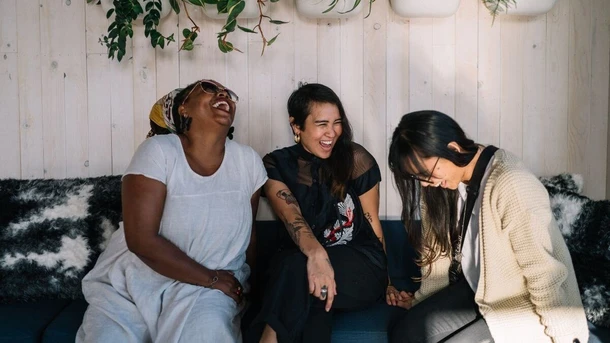 Want to find someone else who'll squeal with excitement when your little one starts to wave?
Or some reassurance that you're not the only one who's up four times a night with the baby?
Mom groups get it.
Here's our best advice on how to find a mom group that's perfect for you.
In this article: 📝

What is a mommy support group?

Things to think about when you're choosing a mom group

Where can I find mom groups?

A note on online mom communities

What do I do if a mom group isn't right for me?
What is a mommy support group?
A mom support group is a group of women who meet or talk regularly so that the moms have a chance to catch up while taking care of their babies or watching their older kids play.
There are no rules for how many mamas can be in a mom group, though it's good to find one with at least six to eight other parents.
You can guarantee that someone's kid will always have a doctor's appointment or choose to nap right when they need to leave the house.
If the group is larger, it won't matter when a few people are absent, and there's less chance that the meet-up will get canceled at the last minute.
Things to think about when you're choosing a mom group
All mom groups look different.
When you're choosing one, think about what makes you feel most excited to get involved, or which suits your schedule and personality the best:
Frequency – In-person groups might meet weekly or as little as once a month. Some also meet in "blocks" – a certain number of sessions and then a long break – and some all year round.

Location – There might be mama groups near you in libraries, in yoga studios, in the park, or even swapping between the living rooms of different local families.

Leadership – Some groups are run by mamas themselves, while others are organized by charities, lactation consultants, churches, or other organizations that support families.

Age range – Some groups are designed for very young babies, others are more like playgroups with toys for older toddlers and preschoolers.

Program – Would you rather go to a group that was structured around an activity – like baby sensory or music – or something more casual?

Mamas only – Would you feel more comfortable in a group that's just for women, or one where dads and other caregivers are also welcome?
Where can I find mom groups?
We're all used to googling the things we need, but mom groups aren't always online (and the ones with shiny websites aren't necessarily the ones that will work for you).
You can also look for information in some of these places:
Local information boards or magazines
Church or school newsletters
Libraries
Your pediatrician's office or hospital
Or ask other parents!
A note on online mom communities
Getting out of the house and talking to other adults can make life with a young baby a lot more fun. But we're also big fans of online mom groups.
Not to blow our own trumpet, but the fantastic Peanut Community has mamas with kids of all ages, all over the world (so you know that someone will always be awake).
Every year, there are more options to let you "meet" other parents online – groups on social media, chatrooms, even baby music classes broadcast live.
The big advantage of these groups is that, whatever your circumstance and wherever you live, you can find an online community of other mamas who've been through the same thing.
So if you have twins, or if your baby was in the NICU, or if you're working, or if you adopted, or if you're a single parent, you'll find someone you can relate to.
What do I do if a mom group isn't right for me?
If a mom support group doesn't "click" straight away (or at least after two or three weeks), it just might not be the group for you.
You want to find somewhere welcoming, not somewhere you're really aware that you're an older or younger mama than the group average, or that you're breastfeeding after everyone else switched to formula, or that you're from out of town while the other members have known each other since high school.
A great, inclusive mom group will make you feel like none of that matters.
If you don't feel comfortable, it's okay to try a different group until you find somewhere you look forward to visiting.
💡 More from The 411:
How to Ask Someone to Be a Godparent
How to Work from Home with a Baby
How to Be A Good Mother: 9 Top Tips
10 Life-Changing Mom Hacks From Peanut Mamas
13 Pieces of Advice That New Moms Need to Hear
How to Find Mom Friends in Your Area
Healing From Mom Burnout
How to Meet Other Moms
59 Self Care Ideas For Moms
How to Understand Mom Guilt
Mom Burnout: Reasons, Symptoms and Treatments
Peanut: Tinder for Moms (& So Much More!)
Peanut Gave Me a Platform to Find My "Framily", Where Other Platforms Couldn't
50 Parenting Quotes to Remember
What is a Crunchy Mom?
50 Fun Things to Do on Mother's Day 2022