Being a boy's mama is an adventure.
Raising little men can be a whirlwind of mud, mess, and noise, and they can be the cuddliest, most caring kids you've ever met – often at exactly the same time.
Raising boys can also be a tough job in the modern world, with so many families trying to break the mold and do things differently from how they were raised themselves.
You want your little man to be strong and independent, but you also want to show him that all his feelings are okay, which is where our meaningful mom and son quotes come in.
And, sometimes, it seems like the whole world has an opinion on how you're walking the line.
So if you want a laugh, some encouragement, or just a reminder that someone else has already been there, here are some of our favorite mother and son quotes for you.
In this article 📝

Unconditional love mother and son quotes

What are the best mother-son quotes?

What is a good quote about mom and son?

What is a bond between mother and son quote?

Single mother and son quotes

What a mother means to a son quote?

What is an inspiring quote to say to your son?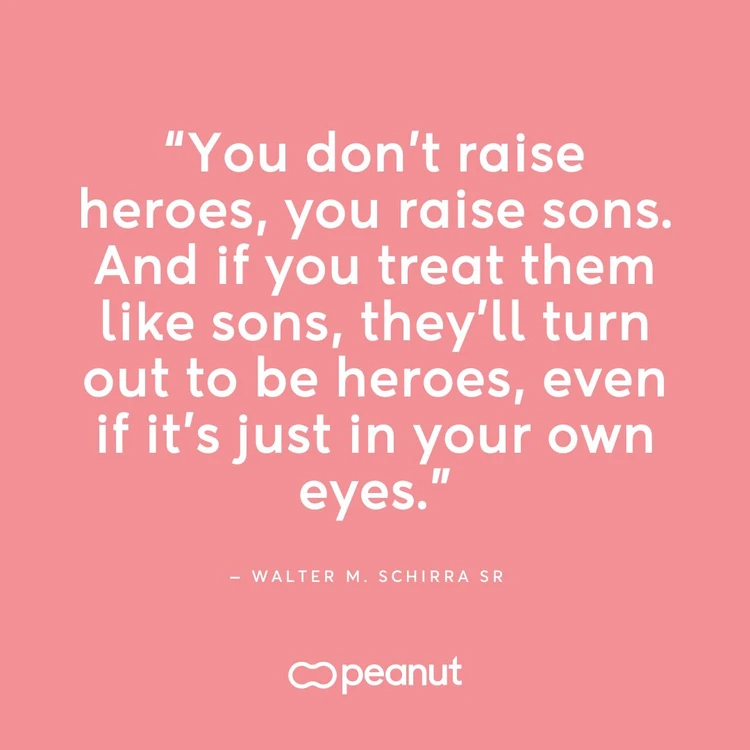 Unconditional love mother and son quotes
How to express your love to your son is unique to you and your little boy, but here are the ways some others have tried to put it – whether that's an ode from a mother to her son or one from a boy to his mama.
Capturing all the things you want him to know, here are some of our favorite unconditional love mother and son quotes:
"And she loved a little boy very, very much – even more than she loved herself." – Shel Silverstein from The Giving Tree

"Sons are the anchors of a mother's life." – Sophocles, Greek playwright

"You don't raise heroes, you raise sons. And if you treat them like sons, they'll turn out to be heroes, even if it's just in your own eyes." – Walter M. Schirra Sr., astronaut

"Even more than the time when she gave birth, a mother feels her greatest joy when she hears others refer to her son as a wise learned one." – Thiruvalluvar, Tamil philosopher and poet

"There is an enduring tenderness in the love of a mother to a son that transcends all other affections of the heart." – Washington Irving, author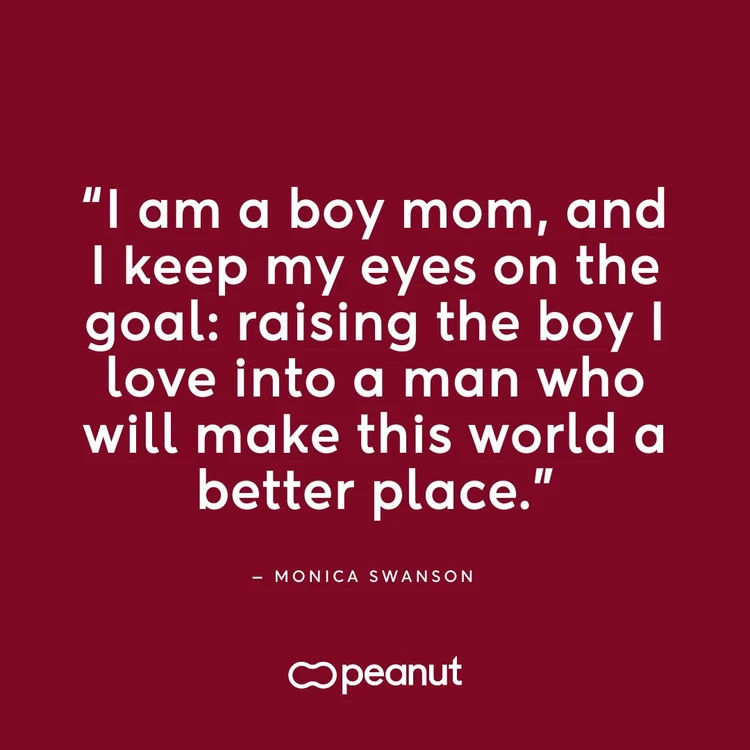 What are the best mother-son quotes?
Now for some mom of boys quotes to sum up the chaos and cherished memories of raising boys:
"But boys are different from girls and not just physically. Acknowledging, appreciating, and understanding that boys are boys is essential in raising a son." – Catherine Musco Garcia-Prats, author

"Little boys can test your patience, run you ragged, and make you want to pull your hair out. But they will also melt your heart with just one look and make you wonder how you ever existed before them." – Katie Bingham Smith, author

"I raise boys…nothing scares me." – Unknown

"Raising boys has made me a more generous woman than I really am. Undoubtedly, there are other routes to learning the wishes and dreams of the presumably opposite sex, but I know of none more direct, or more highly motivating than being the mother of sons." – Mary Kay Blakely, professor

"I am a boy mom, and I keep my eyes on the goal: raising the boy I love into a man who will make this world a better place." – Monica Swanson, author of Boy Mom

"Let your boys test their wings. They may not be eagles, but that doesn't mean they shouldn't soar free." – C.J. Milbrandt, author

"You know you're a boy mom when everything in your house is either lost, dirty or broken." – Unknown
"The only man who has stolen my heart is my son." – Sandra Bullock, actress and producer

"Yet now in my arms, I was holding a helpless baby boy who would grow into a man… I cannot imagine that soft little face one-day having whiskers." – Rhonda Stoppe, author and motivational speaker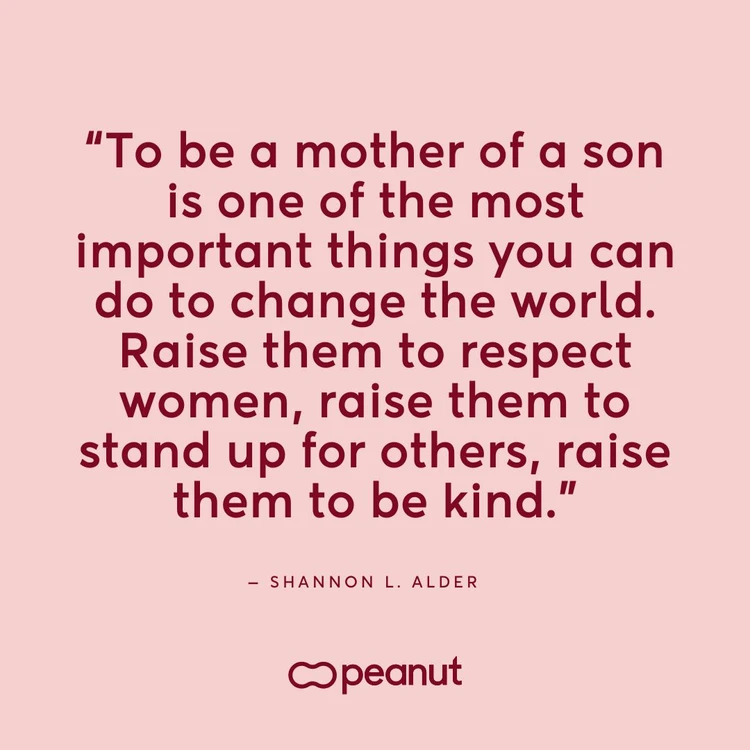 What is a good quote about mom and son?
Check out these poignant son quotes from mom to remind you that you have the most important job in the world:
"If you would have your son to walk honorably through the world, you must not attempt to clear the stones from his path, but teach him to walk firmly over them – not insist upon leading him by the hand, but let him learn to go alone." – Anne Brontë, author

"Be strong out there, my son. Look for the love and kindness in others. Forgive yourself when you make mistakes, and enjoy the journey." – Kirsten Wreggitt, author

"I'm glad we've begun to raise our daughters more like our sons – but it will never work until we raise our sons more like our daughters." – Gloria Steinem, feminist icon and author

"As mothers raising sons, we have the power to change the trajectory of not only our own son's lives but also of the culture at large." – Melia Keeton Digby in her book The Hero's Heart: A Coming of Age Circle for Boys (and the Mothers Who Love Them)

"Having a child makes you realize the importance of life, narcissism goes out the window. Heaven on earth is looking at my little boy. The minute he was born, I knew if I never did anything other than being a mom, I'd be fine." – Jenny McCarthy, actress, model, activist, and author

"To be a mother of a son is one of the most important things you can do to change the world. Raise them to respect women, raise them to stand up for others, raise them to be kind." – Shannon L. Alder, author

"My son is a blessing in every way." – Elizabeth Emken, US politician

"Maternal love is perhaps the most powerful, positive influence on a son's development and life." – Cheri Fuller, author of What a Son Needs from His Mom

"A mother's love doesn't make her son more dependent and timid; it actually makes him stronger and more independent." – further wisdom from Cheri Fuller

"No man succeeds without a good woman behind him. Wife or mother, if it is both, he is twice blessed indeed." – Godfrey Winn, English journalist

"Men are what their mothers made them." – Ralph Waldo Emerson, philosopher and author

"Love as powerful as your mother's for you leaves its own mark. To have been loved so deeply, even though the person who loved us is gone, will give us some protection forever" – Albus Dumbledore, in Harry Potter and the Sorcerer's Stone by J. K. Rowling
What is a bond between mother and son quote?
If we're talking about quote that captures that unbreakable bond between a mother and her baby boy, it's got to be:
"The bond between mother and son lasts a lifetime. The bond between mother and son is a special one. It remains unchanged by time or distance. It is the purest love, unconditional and true. It is understanding of any situation and forgiving of any mistake." – Unknown
But this isn't the only meaningful quote about the connection between a mother and her child.
Here are the best of the best mother and son bonding quotes:
"The heart of a mother is a deep abyss at the bottom of which you will always find forgiveness." – Honore de Balzac, author and playwright

"Of course, my son has been the center of my life and will always be the center of my love. When he was young, I was the rock in his life. Now that I am old, he is the rock in my life." – Hyacinth Mottley, memoirist

"Every mother hopes that her daughter will marry a better man than she did, and is convinced that her son will never find a wife as good as his father did." – Martin Andersen Nexo, author

"Happy is the son whose faith in his mother remains unchallenged." – Louisa May Alcott

"Happy the boy whose mother is tired of talking nonsense to him before he is old enough to know the sense of it." ‒ Augustus Hare, author

"A boy's best friend is his mother." – Joseph Stefano, screenwriter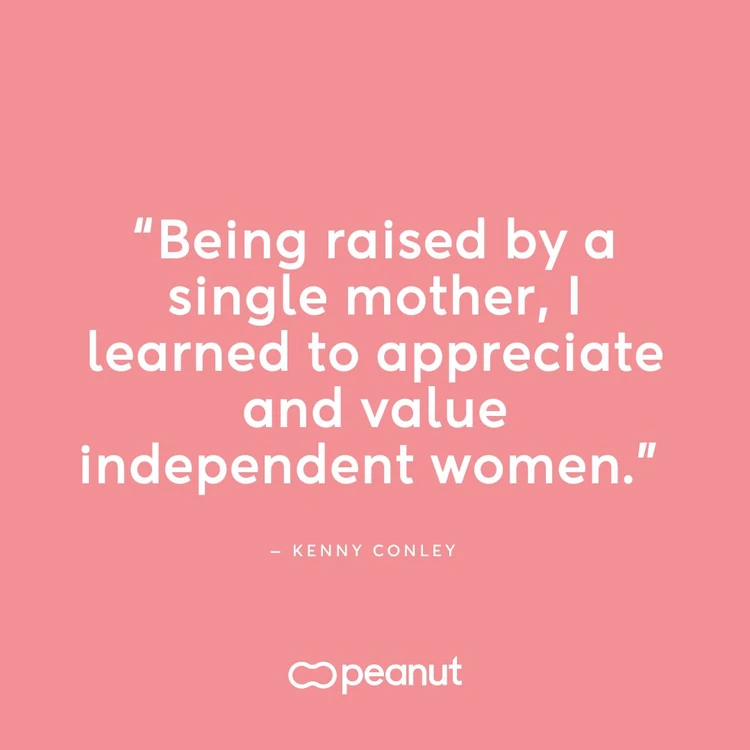 Single mother and son quotes
And now for powerful "to my son" quotes for all the single mamas out there.
Moving single mother and son quotes, for the days when you feel like you're being pulled in all directions.
"That's the wonderful thing about mothers, you can because you must, and you just do." – Kate Winslet, actress

"That strong mother doesn't tell her cub, son, stay weak so the wolves can get you. She says, toughen up, this is the reality we are living in." – Lauryn Hill, singer, songwriter, actress

"Single moms: You are a doctor, a teacher, a nurse, a maid, a cook, a referee, a heroine, a provider, a defender, a protector, a true superwoman. Wear your cape proudly." – Mandy Hale, blogger and author

"Being raised by a single mother, I learned to appreciate and value independent women." – Kenny Conley, pastor

"I believe the choice to become a mother is the choice to become one of the greatest spiritual teachers there is." – Oprah Winfrey, talk show host, author, producer, and actress

"Nothing you do for children is ever wasted." – Garrison Keillor, author, singer, radio personality

"A mother has to think twice, once for herself and once for her child." – Sophia Loren, actress

"I am a single mom and I'm the breadwinner and I have to work and I have to do these things and that's just the way it is. I don't think my son even knows any different." – Charisma Carpenter, actress

"My mother was the one constant thing in my life. When I think about my mom raising me alone when she was 20, and working and paying the bills, and, you know, trying to pursue your own dreams, I think is a feat that is unmatched." – Barack Obama on his mother, Stanley Ann Dunham

"I'm not really single. I mean, I am, but I have a son. Being a single mother is different from being a single woman." – Kate Hudson, actress

"There's no way to be a perfect mother and a million ways to be a good one." – Jill Churchill, author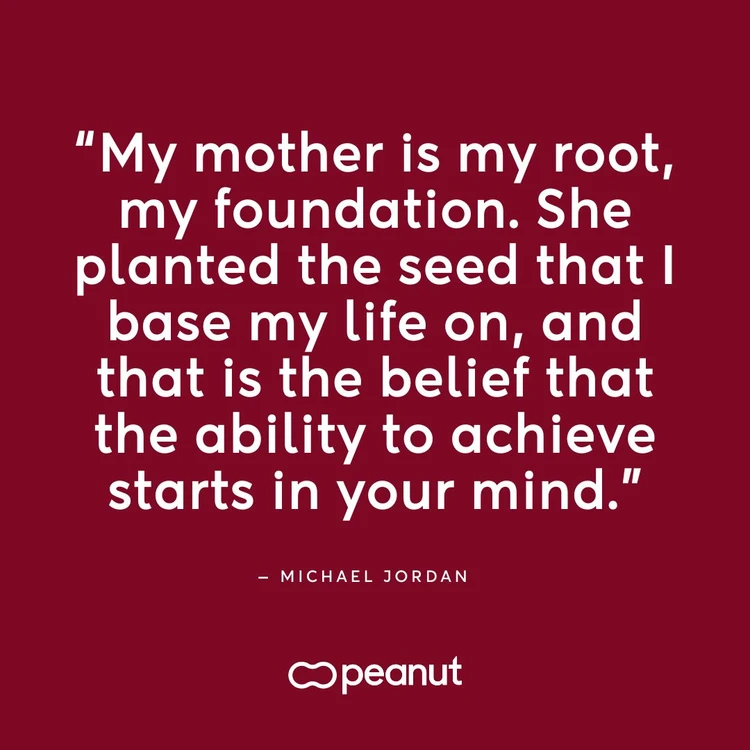 What a mother means to a son quote?
What is the bond between mother and son?
Maybe it's most meaningful to hear this from the son's perspective.
Here are some mother and son quotes from sons in the spotlight who talk publicly about how proud they are to be their mothers' sons.
"Ain't a woman alive who could take my mama's place." – Tupac, rapper and actor

"And of course, as a son I would say this, she was the best mum in the world. She smothered us with love, that's for sure." – Prince Harry on his mother, Princess Diana

"Twenty years on I still feel the love she gave us and that is testament to her massive heart and her amazing ability to be a great mother." – Prince William, echoing his little brother's sentiments

"A mother's arms are made of tenderness and children sleep soundly in them." ‒ Victor Hugo, author

"All women become like their mothers. That is their tragedy. No man does. That's his." – Oscar Wilde, poet and playwright

"A mother is the truest friend we have when trials, heavy and sudden, fall upon us when adversity takes the place of prosperity." – Washington Irving, author and historian

"They used to say, 'Oh, he's just his mother's son,' as a way of dismissing me. And every time I'd say, 'Oh, yes, thank you! I'm so proud of that.'" – Justin Trudeau, Canadian prime minister, on his mother, Margaret Trudeau

"A man loves his sweetheart the most, his wife the best, but his mother the longest." – Irish Proverb

"I listen to my mother, and that keeps me out of trouble. I'm a good son." – Mr. T, actor and wrestler

"Mama was my greatest teacher, a teacher of compassion, love and fearlessness. If love is sweet as a flower, then my mother is that sweet flower of love." – Stevie Wonder, singer-songwriter

"How beautifully everything is arranged by nature; as soon as a child enters the world, it finds a mother ready to take care of it." – Jules Michelet, historian

"Moms are as relentless as the tides. They don't just drive us to practice, they drive us to greatness." – Steve Rushin

"My mother is my root, my foundation. She planted the seed that I base my life on, and that is the belief that the ability to achieve starts in your mind." – Michael Jordan on his mother, Deloris Jordan

"My mother was the making of me. She was so true, so sure of me; and I felt I had something to live for, someone I must not disappoint." – Thomas Edison on his mother, Nancy Matthews Elliott

"I remember my mother's prayers and they have always followed me. They have clung to me all my life." – Abraham Lincoln, on his mother, Nancy Hanks Lincoln

"A man never sees all that his mother has been to him until it's too late to let her know that he sees it." – W. D. Howells, author and playwright

"Mother is her son's first god; she must teach him the most important lesson of all, how to love." – T. F. Hodge, author
What is an inspiring quote to say to your son?
We've gathered the best quotes from mother to son fit to inspire no matter how much they've grown or where they may be in their journey:
"The most important mark I will leave on this world is my son." – Sarah Shahi, actress and model

"I may not be perfect, but when I look at my son I know that I got something in my life perfectly right." – Unknown

"I have a son, who is my heart. A wonderful young man, daring and loving and strong and kind." – Maya Angelou, poet, author, and civil rights activist

"Be strong out there, my son. Look for the love and kindness in others. Forgive yourself when you make mistakes and enjoy the journey." – Kirsten Wreggitt, author
That's it for our favorite mother and son quotes to capture the love, laughter, and lunacy of life with your baby boy.
If you need a little more, you could always take the leap and embrace a mother and son tattoo!
Just remember Mama, you've got this.
And to your little boy, you're a superhero.