Last month, the Motherhood Manual went viral on Peanut for all the wrong reasons after its premise was blasted by our community. The good news is: it's not real!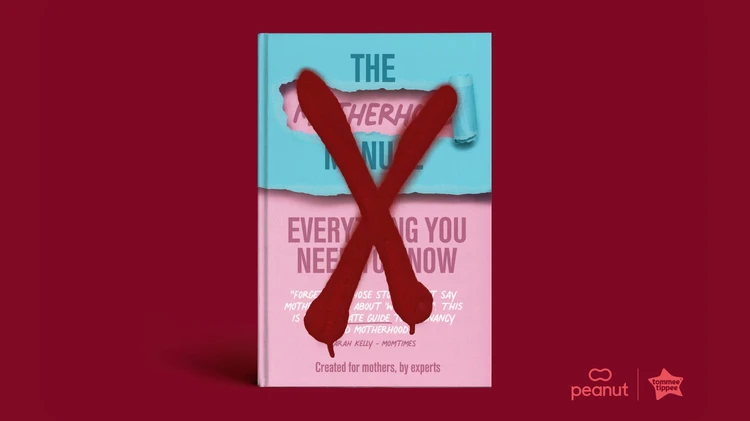 In partnership with Tommee Tippee, we created this April Fools stunt to shine a line on the pressures and expectations mothers experience. There are countless pieces of content that leave women feeling judged, inadequate and less confident - and it needs to change.
There is no one-size-fits-all approach to motherhood, we're all just winging it.
"We created 'The Motherhood Manual' to shine a light on the pressures of motherhood."
Our founder, Michelle Kennedy, says "With the prevalence of social media and glorified advertising campaigns, it's so easy to feel like you aren't 'enough'.
Are they eating enough? Are you giving them enough attention? Are they advancing at the right pace?
The role of the primary caregiver in the home has completely changed over the last 40 years with many working full time as well as being the main carer and running the home.
We are expected to raise children as if we don't work and work as if we don't have children. This idea is unattainable and it's not surprising that record numbers of mothers are developing mental health struggles.
This April Fools Day campaign emphasises that we are ‒ rightly ‒ just winging it, and raising a child really does take a village.
The last thing mothers need is a manual for motherhood. There are no rules about what it means to be a 'good mother'.
Some people breastfeed, some people don't. Some people go back to work, others stop working completely.
The most valuable thing a mother can have is a safe space to be vulnerable and share their reality without judgement. Because after all, every day comes with new experiences and new lessons."
After kick-starting a conversation around the pressures women experience, we have launched a support group on Peanut called 'Just Winging It', powered by Tommee Tippee. This is a safe space to share struggles, experiences and know you're not alone.
63% of mums feel like they're comparing themselves to other mothers on social media or in real life
After speaking to 2,000 women from our UK community, it's clear 'Just Winging It' is so needed.
The hardest part of motherhood for 31% of mums is finding time for themselves, followed by the cost of raising kids (19%), childcare (17%), and balancing work and home life (14%).
62% have experienced a loss of identity and 40% feel less confident.
"I always think everyone else is better, calmer, more patient, and better at dealing with sleep deprivation than me, even though I am doing my best." ‒ Louise
Jessica, a 32-year-old mum-of-one, said, "I feel pressure to make better meals, take my son to more places and buy him more toys. Although I don't always do these things I feel bad that he isn't having the same experience others are."
And Christine, 35, said, "Hardly anyone shows the difficult days, so you think it's just you struggling with colic, lack of sleep, and down days."
With 65% of mothers feeling pressure to be the 'perfect mum', it's not surprising that 95% experience guilt.
Half feel judged for the choices they make for their families, 83% have received unsolicited advice during their pregnancy and motherhood, while 78% feel the pressure of society's expectations.
We're here alongside Tommee Tippee to offer a safe, non-judgmental space for you to talk about your struggles and receive support from others who can relate.
Tommee Tippee get it ‒ they've been helping families enjoy and embrace the rollercoaster ride of bringing up baby for over 50 years, so we knew they were the best people to collaborate with for 'Just Winging It'.
"When you compare yourself, you are adhering to somebody else's standards, under their circumstances."
We had a chat with mindset coach and founder of Mind the Parent, Laura Abba, about these findings: "There have always been unrealistic pressures placed on mothers and parents.
The difference now is that, due to technology and social media, you could be bombarded day and night with what a 'good mother' should be doing, and how parenting should look ‒ but these videos and tales tend to be fabricated or show only part of the reality.
When you compare yourself, you are adhering to somebody else's standards, under their circumstances. When you do what's best for you, you can take control on your own terms, on how you want to do things. You know your children better than anybody else, and you should do for your child what you know is best for them.
Platforms like Peanut can be a godsend to any parent. These platforms allow open and honest conversations among real women and mothers. There is no judgement, they are a safe space and they also have a group of experts available through Groups, Pods (interactive talks), and even for private messages.
From making friends, to opening up about intimacy after having a baby, or how hard (or easy) it is for mothers to leave their children in childcare. These sort of communities hold each other's back when the parenting guilt shows."
Just winging it? Let's support each other along the way - we need it.