In my search to make friends as a new mom, I found the Peanut app. This is my experience, and how Peanut helped me overcome anxiety as a new mom.
Fram-il-y: A group of friends who become family.
Friends are the family we get to choose.
Peanut gave me exactly that.
I've found my framily.
Here's my experience with the Peanut app.
In this article: 📝

How I found Peanut as a new mom

My personal experience with Peanut

Why I believe Peanut is a useful tool for all mamas
Find new friends nearby
A connection is made every 3 seconds on Peanut.
How I found Peanut as a new mom
I was a new mom to a three-month-old, had just left a job that I loved in order to stay at home, and all of my family and friends (and wonderful support system) lived across state lines.
To say I felt alone would be an understatement.
I've struggled with social anxiety for most of my adult life, and the idea of meeting new people was daunting.
Like most moms, Google was my best friend.
I searched "How to make friends as a new mom," and the search results clearly showed that there were all different kinds of women looking for the same thing.
That was when I came across Peanut.
I was a little cautious at first — and slightly ashamed that I was resorting to downloading an app to meet and make new friends.
I figured all I could do was be myself and see what happened.
What did I have to lose?
So, I started swiping through hundreds of moms in my area.
That's when I realized every Peanut user had at least one thing in common: we all craved meaningful connections from women and mothers like ourselves.
None of us wanted to feel like we were doing it alone.
I had an ideal "mom tribe" in my mind.
Friends that I could vent to about the lack of sleep and boob pain that only a new mama could understand; friends who brought over Starbucks and accepted my messy house (and even messier hair); and friends who loved my little one as much as I did, and gave me little ones to love too.
I wrote in my bio that I was "too socially anxious and awkward to send the first message", hoping that being my authentic self would help attract what I was searching for.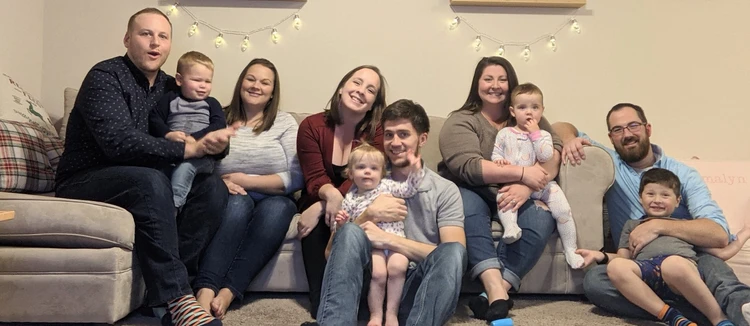 My personal experience with Peanut
Megan was one of the first people I connected with on the Peanut app (she messaged me first, of course), and we clicked right away.
We chatted back and forth all day for weeks and never ran out of things to talk about, so we set up our first playdate.
We decided to do a Christmas train ride with both of our families and I was happy to have my husband there as a buffer.
I was so nervous on the way to the train station and I nearly changed my mind ‒ and I'm so glas I didn't.
My nerves disappeared soon after our (slightly awkward) introductions.
The conversation flowed smoothly until it became easy and effortless.
Our babies were too little to care at the time, but I won over Megan's toddler, which was a huge win in my book.
And the rest is history!
A few weeks after meeting Megan, we both started talking to a girl named Lauren.
A few days later, we discovered we were talking to the same person!
That's when I knew the Peanut algorithm was magical.
Once we all got together, everything felt complete.
I knew we had found something special.
It became difficult to tell who was having more fun; the kids or us!
Playdates became a weekly occurrence where we rotated visits to each other's houses, local parks, and, of course, Target.
Now, our friendships consist of taking turns hosting family dinners, celebrating birthdays and holidays together, and group vacation planning.
Everything is so easy when we are all together, even with our husbands and kids.
We even joke about finding a 3-home cul-de-sac for our families.
If I'm being honest, I'm not even sure it's a joke!
It's crazy to look back and realize this all started by downloading an app.
Find new friends nearby
A connection is made every 3 seconds on Peanut.
Why I believe Peanut is a useful tool for all mamas
Whether you're looking for advice, support, or a framily to call your own,
Peanut provides the perfect opportunity to expand your village.
It gave me two best friends that feel more like soulmates, four more babies to love on and watch grow up, a family to celebrate with, a support system to lean on during tough times, and a life full of so much joy and love.
If you're hoping to be, expecting to be, or are already a mom, Peanut could change your life, just like it changed mine.
I can't wait to see you there.