Looking for a name inspired by nature? A name that recalls the natural world, while still being cool enough for your little boy or girl? Look no further. Here, we're talking nature baby names. And we've got 138 of them.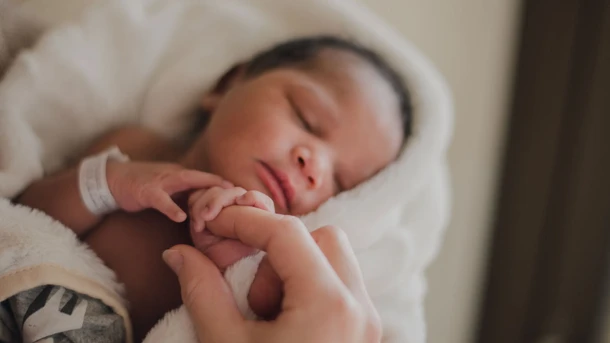 So, whether you're wondering "what are good hippie names?" or even "what are boho names?" you'll find your answer right here. We've scoured the far reaches of the natural world to find these names, from the animal kingdom to the world of precious stones, to names for all sorts of natural features from across the planet. You're welcome!
The cool thing about these is that they aren't necessarily gendered. Given that nature baby names are for the most part pretty unconventional, there's no risk of falling into any sort of stereotype.
So, we'll divide this article up into nature names for girls and nature names for boys, but it's your call whether you think a name might be a fit for your child. Whatever feels right is right.
Let's get to it. Here are 138 nature names for babies that we think you'll love.
Table of Contents 📝

Nature names for girls

Boy names after nature

Genderless nature baby names
Nature names for girls
Let's start with a selection of female nature names. Remember, you might find that they work just perfectly for a baby of another gender too.
Pretty nature names from pretty plants
Blossom. The burst of flowers in spring.
Juniper
Olivia. It means 'olive tree' in Latin and takes its popularity in English from William Shakespeare.
Hazel. One of the more popular girl nature names, it's the name of the hazelnut tree.
Rose or Rosa, or even Rosetta. It doesn't need much of an introduction.
Iris
Sage
Daisy
Camelia or Camellia (or even Camilla or Camila!)
Magnolia
Holly
Azalea
Lily
Willow
Ivy
Hyacinth
Jasmine or Yasmin
Aspen
Dahlia
Rosemary
Poppy
Acacia
Flora. Why not go for the Latin name for flowers in general?
Fleur – or the French one?
Girl nature names inspired by the seasons
Now for some seasonal baby names, inspired (perhaps) by your favorite time of the year.
Summer
Autumn. It's a season of bright colors, fierce weather, and pure coziness. A beautiful name for a complex character.
June. Not necessarily a nature name, but the names for the spring and summer months recall the beauties of the natural world.
April
May
July
Bonus names: Of course, there's nothing stopping you from going for September, October, or November either – or indeed any other month, or day of the week.
102 women are talking about 'Nature baby names' on Peanut. Download the app to join the conversation.
Pretty nature names from precious stones
Different cultures have attributed a deeper meaning to each of nature's precious stones. However, they make perfectly lovely nature baby names. And while they may have been a little more popular in the past, they sound great today too.
Some of the most popular?
Ruby. The ruby signifies nobility and passion. Perfect for a beautiful baby girl.
Amber. Associated with the sun, it's a nature name that speaks of warmth.
Crystal
Jewel
Jade. Symbolizing nobility and wealth, in some cultures, it's the most important stone.
Beryl
Pearl. It's a symbol of perfection and purity.
Other nature-related names for girls
Isla
Ava. It comes from the Latin word meaning 'bird' – but in Persian, it means 'voice' or 'sound' too.
Wren
Coral
Idoya. This one's Spanish, meaning 'pond'.
Cascade
Lana
Fawn
Raven
Misty
Sparrow
Evening
Dove
Sierra
Savanna or Savannah
Luna
Nova
Petal
River
Harmony
Dusty
Haven
Jay. A type of bird if not just a shortened version of something else!
Meadow
Rosa
Solstice. The name for the longest and shortest days of the year.
Sky
Ocean
Terra
Boy names after nature
Male nature names also take a lot of inspiration from trees, plants, and flowers. Here are some baby names for boys that might be perfect for your little one.
Cool baby boy names from plants
Here are 10 nature names for baby boys that come straight from the world of plants.
Basil. A classic boy name that actually comes from the Greek word meaning 'kingly, brave, and chivalrous'. But it's also the name of the so-called 'king of the herbs'.
Birch
Forrest or Forest
Chestnut
Quince – a type of fruit!
Gelso – the Italian word for the mulberry tree.
Oak
Huckleberry, or Huck – just like Huckleberry Finn.
Reed or Reid
Acorn
Boy nature names from the animal kingdom
If plant boy names are not your thing, try these 10 male nature names that are inspired by animals and wildlife.
Bear
Falcon
Wolf, Wolfe, or Wulf.
Fox
Mavis – actually a type of bird.
Hawk or Hawke
Leo – that's the Latin word for a lion.
Drake. Yep, it comes from the Old English word for 'dragon'.
Phoenix
Other nature-inspired baby names for boys
Besides animals and plants, you can take inspiration for boy baby names from the landscape. Here are 22 pretty cool options.
Glen or Glenn
Orion
Gwydion – traditional Welsh name meaning 'born of trees'.
Brin, Bryn, or Brynn
Grove
Heath
Flint
Heathcliff – the stormy character from the classic novel Wuthering Heights.
Branden or Brandon. It could come from the Old English for 'beacon hill' or the Old Irish for 'crow'.
Land
Farley
North
Ridge
Lauel
Rock
Woody
Blaze
Canyon
Cliff
Cloud
Dale
Genderless nature baby names
We said at the top that all of these names can be used for boys or girls. And that's absolutely true. Yet, here we've got some more lovely earthy baby names that can be used no matter baby's gender.
Arbor
Ash or Ashton
Bay
Berry
Bracken
Fennel
Bramble
Brooke or Brook
Cedar
Rowan. Popular for boys and girls among the Irish and Scots, it's also a popular Arab name referring to a river in Paradise.
Clay
Clover
Cove
Ember
Lake
Robin
Briar or Brier
Aloe
Kai – meaning 'ocean' in Hawaiian.
Ginger
Lark
Leaf or Lief
Snow
Linden
Orchard
Storm
Rain or Raine
Tree
West
Found a nature baby name you like? Why not share it with the mamas of Peanut
👶 More baby names:
138 Unisex Baby Names
40 Flower Baby Names for Boys With Meanings
83 Cottagecore Baby Names
180+ Nonbinary Baby Names For Your Little One
75 Water Baby Names
100+ Baby Names That Mean Peace
86 Baby Names Meaning Sun
50 Baby Names That Mean Fire
218 Beautiful Exotic Baby Name
186 Venerable Vintage Baby Names
100 Anime Baby Names
100+ Virtue Baby Names (and Names That Mean Virtue)
132 Ethereal Elvish Baby Names
201 Inuit Baby Names & Their Meanings
71 Greek Mythology Baby Names
231 Magical Harry Potter Baby Names
250+ Adorable Baby Names That Mean Love