Looking for nautical baby names? We've searched out more than 40 great options that capture the spirit of life on the ocean wave!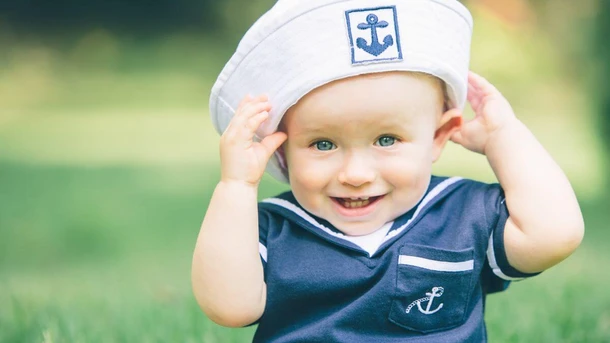 Looking for a baby name that captures the maritime spirit of freedom and adventure?
We've sailed the seas to find the best nautical names from around the world.
We'll show you our favorites and let you in on what they mean and where they come from.
Ready? Let's weigh anchor and begin our voyage of discovery!
In this article 📝

Our best-loved nautically-inspired baby names

What are some cool ocean names?

What name means calm waters?

What name means fisherman?
Our best-loved nautically-inspired baby names
There are lots of different ways a name can have a nautical vibe.
Some describe the sea itself.
Others are linked to life on the ocean or honor famous seafarers of the past.
And yet others have religious or mythological connections to the sea.
We'll look at examples of all these.
And while our lists are divided into boys' and girls' names, this is just a guide to get your creative juices flowing.
Feel free to mix and match as you see fit.
Nautical boy names
Nautical boy names often relate to the life of a sailor.
Sometimes they're connected to values of courage and daring.
And sometimes, they link to bodies of water or specific places.
Here are our top picks:
Adrian: This popular name comes from the Latin for "son of Adria," a Roman town. But it's also the root from which the Adriatic Sea takes its name, making it a perfect nautical name.

Agwe: This Jamaican name means "spirit of the sea" or sometimes simply "water."

Andrew: The Biblical Andrew was a fisherman who was one of Jesus's disciples. The name means "strong and manly."

Brendan: Saint Brendan is one of many patron saints of sailors. He was an Irish priest known for his long and adventurous voyages. For an extra perk, Brendan means "prince" or "king."

Caspian: Another name linked to a specific body of water, the Caspian Sea lies between Asia and Russia. The name comes from the Latin caspii meaning white.

Christopher: Saint Christopher is perhaps the best-known patron saint of travelers. And another Christopher, Columbus, was a famed maritime explorer.

Clement: Saint Clement was drowned with an anchor tied around his neck, punishment for his attempts to convert people to Christianity. He is another patron saint of sailors and a protector against storms.

Dylan: This Welsh name means "son of the sea." Traditionally used for boys, it's now increasingly used for girls too.

Erasmus: An Italian bishop, Erasmus is another patron saint of sailors

Elmo: This is an alternative name for Saint Erasmus. "Saint Elmo's fire" is the name given to a blue glow that can appear around a ship's masts in stormy conditions. Ancient mariners often considered it a good omen.

Francis: Saint Francis of Paola is a patron saint of mariners and naval officers.

John: Saint John of Nepomuk is considered a protector against floods and drowning.

Nicholas: Best known as Santa Claus, St Nicholas is also believed to have mastery over the sea.

Peter: Like Andrew, Peter was an apostle who was also a fisherman.

Phocas: Saint Phocas the Gardener is another patron saint of sailors.

Sailor: This name can be used for any gender. It gained prominence when Liv Tyler used it for her son.

Jacques: French naval officer Jacques Cousteau pioneered modern underwater diving and marine conservation.

James: James Cook was a famous British naval officer who led voyages of exploration across the world.

Horatio: Admiral Horatio Nelson is considered one of history's greatest naval commanders.
Nautical girl names
And now it's time for these mighty seafarers to shine:
Asherah: A Semitic name, Asherah means "she who walks on the sea."

Christina: Saint Christina survived attempts to drown her and is a patron saint of sailors.

Coral: This popular girl's name is also a beautiful sea plant.

Cordelia: This name has Celtic origins and means "jewel (or daughter) of the sea."

Doris: In Greek mythology, Doris was a sea nymph, the daughter of Oceanus and Tethys. Sometimes the name's meaning is given as "gift of the ocean."

Gali: This Hebrew name means "wave" or "fountain."

Grace: Grace O'Malley was a 16th-century Irish leader who successfully defended her country at sea.

Jeanne: The remarkable Jeanne de Clisson was a French noblewoman who became a pirate to avenge the execution of her husband.

Jessica: In 2010, 16-year-old Jessica Rose Watson became the youngest person ever to circumnavigate the globe solo.

Kaia: Also spelled Kiya, this Hawaiian name means "sea."

Kailani: One of the most popular girls' names in Hawaii, this lovely name means "sea and sky."

Krystyna: In 1978, Polish Krystyna Chojnowska-Liskiewicz became the first woman to sail solo around the world.

Marina: From its Latin roots, Marina means "of the sea."

Mary: The Virgin Mary is believed to be a guide and protector to those at sea. One of her many aliases is Stella Maris, or "Star of the Sea."

Morwenna: This Cornish name is now often used in Wales. It means "sea wave."

Nancy: Nancy Wagner became the first woman ship pilot in the US.

Stella: From the Latin for "star," this name is a guiding light for those at sea.

Ula: A Gaelic name, Ula means "jewel of the sea."

Yemaya: She's ocean mother goddess in the Caribbean religion of Santeria.
What are some cool ocean names?
The Hawaiian name Moana is used for girls and means simply "ocean".
It's shot to worldwide fame because of the Disney movie of the same name.
Another cool Hawaiian name is Aukai, which means "explorer of the sea."
You could also opt for Bahari, Swahili for "ocean," or Samudra, an Indonesian name with the same meaning.
Check out our list of oceanic names for more ideas.
What name means calm waters?
Lake is an English name that was once only a surname.
These days, it's increasingly used as a first name for both boys and girls.
And it immediately conjures up images of tranquil bodies of water.
Another option for girls is the lovely Hawaiian name Lana, which means literally "calm waters."
What name means fisherman?
Although more commonly found as a surname, Fisher is gaining popularity as a first name too, generally for boys.
The old English version is Fisk, another good option for parents looking for something unusual.
Nautical names can bring a taste of adventure, freedom, and daring.
But there are calmer options, too, with meanings connected to peaceful waters.
We hope there's something here that's caught your eye!
⚓ More baby name guides:
64 Baby Names That Mean Ice
67 Baby Names That Mean Ocean
47 Baby Names that Mean Moon
80 Radiant Baby Names That Mean Rainbow
93 Baby Names That Mean Life
101 Brilliant Baby Names That Mean Light
68 Dreamy Baby Names That Mean Snow
267 Heavenly Baby Names That Mean Star
70 Enchanting Baby Names That Mean Night
79 Refreshing Baby Names That Mean Rain
78 Lovely Libra Baby Names