Choosing a Nigerian baby name means diving into the rich world of the country's diversity.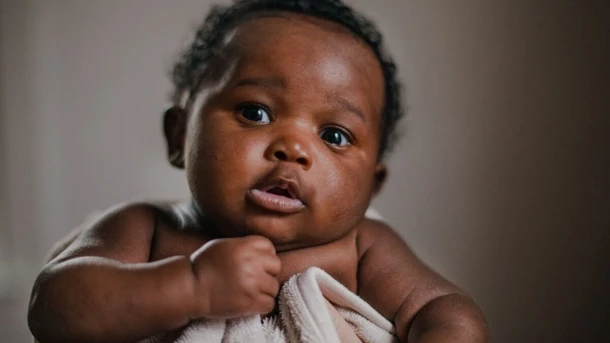 Nigeria boasts over 500 languages and 250 ethnic groups—so when we speak about Nigerian baby names, we're covering a lot of ground.
The Nigerian diaspora is so vast that unofficial estimates reach up to 15 million people.
From athletes to writers to intellectuals, doctors, and comedians, Nigerians have made their mark in a variety of industries.
Whether you have Nigerian heritage, or are just inspired by the beating heart of this West African nation, Nigerian names offer an inspiring mix of deep meaning and beautiful sounds.
The major ethnic groups in Nigeria are the Hausa-Falani, the Igbo, and the Yoruba.
Each one has its own naming traditions.
Children are named for, amongst other things, the conditions of their birth, their protectors in the world, and the state of their families.
Because of colonial influence, many Nigerians also have additional European names or translations of their names.
With all that beautiful complexity in mind, let's explore the most popular Nigerian names.

111 Nigerian names
Let's start by looking at what name is at the top of the charts.
What is the most popular name in Nigeria?
According to Forebears.io, the most popular name in Nigeria is drum roll, please:
Musa: This name means prophet and is the Arabic version of the name Moses—a name that comes from the phrase "drawn out of the water."
But, because there are so many different cultures and languages, there are many other names that vie for top position.
Here are some of the most common Nigerian names:
What are some Nigerian girl names?
*Before we get going, it's important to note that while we've separated this list, many Nigerian names are gender-neutral.
Here are some of the top Nigerian baby girl names and their meanings:
Abebi: We asked for a girl.
Abeni: We asked for her and she arrived.
Abosede: A girl who is born on a Sunday
Adaeze: The daughter of the king
Adaego: The daughter of wealth
Adaku: A girl who brings wealth to the family she is born into
Adamma: Beautiful girl
Adanna: The father's daughter
Akachi: The hand of god
Alaba: Second child after twins
Alheri: Grace
Alika: Most beautiful
Amara: Grace
Ayo: Joy. Many names start with "Ayo" to show joy as part of a larger naming story.
Ayodele: Joy has arrived.
Ayotunde: Joy has returned.
Chi: Chi means God and is often used as the first part of a name.
Chiagozie: God has blessed me.
Chiamaka: God is beautiful.
Chidi: God is real.
Chidinma: God is good.
Chika: God is the greatest
Chimamanda: God will not fail me. And yes, like the renowned writer.
Chinara: God receives.
Chioma: God is good.
Dada: Curly-haired child
Ebele: Kindness
Efe: Wealth
Ekundayo: Sadness has become joy.
Funanya: Love
Hadiza: The Hausa version of the name "Khadija," Hadiza means the one who comes first.
Ife: Love
Ifeoma: Good thing
Ifiok: Wisdom
Ige: Born feet first
Ime: Patience
Kayin: Celebrated one
Kehinde: Arrived last. This name is often given to the second of a set of twins.
Lolade: God is with you.
Maryamu: The Hausa form of Maryam. This name has a range of connotations, from being connected to the biblical Miriam (the sister of Moses) to meaning "a sea of bitterness."
Mojisola: Wake up to wealth.
Monifa: I am lucky.
Ndidi: Patience
Ngozi: Blessing
Nkiruka: The future is greater with you.
Nneka: My mother is supreme. (Yep, that sounds about right.)
Nnenna: This name is sometimes given to a child who is believed to be the reincarnation of their father's mother.
Nnenne: Similar to Nnenna, Nnenne is given to a child believed to be the reincarnation of their mother's mother.
Nwanneka: My siblings are powerful.
Oghenekevwe: God has provided.
Olubunmi: Gift from God
Omolara: A child is family.
Oni: Born in a sacred home
Sade: Honor grants a crown.
Sarauniya: Queen 👑
Taiwo: Often given to the first of a set of twins, Taiwo means the first twin to taste the world.
Titilayo: Everlasting joy
Ufuoma: Peace of mind
Yejide: She looks like her mother.
Yetunde: Mother has returned.
What are some Nigerian baby boy names?
And here's what's in store for the boys:
Achebe: You are protected.
Ade: Crown (You will see this as the prefix to many other names that hold the crown.)
Adebayo: The joyful crown
Adebola: The crown + wealth
Adebowale: The crown has returned home.
Adetokunbo: The crown that came from overseas.
Adisa: Someone who has clarity
Abidemi: Born while father was away
Abimbola: Born wealthy
Afolabi: Born into wealth and high status
Akpan: Firstborn son
Akpofure: Life is peaceful.
Alhaji: Pilgrim
Amadi: Freeman
Ayokunle: Joy has filled our home.
Azubuike: Your past is your strength.
Babatunde: Baba = father. Tunde = returned. So, Babatunde = Father has returned.
Bamidele: Follow me home.
Bitrus: The Hausa version of Peter.
Chiemeka: God has performed great deeds.
Chinua: God's blessings—and the name of the famous writer, Chinua Achebe.
Chizoba: God protect us.
Dayo: Joy has arrived.
Ekene: Thanks and praise
Ekwueme: He does what he says he is going to do.
Emem: Peace
Enitan: A person with a story
Enyinnaya: Father's friend
Folami: Respect and honor
Ibrahim: My father is exalted.
Idowu: Born after twins
Ifeanyichukwu: Nothing is impossible with God.
Ikechukwu: The power of God
Itoro: Praise god.
Mahammadu: This is the Hausa version of the prophet Muhammad.
Kayode: He who brings joy
Kyauta: Gift
Obi: Heart ❤️
Okoro: Man
Ola: Meaning wealth, Ola often finds itself at the beginning of longer names.
Olamide: Wealth has arrived.
Olamilekan: Wealth is increased.
Olu: Meaning God, Olu is often seen at the beginning of a greater name.
Olufela: God increases wealth. And, in its shortened form, it's the name of the famous musician, Fela Kuti.
Olufemi: God loves me.
Olufunmilayo: God has given me joy.
Olumide: God has come.
Oluwa: This is the Yoruba word for God.
Sadiq: A Hausa name, Sadiq means loyal.
Uduak: Desire
All the best with your choice.

112 women are talking about 'baby names' on Peanut. Download the app to join the conversation.
👶 More baby names:
The Most Popular Baby Names on Peanut
50 Old Fashioned Baby Names
49 Bellissimi Italian Baby Names
200+ Spanish Baby Names for Your Bebé to Be
60 Magnifique French Baby Names
60 Japanese Baby Names
50+ Russian Baby Names for Inspiration
10 Irish Baby Names
166 Greek Baby Names
12 African Baby Names
58 Biblical Baby Names
71 American Baby Names
90 Latin Baby Names
138 Nature Baby Names
100+ Uncommon Baby Names & Their Meanings
143 Victorian Baby Names with Meanings
100 Space Baby Names for Boys & Girls
190 Gothic Baby Names & Their Meanings
88 Dutch Baby Names
98 Lithuanian Baby Names
100+ Swahili Baby Names & Their Meanings
141 Jamaican Baby Names With Meanings
78 Haitian Baby Names for Your Little Love