More mamas-to-be are becoming interested in nonbinary baby names. And there are many reasons for this.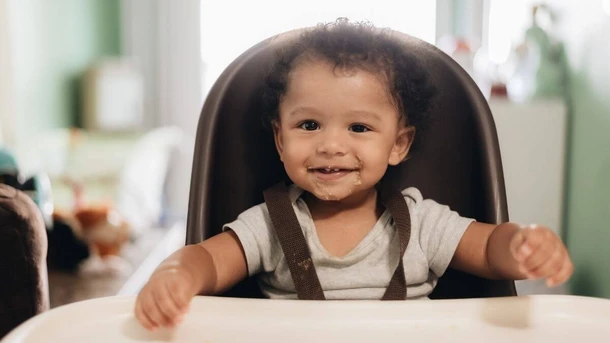 You might be looking to raise your baby outside strict gender rules.
Or maybe the sound and meaning of a name are more important to you than the gender it is traditionally assigned to.
Or perhaps you simply want to have more choice.
Whatever your reason, nonbinary names offer you and your baby a great deal of freedom.
Before we take a look at what's on the menu, let's have a quick check-in with the terminology.
In this article: 📝

What do we mean when we say nonbinary?

Nonbinary names from surnames

Nonbinary names inspired by geography

What are some rare nonbinary names?

Colorful and cool nonbinary names

More nonbinary names
What do we mean when we say nonbinary?
"Nonbinary" is a term a person might use to describe themselves when they don't identify fully with either of the gender categories of "male" or "female."
Instead, they might have a gender that combines aspects of being male and female.
Or they may have a gender that is different from male or female.
Or they might see their gender as something that is constantly evolving.
Nonbinary names reflect this fluid understanding of gender.
In many cases, this means they won't be names traditionally associated with being male or female.
But that might not always be the case.
Are nonbinary names the same as gender-neutral names?
Not exactly.
Gender-neutral names are names that are given fairly equally to both girls and boys.
They're not linked to one gender more than another.
Nonbinary names, on the other hand, could be any name (even one that seems more "masculine" or "feminine") that a nonbinary person feels reflects their unique understanding of their gender identity as it exists on a spectrum.
If you're looking for nonbinary names for your baby that will allow them more room to explore their gender identity in the future, names that don't fall within a certain gender category can work well.
Other terms that might be useful here?
An androgynous person doesn't outwardly present as either male or female.
That's in contrast to nonbinary, where it's more about how one identifies than how one appears to the outside world.
So androgynous names? Well, that's tricky.
An androgynous person may choose to take on a nonbinary name or one that is associated with the gender they identify with.
And enby names? Enby is the same as nonbinary. (It's how you spell out the "NB" of nonbinary.)
Ready to get going?
On our list, we've picked 166 enby names for your inspiration. We hope you find something you like!
105 women are talking about 'nonbinary baby names' on Peanut. Download the app to join the conversation.
Nonbinary names from surnames
First names taken from surnames are a classic source of nonbinary names.
Popular choices from recent Social Security Administration data include Avery, Cameron, and Sawyer.
Or you could go for something a bit more unusual, such as the English Perry (meaning, quite poetically, "one who dwells by a pear tree") or the German Landis (a nickname for a highwayman!).
Adair

Addison

Avery

Bailey

Blair

Cameron

Harper

Landis

Mackenzie

Marley

Monroe

Morgan

Parker

Perry

Regan

Riley

Sawyer

Taylor
Nonbinary names inspired by geography
Other good nonbinary names can be inspired by places or geographical features.
You could celebrate your Scottish roots with Argyle (from the county of Argyll in southwestern Scotland) or Glen.
Or honor your favorite US city with names such as Indiana and Phoenix.
You could also choose a nonbinary name with a biblical flavor, such as Eden, Salem, or Zion.
Alternatively, for a really original name, just pick a compass direction. But what will it be: East, West, South, or North?
Alaska

Albany

Austin

Argyle

Brett

Brixton

Brooklyn

Caspian

Denver

East

Eden

Everest

Glen

Haven

Holland

Heath

Indiana

Jersey

Lane

London

Macon

Milan

North

Phoenix

Rio

Salem

South

Sydney

West

Zaire

Zion

Zuma
What are some rare nonbinary names?
Nonbinary names from nature
Names taken from nature can make especially unique, cute nonbinary names.
The only problem is—there are just too many to choose from!
Sweet names to make your mouth water include Berry, Fig, and Maple.
Or what about a fragrant herb like Thyme or Sage?
Tree names, such as Elm and Oak, can convey a sense of strength and wisdom, while gemstone names, such as Garnet, Onyx, or Lapis (from "lapis lazuli," a blue stone) celebrate the precious gift of your baby.
Here are some of our favorite nonbinary names inspired by nature:
Acorn

Aloe

Amber

Apple

Apricot

Ash

Aspen

Aster

Bay

Berry

Birch

Bird

Borage

Bracken

Bramble

Briar

Cherry

Citrine

Cloud

Dusty

Elm

Ember

Emerald

Evening

Fennel

Fig

Fir

Garnet

Grove

Hart

Jasper

Jay

Juniper

Kelp

Kestrel

Kyanite

Lapis

Lark

Leaf

Malachite

Maple

Mica

Oak

Obsidian

Ocean

Onyx

Peridot

Pine

Quartz

Rain

Reed

River

Robin

Rook

Root

Rowan

Sage

Snow

Sparrow

Storm

Thyme

Wren

Yarrow
Nonbinary names inspired by science and space
Another great source of unusual enby names is the world of science, especially astronomy and stargazing.
You've got sweet and simple: Star, Sun, Sky.
Or dramatic and memorable: Eclipse, Nova (from "supernova," an exploding star), and Zenith.
You could pick an element from the Periodic Table, such as Cadmium, Copper, or Neon.
Or you could even take inspiration from the Moon and its cycle by choosing Wax or Wane as a name.
Aqua

Axis

Cadmium

Comet

Copper

Day

Eclipse

Flair

Galaxy

Gibbous

Infinity

Lumen

Lunar

Mercury

Moon

Neon

Nova

Petri

Pulsar

Sky

Solar

Star

Sun

Time

Vega

Wane

Wax

Zenith
Colorful and cool nonbinary names
The names of colors can make beautiful nonbinary names, too.
There are so many possibilities.
After all, you have the whole paint palette to choose from.
You could try a name based on a cool, elegant shade such as Gray, Ivory, or Silver.
Or pick a color name that's also a nature name: Moss, Plum, or Russet.
Or why not go for something really vibrant, like Lime, Purple, or Red?
Here are a handful of our favorite color-inspired names:
Amaranth

Azure

Blue

Brick

Coal

Cyan

Denim

Gray

Indigo

Ivory

Jet

Lime

Magenta

Mahogany

Moss

Ochre

Plum

Purple

Red

Russet

Silver

Umber

Violet
More nonbinary names
And, finally, here's a random selection of other nonbinary names to consider.
If you're musical you might like Lyric, or if you're a fan of summer sunshine, why not August?
For a more spiritual name, you could choose Angel or Ariel.
Or maybe you just want your baby to start their life with a spot of Luck…
Allie (or Aly/Ali)

Andy (or Andi)

Angel

Aphra

Ariel

Arin

Aubrey

August

Billy (or Billie)

Corey

Devan

Drew

Ellis

Jordan

Kai

Luck

Lyric

Quinn

Rune

Valor
We hope you've found some names you like here, whether from the wilds of nature, the outer reaches of space, or the colors you love.
For even more baby names that aren't gender-specific, take a look at our lists of Unisex Baby Names and Gender-Neutral Baby Names.
And why not chat to the other mamas on Peanut about their favorite nonbinary names?
You might just find the perfect match for your baby.