Whether your due date is just around the corner, your adoption date is creeping up, or you're simply feeling broody, have a gander at these gorgeous nursery decor ideas.
In a world of picture-perfect IG nurseries and Pinterest-able baby room decor, it's only natural to want a chic, modern, or cute nursery for your bundle of joy.
Sure, your nursery should have all the baby essentials, but why not make it look like it's part of your family home?
To help you find the best nursery decor, we're diving into the top ideas for baby nursery decor and baby room themes for you to peruse!
Remember: your nursery is just for you and your family, not for anyone else, so don't feel like it has to fit a certain aesthetic ‒ if you're not feeling it, don't do it!
Our top tip ‒ take a leaf out of Marie Kondo's book. Try not to impulsively buy nursery decor and accessories. Instead, think about how long you're likely to have it, whether it works with the rest of the room and your house, and whether it sparks joy. ✨
Try not to clutter your baby's nursery decor too early on ‒ after all, they'll grow out of it sooner than you might expect!
In this article 📝

How can I decorate my nursery?

Baby room themes

Where to buy nursery decor

How much should I spend on nursery decor?

Nursery decor FAQs
How can I decorate my nursery?
So how do you get starting with decorating a nursery?
Well, it starts with a little planning.
Make a list of everything you need to have in your nursery and measure out the space, so you know exactly what you're working with.
The great news is that you don't need a massive room for your baby nursery.
If there are some bits of furniture that you can't quite fit in, they can always be put elsewhere in your house.
There are a few things to consider when decorating baby's room, so let's dive right in:
Baby nursery furniture
Of course, some pieces of nursery furniture are must-haves in your baby's room:
Crib or bassinet: It's up to you whether you choose a bassinet or crib, as long as it has a firm mattress, fitted crib sheets, and some light bedding for baby.

Changing table: While not totally necessary, a changing table can make diaper storage and changing that little bit easier.

Diaper pail: Definitely must-have nursery furniture for those living in apartments, diapers pails mean you won't have to empty the trash so often.

Comfy chair: Another non-essential, but highly recommended for late-night feedings.

Wardrobe: Totally necessary for the mountains of adorable baby clothes!

Chest of drawers: Ideal for extra storage for baby's accessories, bedding, and toys.

Nursery bedding
There's a world of baby bedding out there in all colors and themes, so it helps to have a theme in mind before you buy.
Pastels, neutrals, blues, pinks, animals, princesses, astronauts? It's out there!
A word of advice when it comes to nursery bedding: the American Academy of Pediatrics advises not to add too many loose toys, pillows, or blankets, so make baby's bed more sparse.
Baby nursery painting ideas
Think about whether you'd like an artistic mural in baby's room, want to stick with one color, or even have a feature wall ‒ whichever you want, mama!
Once you've chosen your color(s), make sure you're using a paint that's safe for you and baby (particularly if you're painting while pregnant). That means avoiding lead-based, latex, mercury-based, oil-based, and spray paints.
Nursery storage
Besides larger pieces of nursery furniture, like a wardrobe and chest of drawers, you might want to consider other storage for baby's room.
We're talking baskets, bins, caddies, chests, boxes, whatever you fancy!
It can be useful to have a few pieces of smaller storage for toys and other random baby bits ‒ you'll probably find you need them!
Nursery curtain ideas
There are a few general tips when it comes to nursery curtain ideas, for baby's safety, and for sound, restful nights' sleep.
Avoid floor-length curtains: These can be a hazard to babies and toddlers ‒ not to mention, they'll need washing much more often!

Measure twice, buy once: Measure your baby nursery windows to make sure you're buying the right size, the first time.

Keep roller blind cords out of reach: Another hazard for little grabbing hands.

Consider UV-blocking curtains or blinds: Overheating can increase the risk of SIDS, and investing in UV-blocking blinds or window treatments can help reflect away heat from your little one.

Research blackout curtains and blinds: Blackout blinds can help baby sleep more soundly, blocking out bright sunlight and moonlight, as well as keeping the temperature regulated.

Baby room lighting
Lighting can make or break a room's decor.
Even the nicest-decorated room can look dull with lackluster lighting.
But, when it comes to lighting for nurseries, you also need to consider what it's like for baby.
For example, a cylindrical lampshade might be nice for you to look at, but if baby's sitting directly below it, looking up at you, it could be shining in their eyes.
Daylight or 'soft-white' bulbs can be easier on baby's sensitive eyes and can make a room look more naturally lit.
We particularly love light bulbs that change color and brightness, so you can tweak them depending on how baby's feeling.
It's also advisable not to include floor lamps in your nursery decor ‒ they can be easy to knock over if baby's off on an adventure.
Accessories and decorations for baby rooms
Accessories and nursery decorations are what make a baby's room unique.
They can change a plain, white nursery to a modern masterpiece, make a sage green nursery a magical wilderness, or a bright nursery a fun zoo to explore.
A word of warning: There are so many nursery decorations out there, and it's so easy to overfill baby's room with them all. But think about how they all work together (and how long you're going to keep them) before buying.
Baby room themes
Your baby nursery is an extension of the rest of your house, so choose a nursery theme that works with the whole house!
You don't have to do a bright, colorful nursery if the rest of your house is neutral ‒ and likewise, you don't have to have a neutral nursery if the rest of your home is bright and bold.
Here are a few of our favorite nursery themes and baby room ideas: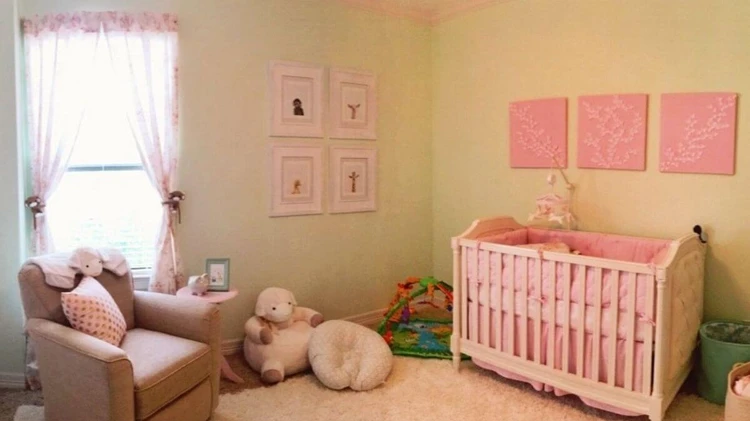 1. Cute nursery ideas
Pastels like baby pink, light blue, and lavender easily make nurseries look adorable.
Accessorize with huggable plush toys and soft shades of the same color for the best cute baby room ideas.
We love the addition of the snuggly lamb in this cute nursery above.
2. Simple nursery ideas
Want a nursery that's easy to design and even easier to put together?
White nursery furniture goes with pretty much any color, and adding a two-tone element to your wall painting is impactful, but simple.
Top tip: using two shades of the same color, like the blue simple nursery above, is an easy way of making sure they look good together.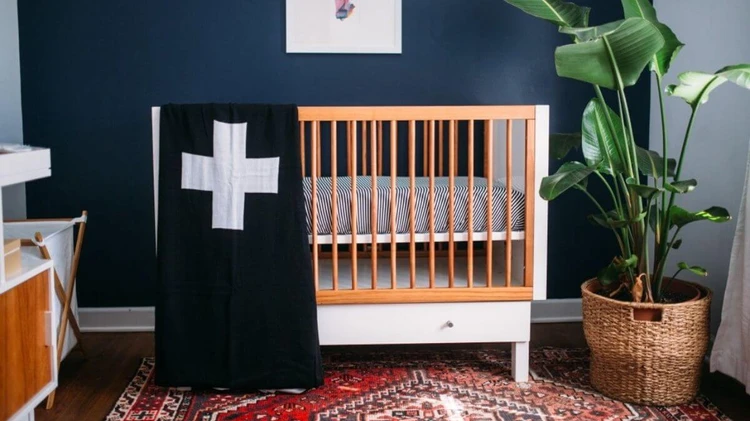 3. Unique nursery ideas
Want a nursery that's one-of-a-kind?
Take a risk with a darker color feature wall to contrast with lighter nursery furniture, like the dark blue wall above.
Bonus points for a funky rug, too ‒ although we'd recommend one that's machine washable…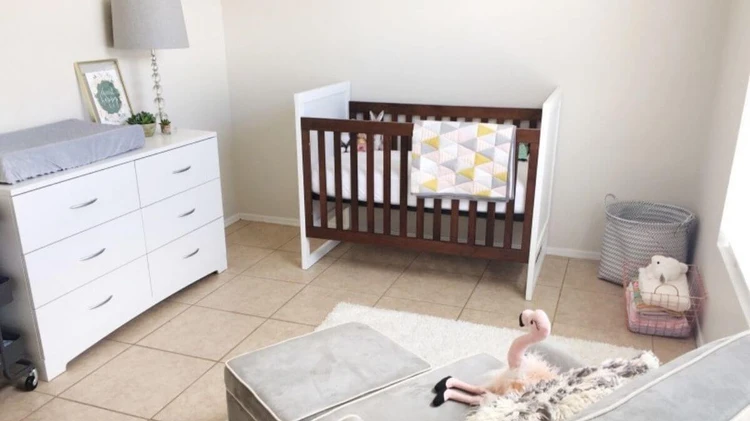 4. Cheap baby nursery ideas
After a more affordable nursery design? You don't have to have lots of different colors or even a theme.
White furniture and white walls make for a peaceful, serene space. Add a cute print, and you've got the perfect nursery!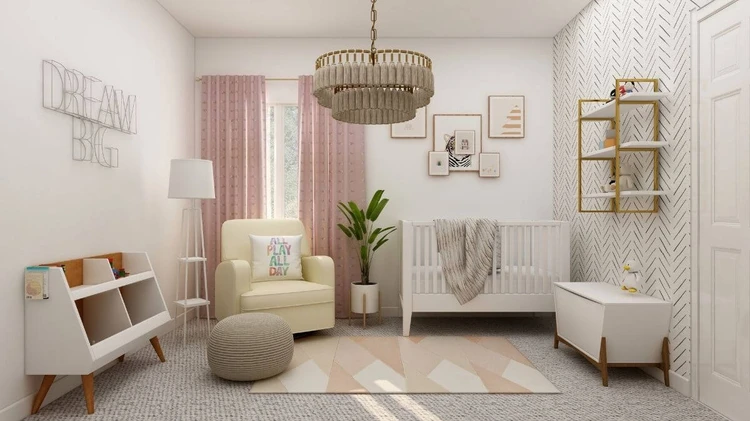 5. Modern baby nursery ideas
Modern nurseries tend to be spacious and light, with minimal decor.
Keep it to a theme with a light color palette and a few select pieces of nursery accessories.
Then you can add a single feature piece to catch the eye, like this tasseled light feature above.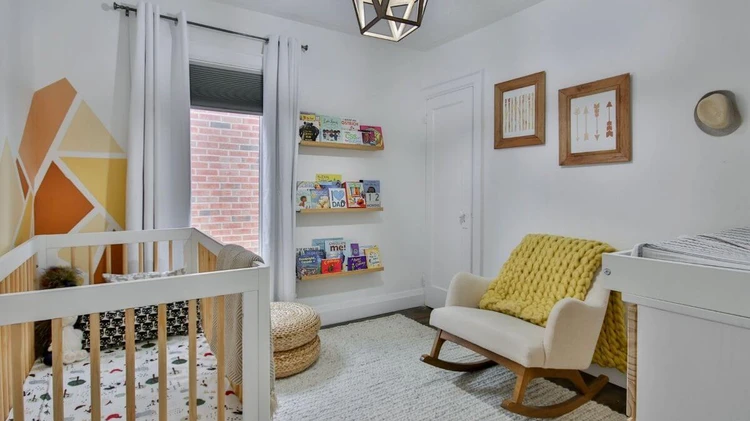 6. Neutral baby nursery ideas
Neutral colors are always on-trend ‒ browns, greens, and the occasional shade of orange look great in boy, girl, and they-bie nurseries.
Wooden nursery furniture is an easy way to design a neutral nursery, and, if you keep the rest of the space light, you can add a statement piece to the room, like the orange wall decal above.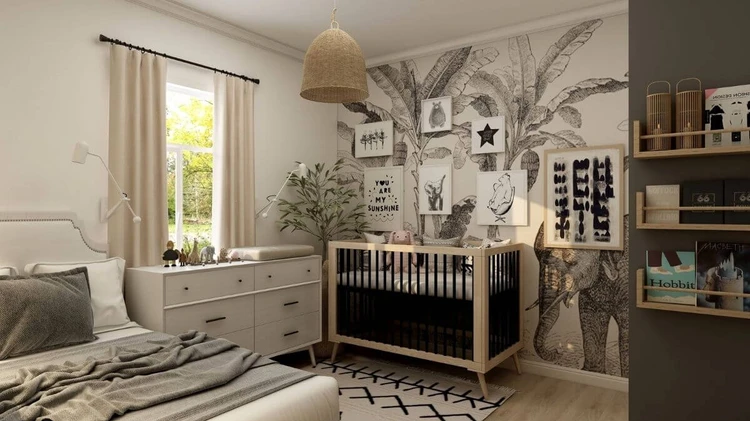 7. Chic nursery ideas
Ooh-la-la! How about fashionable, trendsetting baby room ideas?
Go against the grain with contrasting colors and patterns for a truly chic nursery.
Sticking with two colors makes it much easier to bring the space together, like this black and white baby room above.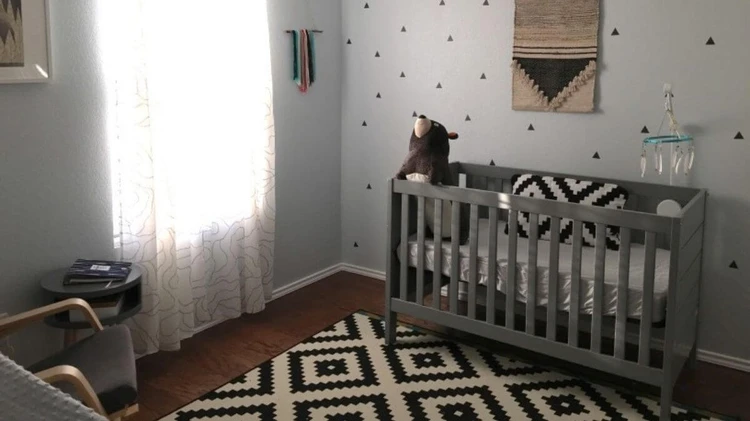 8. Unisex baby nursery ideas
We don't really believe that pink rooms are for girls and blue rooms are for boys, but if you want to avoid those gendered colors altogether, you can!
Ideal for any sort of nursery decor, unisex baby room paint colors tend to be green, yellow, or black and white, like the nursery above.
Where to buy nursery decor
There are a few places you can buy trendy and timeless nursery decor, but here are 10 of our favorites:
1. Pottery Barn Kids
There are all kinds of nursery room decor inspiration on the Pottery Barn Kids website, with different themes to explore.
Whether your little peanut prefers princesses, digs dinos, or loves licenses like Disney, Star Wars, Marvel, or Batman, you'll find the perfect baby room furniture and nursery decor at Pottery Barn Kids.
Browse Pottery Barn Kids nursery decor
2. Project Nursery
Project Nursery is literally made for nursery decor inspiration!
Whether you're looking for style tips or kid-friendly furniture, Project Nursery has it all.
From art prints to rugs, lighting to wall decals, storage options, and mobiles, you'll find what you're looking for at Project Nursery.
3. Target
An affordable, budget-friendly option for nursery decor, Target has lots of different options to decorate baby's room, even down to accessorized plush toys!
While you won't find many unique nursery decor pieces at Target, you will find all-around winners that will go with lots of different colors and themes.
4. Etsy
Here's where you can get lots of personalized nursery decor that are made just for your little bundle of joy!
Etsy is the place for handmade, crafted, custom baby room decor, like decals of your baby's name or laser-cut wooden signs of their initials.
Plus, you can feel good that you're helping support small businesses, too!
5. buybuyBABY
We love that buybuyBABY has a whole section on designing your perfect nursery, even with a quiz to find out your ideal nursery style.
You can easily sign up for a baby registry with them, too, so loved ones can get you specific baby gifts, that you'll actually use, rather than just endless amounts of newborn shoes, even if they are cute!
Browse buybuyBABY nursery decor
6. Maisonette
Maisonette has an eclectic mix of classically child-friendly and more grown-up styles of nursery decor.
Sure, you'll find animals, princesses, and rainbows, but you'll also find bold animal prints, detailed patterns, and subtle color palettes.
If you're after unique baby nursery ideas, Maisonette is certainly the right place.
Browse Maisonette nursery decor
7. Serena & Lily
Serena & Lily is on the pricier end of the nursery decor scale, with beautifully designed cribs costing around $1000.
But if you're after soft, serene nursery themes, Serena & Lily can definitely help.
Browse Serena & Lily nursery decor
8. IKEA
Ahh IKEA… Amongst the quirky cushions and hard-to-pronounce furniture, you'll find an affordable selection of nursery decor.
They have lots of touches to make your baby's room more personal and individual, so go on, grab one of their adorable cushions!
9. Nordstrom
If you're looking to design a nursery that's more practical than pretty, Nordstrom has a fantastic selection of pretty much everything you need!
One piece of nursery decor that we particularly love is their A to Z rug, which comes in three colors ‒ and it's machine washable, too!
Browse Nordstrom nursery decor
10. Amazon
Possibly the easiest place to get nursery decor, you'll find all the baby essentials at Amazon.
It might take a while to find something that suits the aesthetic you have in mind, but if you search for just the right words, you'll find something perfect (usually at a decent price, too!).
How much should I spend on nursery decor?
Yeah, so having a baby is expensive. But you didn't need us to tell you that.
But how much you spend on your nursery decor is pretty much up to you ‒ if you decide to forego a nursery room for your newborn, instead opting for sharing a room with your little one, that'll save quite a bit of dosh.
Decorating a nursery room can cost anywhere from $1,000 to $3,000, or even more.
Since the total cost of raising a child to 18 in the US is about $260,000, it stands to reason that you might want to save a few pennies here and there.
If you're keen to have a nursery on a budget, there are ways you can save money, like skipping the nice-to-haves and sticking with just the essentials.
But that doesn't mean you can't have a beautifully designed nursery room! Even just a splash of paint or a few posters or prints on the wall can transform any room into an adorable nursery!
Nursery decor FAQs
How to make DIY nursery decor
If you're feeling crafty, or you're not keen on splashing the cash on designer baby nursery decor, why not DIY it?
Here are a few DIY nursery decor ideas for you to try:
Inspirational quote posters
If you've found an inspirational quote that you think is perfect for your little peanut's nursery, why not turn it into a one-of-a-kind poster?
Either grab some pens and pencils and sketch something out, paint the wording, or print it from home using a fun font.
DIY wall mural
You don't have to be an artist to create a beautiful baby nursery wall mural for your little one.
There are lots of stencils available online for you to choose from to suit your theme, or you can use masking tape to create your own unique stripy or angled wall design.
Wrapped letters
Spell out your child's initials (or their full name) with homemade yarn-wrapped letters.
They're super-easy to make, simply cut out the design of your letter from cardboard, then wrap it in yarn, gluing it as you go.
Choose a yarn that suits your color theme, and why not embellish it with a few fake flowers or twinkly lights?
When should you start decorating a nursery?
The best way to figure our when you should start to decorate baby's nursery is to plan backwards from 36 weeks of your pregnancy.
First, plan what you want the nursery to look like ‒ we recommend doing this around week 14, as you enter your second trimester.
Next, break down everything that needs to be done for the nursery ‒ painting, buying and putting together furniture, accessorizing, and last-minute touches. It can help to plan how long it's likely to take to do all these things.
Then, take away how long it will take to do each of those elements of decorating your nursery from 36 weeks. That will tell you when you should start decorating your baby's nursery.
How do you make a cozy nursery?
Cozy baby nurseries are filled with plush toys, fluffy rugs, and warm colors.
If you want to decorate a cozy nursery, it's best to steer clear of cooler colors like blues and greys, and aim for soft browns and neutral colors.
Just be sure not to add too many cuddly toys to baby's crib or bassinet.
How do you decorate a nursery for a small room?
To make the most of a smaller space for baby's nursery, it's all about the planning.
On a piece of paper, sketch out the dimensions of your space, then go online to look at baby nursery furniture you like. Most pieces of furniture will include their dimensions online.
With these furniture dimensions, cut out some pieces of paper or card to scale (bearing in mind how large your sketch of the nursery room is), then play about with putting the pieces of furniture in your sketched nursery until you find something that works.
Which of the baby nursery room ideas are your favorite?
More modern or more rustic? Bright or light? Share your top baby nursery decor with the rest of the mamas on Peanut today!
💡 More from The 411:
16 Baby Girl Nursery Themes
19 Baby Boy Nursery Themes
17 Beautiful Baby Shower Themes
10 Baby Shower Themes for Girls
10 Baby Shower Themes for Boys
39 of the Best Baby Memory Books for Milestones & Memories
50 Best Gender Reveal Ideas: Balloons, Cakes & More!
15 Baby Shower Games
7 Fun & Memorable Gender Reveal Games
When Do You Find Out the Gender of a Baby?
22 Gender-Neutral Nursery Ideas
21 Gorgeous Bedroom Ideas for Women