One syllable girl names are strong, sassy, and sensible. They cut to the chase. Just like we're about to do.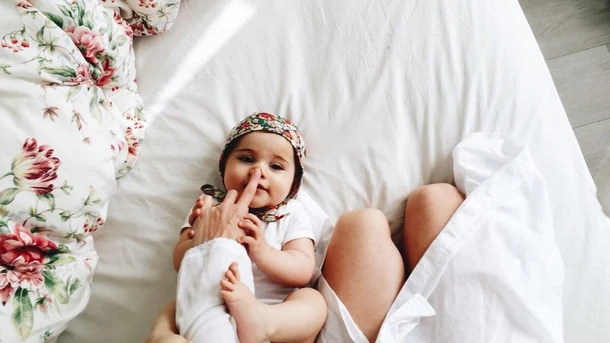 So here you go:
The ultimate list of single-syllable girl names
What is the most attractive name for a girl?
Well, that's in the ear of the beholder. Personally? We love these.
Bao. Of Chinese origin, this sweet name means precious treasure.
Bea. Pilgrim or traveler, Bea is short for the old classics Beatrice and Beatrix.
Belle. Means beautiful. Simple as that.
Bex. With Hebrew origins (Rebecca), Bex means captivating. And with that "x" on the end, it's kinda like Becca—but with that little something extra thrown in.
Bliss. Enough said.
Bree. Means strength. Sounds sweet. And of course, if you replace that "i" with an "e": cheese. 🧀
Brooke. A small stream. (Warning: you may have a babbling one.)
Char. Short for a bunch of names (Charlie, Charmaine, Charlotte) and oh-so-sweet on its own. It means free man.
Cho. Of Japanese origin, it means butterfly. 🦋
Dea. Goddess. That's what it means in Latin. Plain and simple.
Dot. Short for Dorothy which means gift from God. And something about a yellow brick road.
Dove. As a first name or a middle name, who doesn't want to bring some peace into the world? 🕊
Drew. Wise. That's what it means. There you have it.
Elle. Simply means she in French.
Eve. To breathe. To live. Ah.
Faith. You gotta have it, apparently.
Fawn. A young deer that you can, well, fawn over.
Faye. From the Middle English "faie", this name means fairy.
Fern. Sure, the greenery. But it also means bold voyager. And if you're a Charlotte's Web fan? 🐷Well.
Fleur. Yes, this means flower in French. Exquisite.
Grace. Love, kindness, goodness…
Greer. Watchful. Alert. Nothing gets past this one.
Hope. Hope never goes out of style.
Jade. Like the gemstone. Fun fact? Jade was referred to as the "stone of the colic" in Spanish. Why? This precious gem was said to cure colic in babies. Good omen? Sounds like it.
Jai. Of Indian origin, it means victorious.
Kai. Of Hawaiian origin, Kai means sea. 🌊
Lane. Means a little pathway. Nice way to kick off the journey ahead.
Leaf. Apart from the evergreen obvious, Leaf also means to page through a book.
Light. Yeah, this one just cuts to the chase.
Lis. Shortened form of Elisabeth and Melissa, Lis means both honeybees and devotion—a pretty special combination when it comes to meaning.
Liv. With its Nordic origins, Liv means protection. (Of course, it also sounds like live. So there's that.)
Lou. Famous warrior—that's what Lou means. Yup. That's your daughter, mama!
Lux. Means light and sounds like luxury. You can't go wrong.
Mae. From English origins, Mae is a shortened form of Mary and Margaret. Also, the month of May gets its name from Maia, the Roman goddess of growth and mamahood.
Minh. Of Vietnamese origin, Minh means bright and clear.
Neve. Snow. That's what this sweet Irish name means. (If you want to go fully Irish, the spelling is Niamh.)
Pax. Peaceful. Perfect.
Pearl. For a little jewel. This name has become popular recently after years in the dark. Get it while stocks last.
Prim. Original. First. Popular.
Rain. Simple. Refreshing. It means blessings from above.
Sage. Who wouldn't want a sage in their home? Plus, the herb, if it's one you love.
Scout. To listen. That's what Scout means. Any fans of To Kill a Mockingbird out there?
Shay. Gift. From Hebrew and Irish origins, Shay also means stately.
Skye. As in, above, the heavens, etc. But also the Isle of Skye, a magnificent island in Scotland.
Tess. Short forms of Esther and Theresa, this soft-sounding name means to reap.
Thuy. Of Vietnamese origin, Thuy means water.
Tor. From the Old Norse, Tor has two contrasting meanings: turtle dove (sweet) and thunder (powerful). So yes, it's a sort of choose-your-own-adventure kind of name.
Viv. This one means lively.
Wynne. Pure and fair. And of course, it sounds victorious.
Yaz. Of Turkish origin, Yaz means summer. Bliss.
Zo. Of African origins, Zo means spiritual leader.
What is a badass name for a girl?
Okay. Now onto those one-syllable girl names that pack a serious punch.
Ayn
Bekke
Bo
Cal
Cam
Charm
Clarke
Clove
Dan
Dale
Dree
Dru
Dune
Firth
Flynn
Gab
Izz
Jewel
Jinx
Jude
Jules
Kat
Kit
Kyle
Lark
Leith
Lile
Maeve
Mai
Mar
Maude
Max
Nash
Nic
Nell
Noir
Nur
Nyx
Pao
Paz
Penn
Quinn
Rae
Reign
Reeve
Rex
Rey
Rue
Rye
Shae
Skai
Sloane
Sol
Storm
Swayze
Tai
Teague
Tex
Trix
Wan
West
Xun
What are common 1 syllable girl names?
And then there are these one-syllable girls' names that are going nowhere. They just seem to stand the test of time.
Al
Bette
Cate
Chris
Dawn
Deb
Em
Fran
Jan
Jeanne
Jenn
Jess
Jill
Joan
June
Kate
Kay
Kim
Gwen
Lynne
Meg
Mel
Pam
Peg
Rose
Ruth
Sam
Sue
Tam
Val
What is the rarest girl's name?
If you're looking for something a little different, here are the most unique one-syllable girl names:
Aye
Baye
Bloom
Blue
Cher
Cloud
Cree
Dew
Ej
Flor
Frost
Gem
Heer
Hind
James
Joud
Joie
Joyce
Khole
Koi
Lei
Love
Luz
Lyre
Mars
Maze
Mehr
Moon
Myr
New
Noor
Peace
Pink
Praise
Prue
Reet
Rhys
Sai
Shawn
Snow
Sri
Starr
Swan
Tate
Tea
Tink
Trill
True
Vi
Ward
Zen
What's a cute middle name for a girl?
One-syllable names make excellent middle names. Here are some of our faves:
Anne
Bean
Bess
Beth
Blaise
Blake
Blythe
Boo
Brave
Brett
Bri
Brynne
Carm
Chi
Claire
Day
Dee
Flo
France
Gray
Gwynne
Han
Jane
Jay
Jaz
Jean
Jo
Joss
Kerr
Lace
Lam
Lee
Liz
Lu
May
Mags
March
Muse
Owl
Paige
Pip
Poe
Queen
Reed
Reese
Roux
Roz
Saint
Shai
Shu
Spring
Tal
Teal
Yaa
Zee
There you have it, mama.
Our top picks for the best one-syllable girl names.
After something just a little longer?
How about these two-syllable girl names to inspire you?
Good luck with your choice. Exciting times ahead!