Looking for ways to get your little one out of the house and into the fresh air? This list of 18 of the best outdoor toys for toddlers is here to help.
Playing outside is an important part of your peanut's development.
In fact, many parents are opting to send their toddlers to outdoor preschools, as part of the Boston Outdoor Preschool Network's #GetKidsOutside campaign, encouraging more regular outdoor play and exploration.
Running, jumping, skipping and hopping can increase their fitness, and help to improve their strength, balance, and stamina.
And playing outdoor games can help them to tap into their creativity, problem-solve, and make new friends.
As an added bonus: if they're playing safely and happily, you might even be able to tick a few things off your to-do list, mama. Win-win!
In this article: 📝

The best outdoor toys for toddlers

Outdoor water toys for toddlers

Outdoor climbing toys for toddlers
The best outdoor toys for toddlers
Here are some of our best-loved outdoor toys.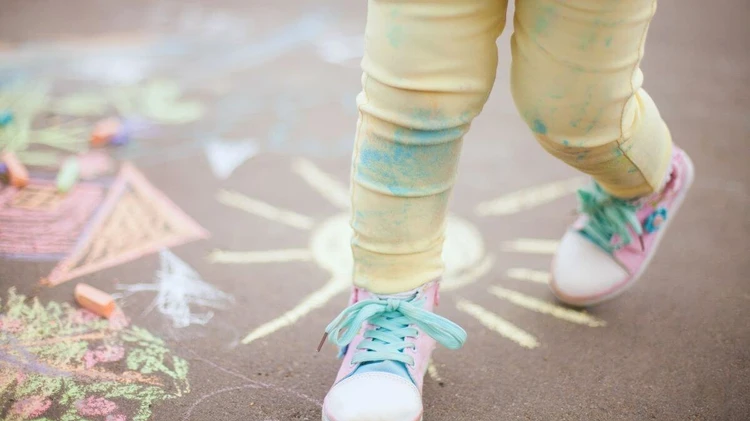 1. A chalk set
A tried-and-tested favorite, chalk can offer hours of entertainment.
Because it washes off easily, you can use it on your driveway, on your sidewalk, or on the paths in a nearby park.
Try and pick up a brand that is biodegradable, so that it's better for the environment. If they're old enough, introduce your little one to hopscotch.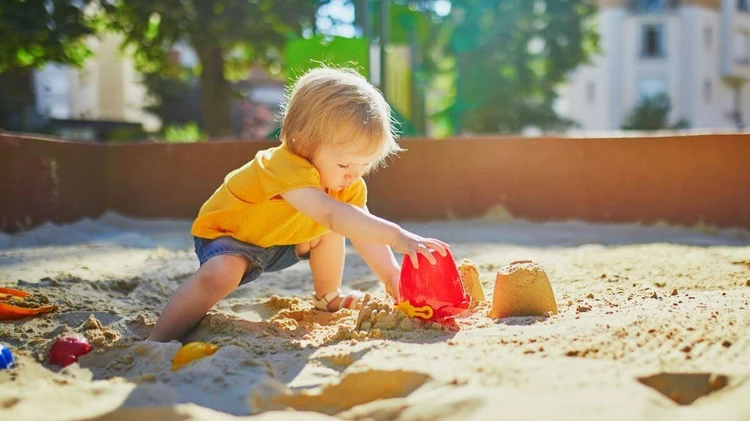 2. A sandpit
You'll need a bit of space for this one, but if your garden allows it, a sandpit can offer children years and years of play.
Fill it with buckets and molds and see what kind of creations your little one invents.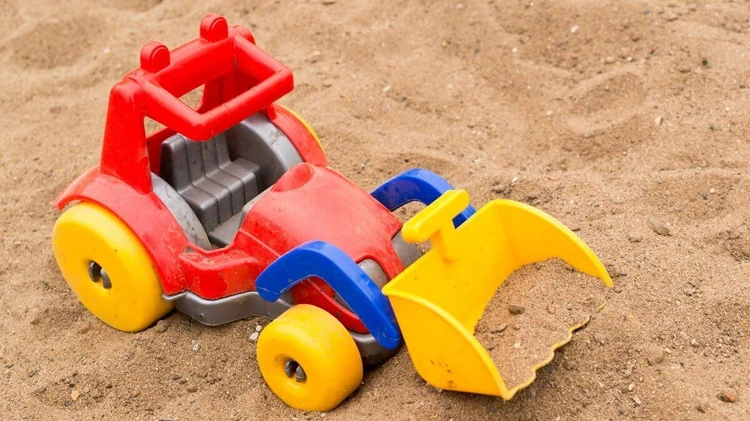 3. Construction tools
Of course, no sandpit is complete without a digger or a dump truck.
But even if you don't have a sandpit, they're sure to love playing in a corner of the garden with these toys (be prepared for the occasional flower casualty!).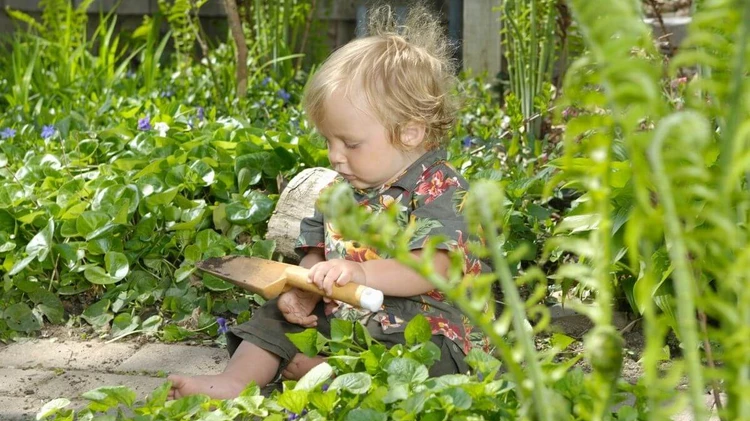 4. Gardening tools
Kids often love playing with household items that they see adults use, and toys like mops and brooms, saws and drills, and gardening equipment often go down a treat.
Rakes, spades, and pitchforks (all of them toys, and therefore safe for children to use, of course) are a great idea.
You might even think of getting your little one a toy mower.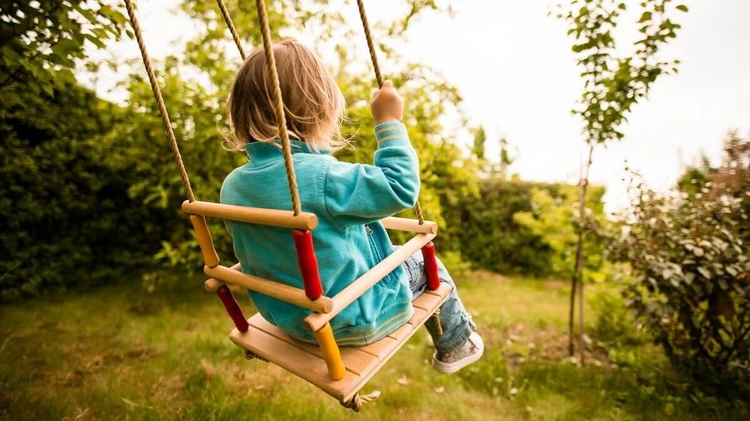 5. A swing
There's something so nostalgic about a swing – it's been a symbol of childhood for as long as any of us can remember.
If you've got trees in your garden, consider hanging one up.
If not, think about getting a free-standing swing set instead.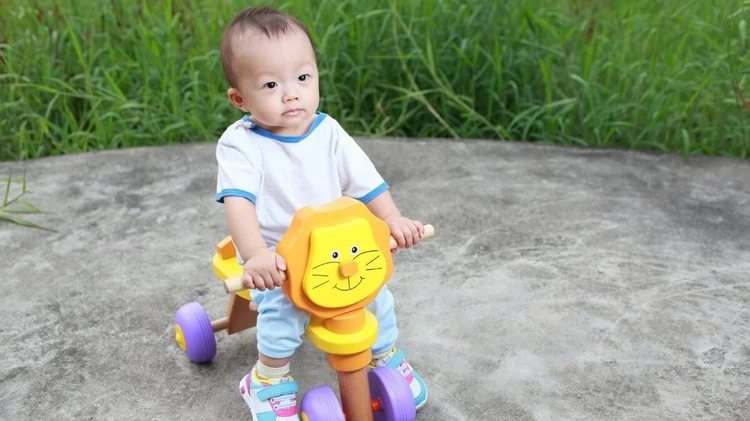 6. A tricycle
Invest in a tricycle and you could be nurturing a life-long love for bikes in your teeny tot.
You don't need a garden for this one.
Simply find a quiet sidewalk or a nearby park and away you go.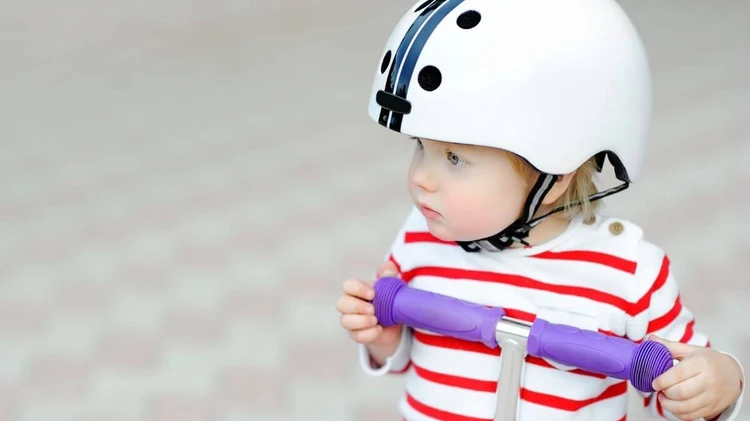 7. A scooter
Many children love the independence and (relative) speed that a scooter affords.
For toddlers, choose a three-wheeled scooter for greater stability, and ideally one with an adjustable handlebar that can grow with them.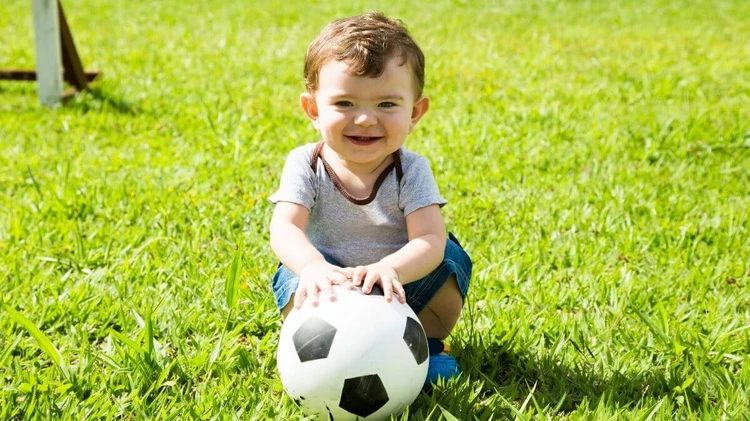 8. Balls of every shape and size
Ball sports are famous for improving children's hand-eye coordination, fine motor skills, spatial awareness, and balance.
They're also heaps of fun, and can help your little one burn off some energy.
Grab a few different balls – tennis balls, footballs, and beach balls – and see which one they like playing with best.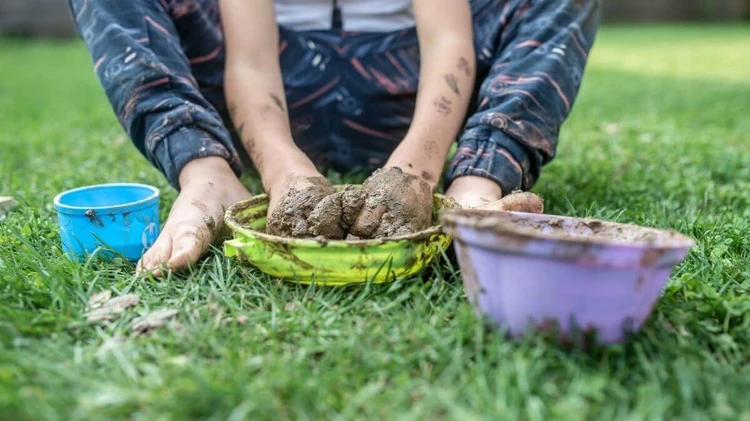 9. Mud kitchen
What's the point of being outside if you can't get properly dirty?
For budding chefs, a mud kitchen (like an indoor kids' kitchen, but for making mud pies) is ideal.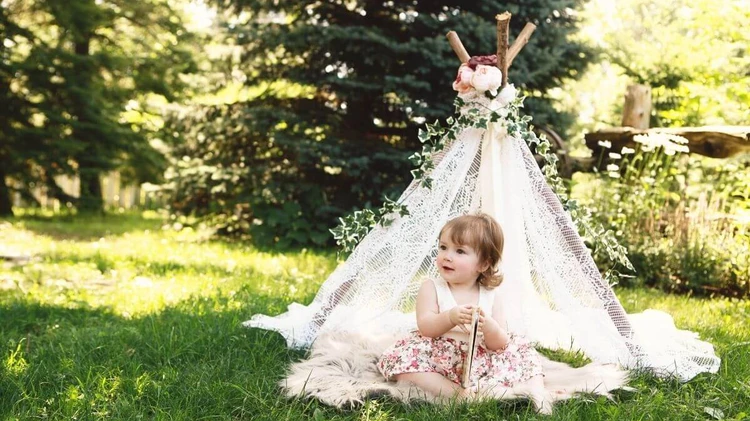 10. Outdoor teepee
Making outdoor forts can be a bit tricky – not every blanket and cushion is ideal for outdoor use.
But with an outdoor teepee, your toddler can enjoy a cozy spot to play.
Best of all? They're protected from the sun.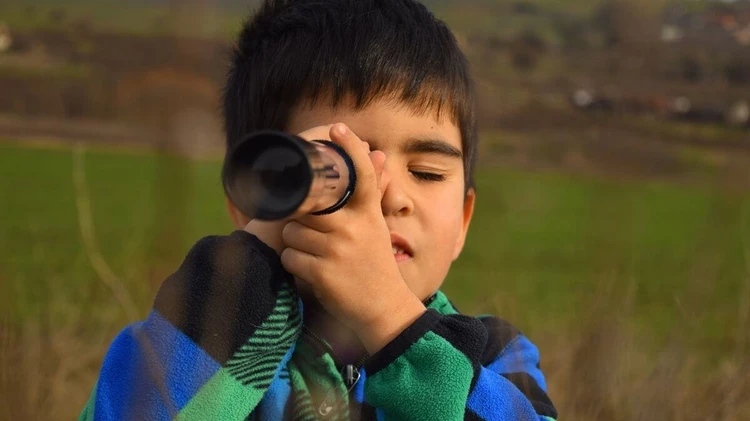 11. My first telescope
Encourage your little scientist to love the outdoors by helping them to learn about it.
With a kids' telescope, they could develop an interest in distant natural phenomena they can't see up close.
Children's telescopes aren't usually strong enough to see the stars, but even seeing the moon a bit better will be exciting.
Outdoor water toys for toddlers
Water offers wonderful sensory play, while also helping your little one cool off.
Remember to be careful, though.
Small children can drown in just a few inches of water.
Always keep a close eye on them when your little one is playing with water.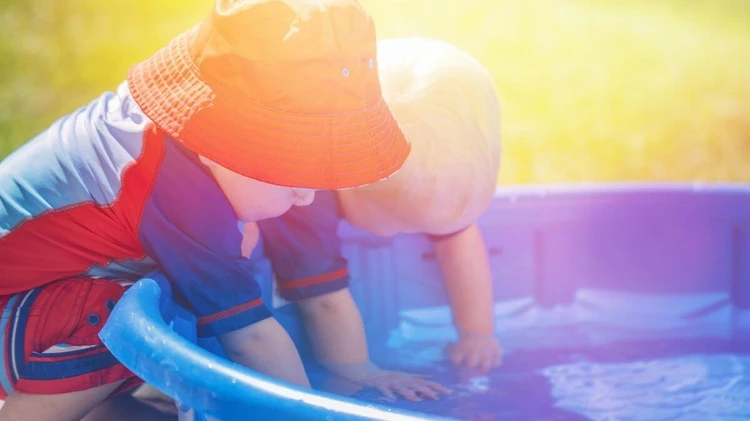 12. A wading pool
This one's been a winner for years.
Depending on how old your toddler is, you might choose between a very shallow splash pool, or a deeper pool that they can really wallow in.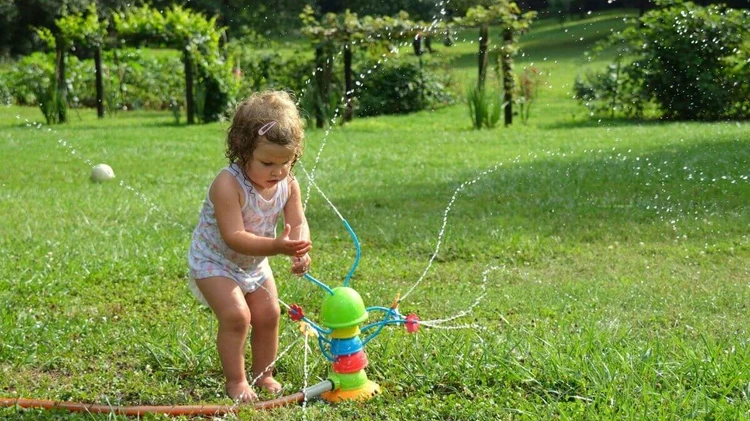 13. A sprinkler
If you don't have the space for a blow-up pool, simply putting a sprinkler on for them to play in can have your toddler screeching with delight.
Hook the sprinkler upside down, grab some outdoor-friendly soap and suddenly bath time becomes a game.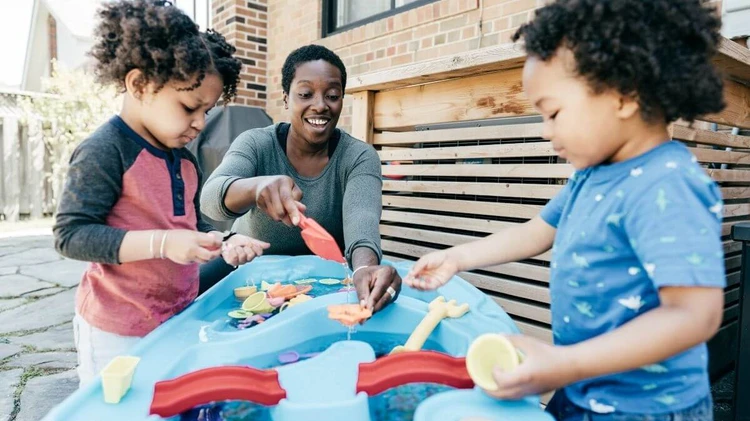 14. Waterfall playsets and water tables
Waterfall playsets and water tables allow your little one to interact with water without getting too wet, which is great if they're not into swimming yet or if you don't have much outdoor space.
Your kids are likely to love manipulating the flow of water to create their very own waterfalls.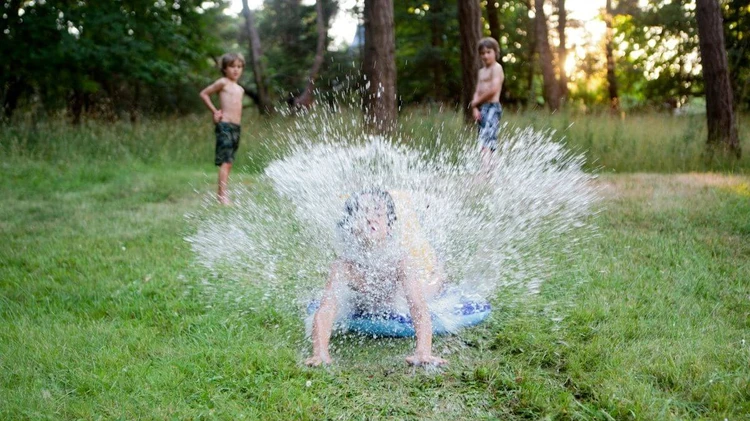 15. Slip 'n slide
Slip 'n slides don't have to be 50 feet long (though your kid will no doubt love one that big when they're a bit older!).
While they're still quite tiny, though, grab a smaller one for them to slide along on a slight downhill.
Outdoor climbing toys for toddlers
Make sure your toddler is developing their hand and foot coordination, and that they're able to interact well with the space around them, by investing in some climbing toys.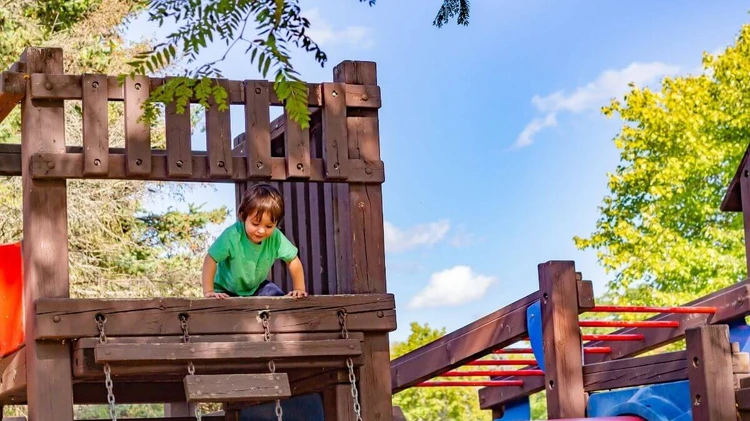 16. Jungle gym
This one's a bit of a splurge, but if space and budget allow, having a jungle gym is like having a completely separate playroom for your little one.
You can also let it expand and evolve as they get older, bigger, and stronger.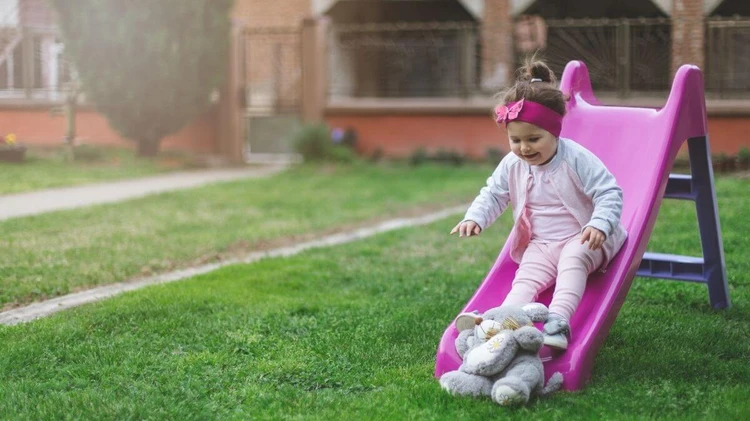 17. A slide
Prepare your toddler for the much bigger slides at the playground by getting them a smaller version that they can clamber up and slide down at home.
18. Climbing frame
Your little monkey is sure to love their very own climbing frame. Let them clamber, stretch and hang as they improve their agility and spatial awareness.
Enjoy hours of fun with all of these outdoor toys for toddlers!