One of the most distressing symptoms of polycystic ovary syndrome (PCOS) is hair loss. As women, PCOS hair loss can affect our confidence and make us feel concerned that it is never going to grow back.
Thankfully – there is a solution to polycystic ovarian syndrome hair growth. But to understand the treatment, we need to understand the cause.
In this article: 📝

What causes PCOS hair loss?

Will hair loss from PCOS grow back?

What helps PCOS hair growth?

Is hormonal hair loss reversible?

What can I do about PCOS hair loss?

Speak to other women about PCOS on Peanut
What causes PCOS hair loss?
Polycystic ovary syndrome is common in women, affecting up to 12% of the US population. The condition is characterized by three symptoms:
Polycystic ovaries – when your ovaries become enlarged and contain fluid-filled sacs (also known as follicles) surrounding the eggs.

Irregular periods – if you suffer from irregular cycles, this may be a symptom of PCOS.

Overproduction of androgen – this is a 'male' hormone, and may result in symptoms common in men, such as excess facial hair.
Because PCOS causes an excess of male hormones, women may experience the same symptoms as men as their hair begins to thin.
This is known as 'androgenic alopecia' or 'male pattern baldness.'
In women, androgen levels are much lower. When the ovaries become polycystic, this can result in the blockage of hair follicles.
This leads to hairs that are thinner in diameter, shorter in length, and even lighter in color.
Typically, the symptoms of PCOS thinning hair are recession of the hairline, right above the temples.
Women may also notice hair falling out in the front and side areas of the scalp, or thinning hair in the parting area.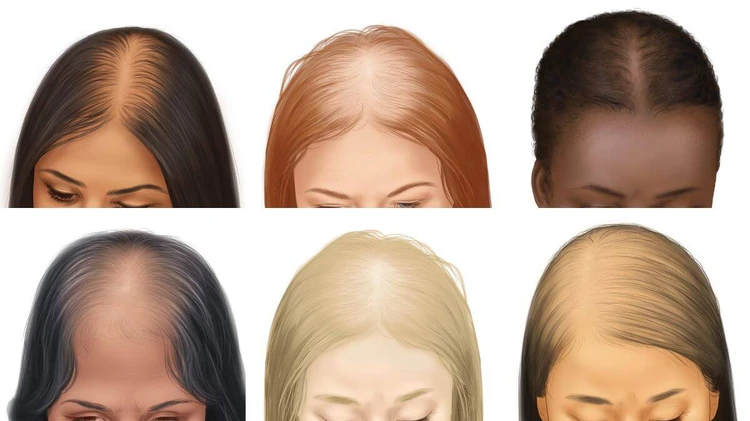 Will hair loss from PCOS grow back?
The key thing to remember is that PCOS hair loss does not have to be permanent.
In fact, some lifestyle changes can contribute to the regrowth of hair if you have suffered from PCOS hair loss.
A change in diet may have better outcomes for your hair – hair loss can be attributed to vitamin deficiency, so ask your doctor if you think your diet may be lacking.

Iron supplements can also help, as hair loss is often made worse by anemia.

Reviewing your medications could have a positive impact on your hairline. Some chronic infections and diseases can contribute to hair loss, but if you can keep these under control, you could see normal hair growth return. Speak to your doctor about your current medications.

Stress has a huge impact on our daily lives, and may even impact hair loss. Try to keep stress to a minimum with lifestyle changes, physical activity, and breathing exercises.

Even extreme temperatures could affect hair loss, so try to avoid these environments where possible.
What helps PCOS hair growth?
You can take two approaches to restoring PCOS hair growth – over the counter remedies or hormones.
If you're concerned about taking hormones, you might look for alternatives such as medicated shampoos.
The best shampoo for PCOS hair loss may have anti-dandruff or antiseptic properties – you may even consider something hypoallergenic like henna shampoo.
Alternatively, you may wish to speak to a hair stylist, who can advise you on what to avoid such as extreme heat or chemicals.
Try to add more nuts, pumpkin seeds, and beans to your diet – these can help to prop up deficiencies in zinc, biotin, and selenium.
Is hormonal hair loss reversible?
Alternatively, if you do want to take the hormonal route, the best PCOS hair loss treatment involves antiandrogens.
You can try medications such as spironolactone, finasteride and flutamide.
However, many of these medications are not recommended for use during pregnancy, and may be complemented alongside oral contraceptives.
The good news is, if you do become pregnant, you may even notice temporary added hair growth!
Always ask your doctor about hormones – some are best taken with products such as Rogaine (minoxidil), but it's entirely up to you and the medical professionals.
Does Metformin help with hair loss in PCOS?
Another suggested method on how to stop PCOS hair loss is to use metformin, a drug prescribed for those with type 2 diabetes or PCOS.
One of the other symptoms of PCOS is increased blood sugar and insulin levels, which explains the overlap with diabetes sufferers.
By regulating their insulin levels, women who suffer with weight problems may also come down to a healthier weight, which can help to balance hormones.
What can I do about PCOS hair loss?
The first thing to remember is that this is very common and you are not alone.
You may wish to make a few changes to your lifestyle, depending on the advice of a medical professional.
For example, you may see better results from changing your diet and getting more exercise – leading to weight loss and helping to regulate hormones.
If this doesn't help, you could consider an oral contraceptive, or hormonal treatment.
This may also be helpful if you're experiencing other symptoms of PCOS, such as excess facial hair.
Of course, PCOS doesn't just affect your physical health, but also your mental health.
Speak to a beauty therapist who can advise you on how best to style your hair – even a simple switch in your daily routine can help to cover up patches.
A stylist may also be able to advise you on volumizing hair products.
For more help, you can speak to other moms on the Peanut network, as well as consulting these free resources:
Talk to a loved one if your confidence is suffering.
With the help of online communities and support around us, we can overcome the physical and mental symptoms.
Speak to other women about PCOS on Peanut
Polycystic ovary syndrome is more common than you might think - and finding support is key.
Join Peanut to connect with other women, build friendships, and get advice.
🙋‍♀️ Read next:
Getting Pregnant with PCOS: What You Need to Know
What to Know About PCOS Acne
Is PCOS an Autoimmune Disease?
What to Know About PCOS and Endometriosis
Femara vs. Clomid: All You Need to Know
4 Ashwagandha Benefits for Women