Today, Apple unveiled its App Store Best of 2021 winners, and guess who was among the chosen few? Yours truly.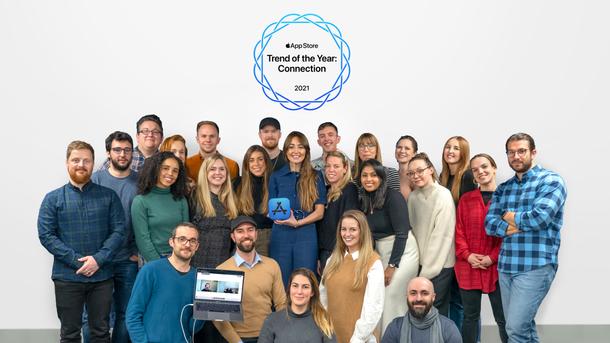 This year's selection came with a trend: Connection. This trend highlights the apps that improve people's lives and showcase the highest levels of innovation and impact.
Since day one, Peanut has been on a mission to improve women's lives. We provide a safe space for women to connect, ask questions, and find support throughout fertility, pregnancy, motherhood, and menopause.
To be recognized as one of the best iPhone apps 2021 is a huge achievement for our small but mighty team. And the recognition doesn't stop there.
Throughout the pandemic, Peanut has become a trusted resource with many citing it as a "lifeline." Let our community tell you more…
"Meeting my friend Ashley on Peanut has been one of the greatest, most unexpected gifts of my life. She is my soulmate, my sister, and my rock. She gave me a home, a family, and a sense of belonging. In a sense, I feel like I was saved by this friendship and Peanut helped me achieve that."

"I joined Peanut shortly after my relationship came to an end. I was feeling depressed and anxious but Peanut was there for me. It's taught me most of what I need to know about being a mama and I have made 2 lifelong friends.Thank you Team Peanut for being a pillar of support during the saddest, scariest, happiest, most life-changing time in my life."

"I downloaded Peanut after feeling overwhelmingly lonely. Since then, I've been able to connect with people from both my area as well as around the world. Peanut is helping me gain back my confidence and allows me and my daughter to have a sense of normality in these crazy COVID times! I can say, although it sounds cheesy, Peanut has really changed my life and I'm so happy I stumbled upon it."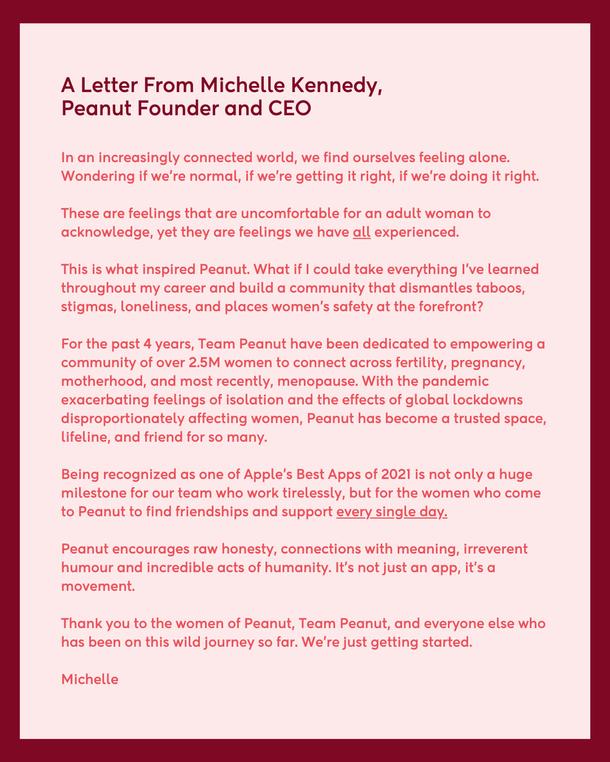 A letter from Michelle Kennedy, Peanut Founder and CEO
"In an increasingly connected world, we find ourselves feeling alone. Wondering if we're normal, if we're getting it right, if we're doing it right.
These are feelings that are uncomfortable for an adult woman to acknowledge, yet they are feelings we have all experienced.
This is what inspired Peanut. What if I could take everything I've learned throughout my career and build a community that dismantles taboos, stigmas, loneliness, and places women's safety at the forefront?
For the past 4 years, Team Peanut have been dedicated to empowering a community of over 2.5M women to connect across fertility, pregnancy, motherhood, and most recently, menopause.
With the pandemic exacerbating feelings of isolation and the effects of global lockdowns disproportionately affecting women, Peanut has become a trusted space, lifeline, and friend for so many.
Being recognized as one of Apple's Best Apps of 2021 is not only a huge milestone for our team who work tirelessly, but for the women who come to Peanut to find friendships and support every single day.
Peanut encourages raw honesty, connections with meaning, irreverent humor and incredible acts of humanity. It's not just an app, it's a movement.
Thank you to the women of Peanut, Team Peanut, and everyone else who has been on this wild journey so far. We're just getting started."
What are the Apple Best of 2021 apps?
These are Apple's top picks for their best iOS apps in 2021 with the trend of Connection:
Peanut
Canva
Bumble
EatOkra
Among Us
Being recognized as one of the best iPhone apps in 2021 is a testament to you, our community, who help us create and maintain a safe space for women online.
Want to join us on our journey?