The Peanut Menopause app is a safe space online dedicated to helping women navigate perimenopause, menopause, and postmenopause.
Peanut began with one mission: To make sure that no woman navigates womanhood alone.
We knew that women needed a safe space online to find community, so we created one.
Today, we're announcing the next chapter of our mission, Peanut Menopause.
In this article: 📝

What is Peanut Menopause?

How does Peanut Menopause work?
What is Peanut Menopause?
In an effort to break free from the stigma and share the real talk we didn't get when we were younger, we're launching a new community for menopause, perimenopause, and postmenopause.
Launching as a brand new life stage within the Peanut app, Peanut Menopause is a safe space where you can find support, information, and feel empowered by understanding your mind and body during midlife.
It means that women will no longer have to go through this chapter alone.
Watch our Peanut Menopause video below to find out more about our menopause movement: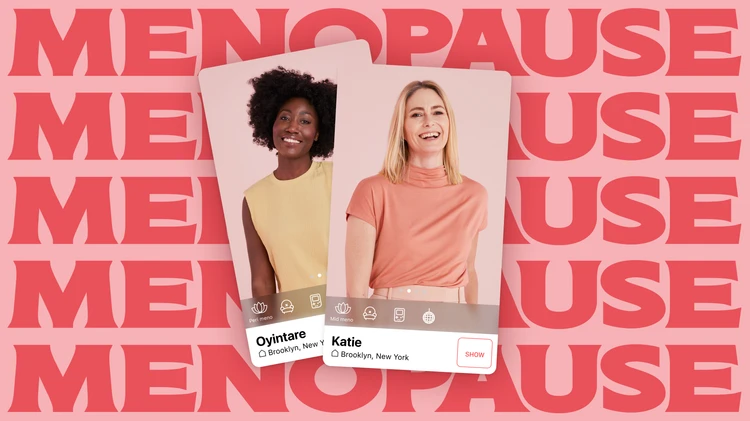 How does Peanut Menopause work?
Peanut Menopause works in the same way Peanut always has.
It's a brand new part of our community where you can bust menopause myths, share menopause experiences, and connect with other premenopausal, menopausal, and postmenopausal women.
👋 Meet: Discover women nearby who are at a similar stage in life.

💬
Chat:
Talk to your matches 1-1 or in group chats with messaging or video call.
👭
Groups:
Join groups and find communities with shared interests.
💁‍♀️
Share:
Ask questions, search advice, and share stories across meaningful topics.
🎙️
Pods:
Join live audio conversations hosted by experts.
We're so excited to expand our vision to serve women across new life stages.
Because no one should have to navigate womanhood alone.
No more silence.
No more punch lines.
It's time to talk all things menopause.
"For a life change impacting 50% of the population it's our duty to ensure no woman has to figure out menopause alone"
- Michelle Kennedy, CEO and Founder.