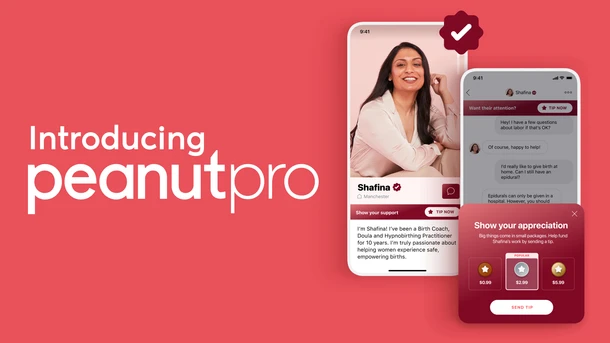 Ever since Peanut launched back in 2017, women have turned to us daily for advice and support on topics like fertility and childbirth to sexual wellness and menstruation.
Now, we're excited to bring more knowledge and support to Peanut than ever before. With Peanut Pro, you'll have access to a world of trusted and knowledgeable creators at your fingertips, from midwives and sex therapists to influencers and more.
You can engage with Pros directly via their profile, in DMs and in live Pods. If you're feeling entertained, informed or even educated by their content, you can support them by sending a tip.
For too long, social media platforms have profited off turning their users into the product: instead, we want to hand money directly to the women whose work you appreciate.
No matter what life stage you're at or what you're interested in, Peanut is a safe space to find meaningful advice and connections, while knowing you are simultaneously supporting the creators you value most.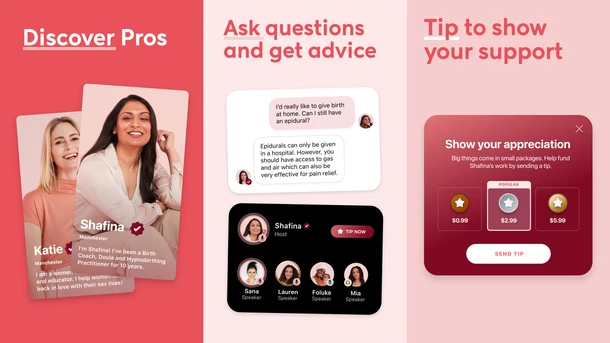 Pro, explained
Pros are trusted and knowledgeable people who are specialists in their field. They have dedicated badges on their profiles to show they are trusted by Peanut.
Each Pro has a dedicated group where you can find their content and interact with them directly. Make sure you join their groups to stay up-to-date with advice, support, live conversations and more!
How to support Pros
You can support Pros with our new tipping feature. You can tip to show support, show appreciation, help out or have your burning questions answered.
When you're engaging with a Pro (via their profile, DMs or a pod) you'll see the TIP button and you can opt to send a bronze, silver or gold tip.
What's Next?
This is just the start. We're always testing and iterating so your feedback will help us get it right. We love how it's shaping up but there's anything you want to share, we'd love to hear from you.
Over the next few months, you can expect an enhanced group experience and access to more exclusive content from our Pros!
P.S. If you'd like to become a Pro yourself, you can apply here.