Tia met Marie, a fellow new mom, on the Peanut app in September 2021. They hit it off immediately, bonding over living abroad, breastfeeding, and their hobbies. It's one of many Peanut success stories.
When Tia first joined Peanut in 2021, she felt isolated.
"I was so lonely after having a baby," she says. "I wasn't in a very supportive relationship and had lost a lot of my friends along the way. I was desperate to meet someone with similar life experiences."
Tia made it her mission to connect with someone like-minded, but never expected to meet a woman who can only be described as her soulmate, in friendship form.
Tia connected with Marie, a fellow new mom, in September 2021, as the pandemic continued to exacerbate feelings of isolation across the world.
Marie had recently moved countries and was looking to make new friends, and when it came to Tia, it just made sense.
"We clicked straight away. Right from the start, it just felt right. We had so much in common!"
Soon, they were messaging all day, every day, and within a week they had decided to meet up IRL.
"We went to a beautiful bookshop and connected over everything. The conversation never stopped. We have the same opinions about life, relationships, the way we parent, and similar mental health experiences," says Tia.
Marie feels similarly, "It felt so natural, and we had so much to talk about. It was like we had always known each other."
"Even though we only live 10 minutes from each other, without Peanut we would have never crossed paths."
Tia and Marie hit it off immediately, bonding over living abroad, sh*tty ex-boyfriends, breastfeeding and more.
Their friendship was effortless. "I never thought I would find a soulmate in a friend like I have done with Tia," says Marie.
While they still bond over their motherhood experiences, their friendship reached new heights when the pair decided to write a book together.
"We were talking about our hobbies and something clicked. Marie loved to write, I loved to illustrate, it was a match made in heaven," says Tia.
They planned to create a children's book in honor of their babies, and their newfound friendship.
"It gave me a feeling of purpose, and gave us both a new way to support one another and grow closer," says Marie.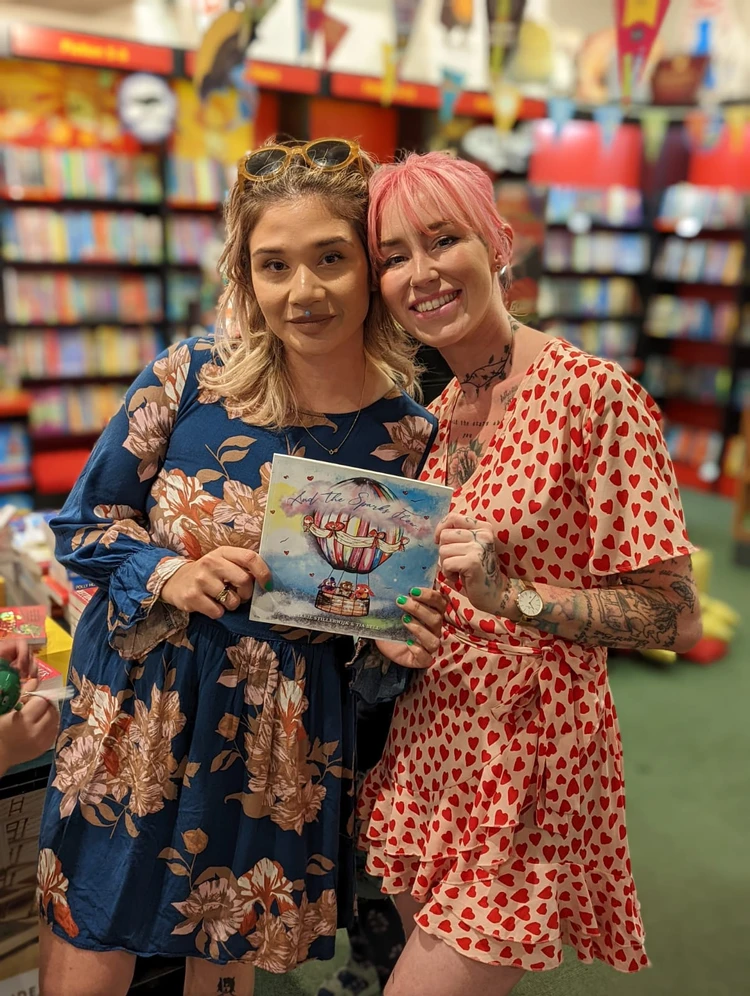 After months of hard work, the Little Peanut & Little Butter series was born.
"One of the characters is named Peanut, it just felt right to do so because of how our journey started," explains Tia.
The book itself is based on themes of love, support, and friendship, "just how we have found it on Peanut," says Marie.
Outside of working on Little Peanut & Little Butter, Tia and Marie hang out multiple times a week and haven't gone a day without speaking since connecting on Peanut.
"We go swimming with our babies, walk in the park, shop, cook, or just chill out and chat at each other's houses," says Tia.
Fast forward to today, and the pair have released their second book in the series and are currently spreading the word in their local community.
What's next for the pair?
"Hopefully a third book!" says Tia.
Marie agrees, "There's so much that we plan to do together, just the two of us and with our children," she says.
Tia is the same, "We want to continue making memories and encouraging each other in our passions for art and writing."
Simply put, there's no stopping them.