The thing is, postpartum sex takes a bit of figuring out. You're sleep deprived, your daily routine is all over the place, and your body suddenly feels totally new. It's normal to feel nervous when it comes to navigating your second first time.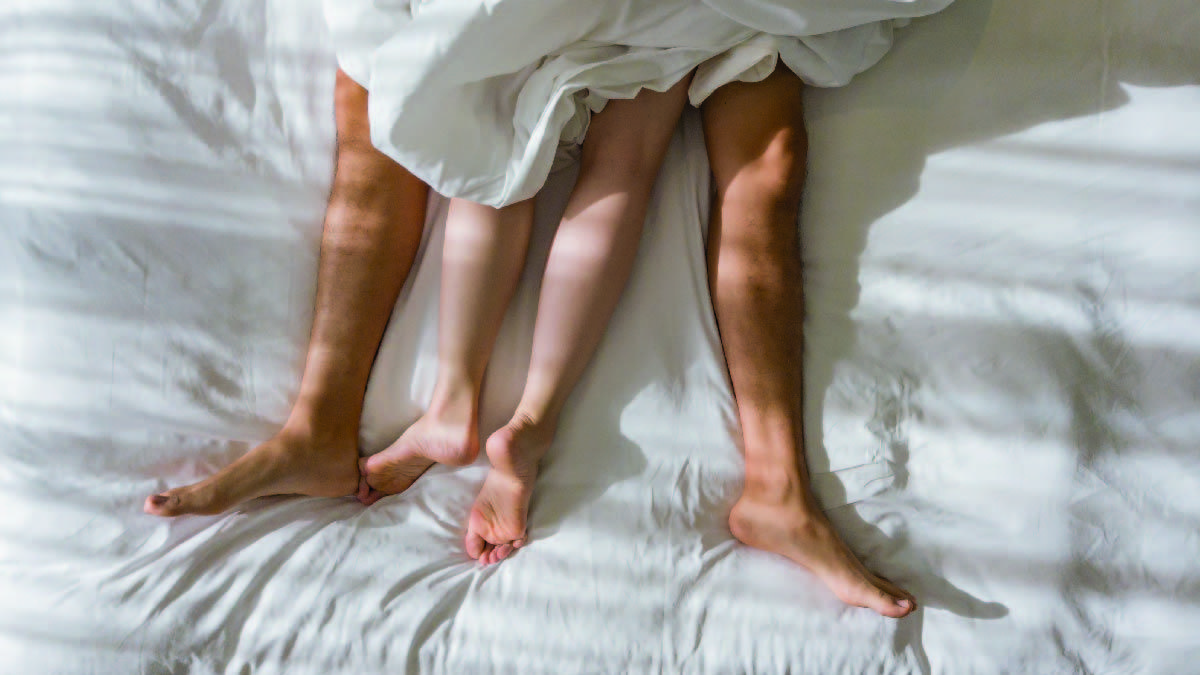 Even after your doctor has given you the all clear to get busy post-baby, sex can seem really daunting - both physically and mentally - after everything your body has gone through.
But one thing that can help is advice directly from women who have been been there, so we asked our community for their top tips for pleasurable postpartum sex.
➡️ Related: 10 Life-Changing Mom Hacks From Peanut Mamas
11 postpartum sex tips:
1. "Connect with your partner. You have to prioritize quality time with your partner, it's good for both of your mindsets as you adjust to life with a newborn. Spend time together and look out for one another, it'll help you feel more comfortable when it comes to trying to be intimate again." - Jennifer
2. "Use tons of lube. And allow lots of time for foreplay. Dryness is common after birth, especially if you're breastfeeding, so don't worry. Just make sure you have a lot of lube nearby." - Melanie
3. "Start slow. And don't have any expectations! You need to set the bar (temporarily) low and not expect a pre-baby night of passion. Go with the flow, have fun, and don't give up if your first try doesn't go well. You'll get there in time!" - Dani
4. "Be open with communication. Communicating with your partner is key. Once you feel like you're ready, talk to them about how you're feeling and how you would both like this to go. That way, you can air any worries you have and make the experience more comfortable." - Renee
5. "Wait. Six. Weeks So many of us wonder if we can risk it by week 3 or 4, but it's not worth it. Allow yourself that time to heal. It's a rule for a reason!" - Lauren
6. "Use birth control It's true that you're still extremely fertile after birth, even if you're breastfeeding. So if you're going to get busy between the sheets, make sure you check in with your midwife or doctor about what method is right for you." - Jas
7. "Listen to your body and emotions. Even if your doctor clears you for sex, don't feel like you have to get to it straight away. You need to feel ready, both mentally and physically, and every woman is different." - Michaela
8. "Try lots of positions! Certain ones will be more painful than others, and everyone's experience will be different. For me, cowgirl was perfect as I was in control and could go at my own pace - but it's a lot of trial and error." - Dezi
9. "Don't force it. Remember that you only need to go as far as you want to. Maybe that's just foreplay for a while, which is totally OK. Whatever makes you comfortable as you're getting used to your new body." - Hannah
10. "Treat yourself to new lingerie. Let's face it, your body changes a lot throughout pregnancy and after birth. My confidence had hit rock bottom, and that meant my first time having sex didn't go very well because I was so worried about how I looked. The next time, I bought new lingerie to help give myself a boost and it really helped." - Shauna
11. "Know it will get better. Your actual first time probably wasn't great, and the same can be said for your first postpartum experience too. But even if you feel that way, understand that things will improve… It just takes time and communication." - Heather
Read next:
Sex After Birth of a Baby: All the Advice
What is sexercise? Work out your way to better sex
You might be interested in:
5 Ways to Advocate for Yourself During Pregnancy and Postpartum
Your Guide to Postpartum Swelling
Your Guide to Postpartum Anxiety Symptoms
How to Deal With Postpartum Gas
10 Ideas for a Nutritious Postpartum Diet
A Guide to the Best Types of Postpartum Massage
Postpartum Exercise Tips
An Intro to Postpartum Yoga
Why Do I Get Postpartum Night Sweats?
Postpartum Hemorrhoids: What You Need to Know
What's Causing My Postpartum Headache?
Pregnant Dating: 7 Tips for a Great Experience