As mamas, we do all that we can to save time. Enter: pregnancy and parenting acronyms and abbreviations, to make your conversations with other FTMs (that's first time mamas) just that little bit speedier.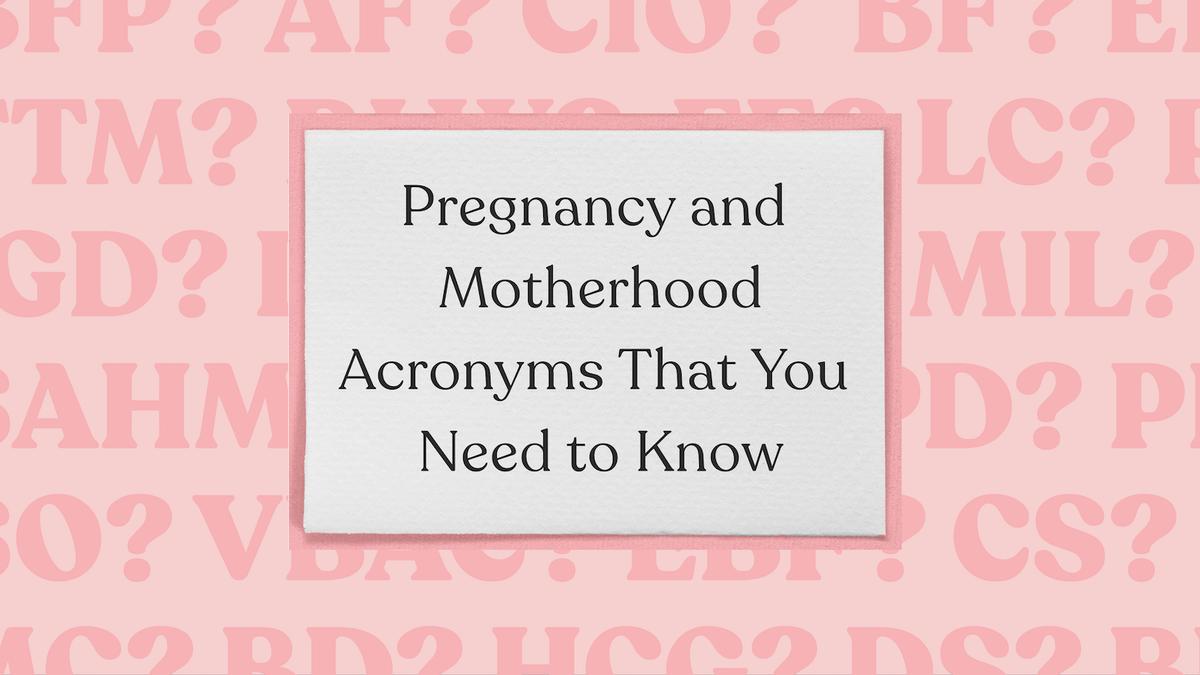 If you've found yourself trying to decode all of the motherhood and pregnancy lingo, you're not alone. From choosing to BF to being a SAHM, sometimes it can feel like you're learning a whole new language.
So we've put together a quick guide to the acronyms that every mom and mom-to-be needs to know.
Pregnancy and motherhood acronym decoder:
BC: Birth control.
BF: Breastfeeding.
BFN/BFP: Big fat negative or positive on your pregnancy test.
BLW: Baby-led weaning, a method of introducing solids that involves baby choosing what, when, and how much they eat.
CIO: Cry it out, a highly controversial sleep training method.
CS: C-section or cesarean (nope, you don't need to learn how to spell it!).
EBF: Exclusively breastfeeding.
EDD: Estimated due date, aka when baby is likely to arrive.
EP: Exclusively pumping.
FF: Formula fed.
FTM: First time mama.
GD: Gestational diabetes, a form of diabetes you only have when you're pregnant.
LC: Lactation Consultant, a health professional that specializes in breastfeeding support.
LO: Little one, that adorable Peanut you're probably cuddling right now.
MIL: Mother-in-law.
PPA: Postpartum anxiety.
PPD: Postpartum depression.
SAHM: Stay at home mama.
SO: Significant other.
VBAC: Vaginal birth after a C-section.
So now you're feeling more in the know, all that's left to do is to join Peanut, where you can connect, chat, and share advice with other mamas and mamas-to-be!
💡 You might like:
TTC Meaning: The Language of Trying to Conceive
19 Fertility Acronyms That You Need to Know
What To Do When You Find Out You're Pregnant
From Saleswoman to SAHM: How I Found My Self-Worth When I Stopped Working