It takes a village to raise a child. Your pregnancy announcement is the signal for Team Baby to get going – and chances are, they can't wait. But, um… how?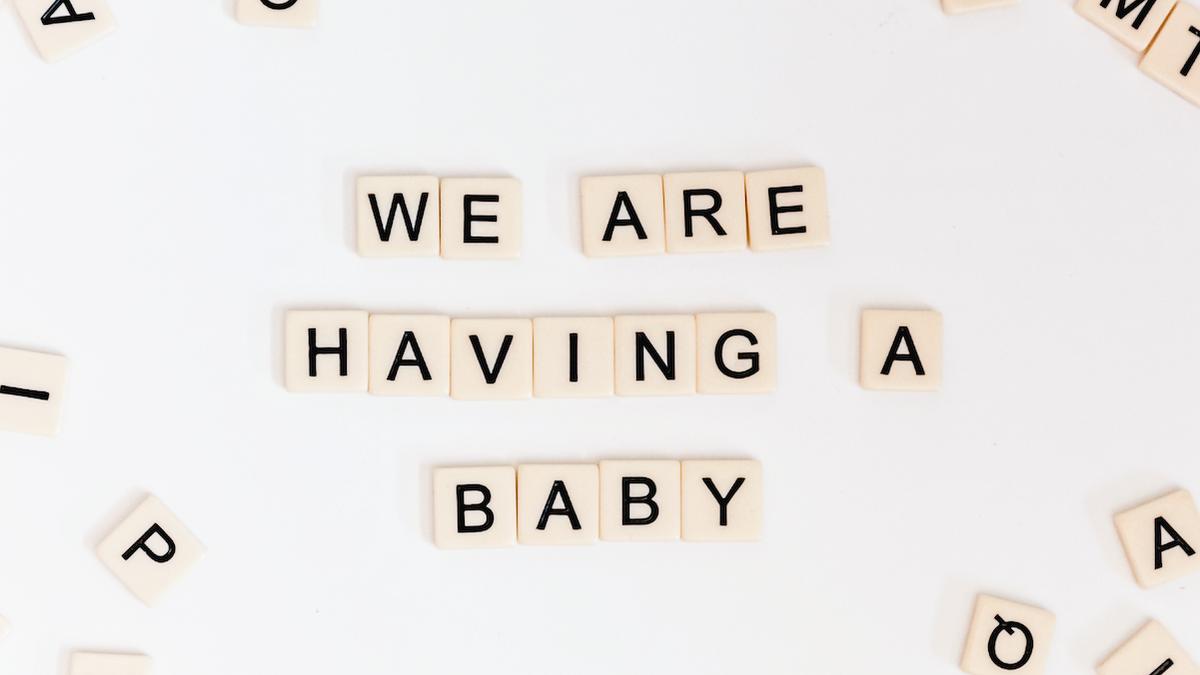 Okay. Deep breaths, mama! This is supposed to be fun not an additional source of stress. Let's talk through the basics:
Baby announcement 101
While there are no strict rules about how to make a pregnancy announcement, here are some guidelines that will help you answer the questions that are swimming in your head.
First, the big question:
When should you start announcing your pregnancy?
Right. Let's break this down.
Naturally, there's a difference between telling your inner circle and announcing your pregnancy to the wider world.
You might choose to tell your personal cheerleaders (besties, parental figures, siblings) as soon as you have the intel, of course. Or you might not.
Announcing pregnancy to your broader circle and the wider world does feel more delicate, because about 80% of miscarriages occur in the first trimester.
Many women choose to wait until after 12 weeks, so they have more knowledge about the health of their baby, and this is totally fine.
At the same time, we don't believe the "12-week rule" should be prescriptive – because it means too many women go through miscarriage without the support of their loved ones.
Is 10 weeks too early to announce pregnancy? What about 11 or 12 weeks?
Truth: the choice is entirely yours, depending on who you have around you as support, and when you want to release the news.
So that's the when. What about the how?
How do you write a pregnancy announcement? How do you make it look good? And, in a world populated with families scattered all over the globe, how do you announce a pregnancy virtually?
Here's the deal, the more everyone recognizes you and your soon-to-be growing family in the announcement, the better.
That means, while a little research (and even a little intelligent plagiarizing) is a good idea, you have to bring your full selves to the equation.
Before you decide on what kind of pregnancy announcement will work best for you, ask yourself these questions (and actually jot down the answers—this will be useful to you as you get going.)
Are there other members of your family that you want to include? (This may mean other children, dogs, cats, fish, tarantulas.) Bring them to the party.

Are you known to your loved ones for a particular passion? Are you world travellers, expert chess players, fanatic foodies or musical theatre enthusiasts? How can you incorporate this into your baby announcement?

What sort of tone do you want your pregnancy announcement to have? Funny? Sweet? Whacky? Move-to-tears? Outrageous? Or simply gorgeous?
Right, now that you've done your brainstorming, it's time to collect some bright ideas.
🔎 Dig deeper: When to Announce Your Pregnancy: a Guide for Mamas-to-Be
3 pregnancy announcement ideas
1. The funny pregnancy announcement
Nothing pairs better with a good baby announcement than a good dose of hilarity.
Yup, comedy can be the best way to release any pressure you may be feeling and announce to the world that you're not taking yourself (and all that you're currently facing) too seriously.
Quick baby announcement ideas if…
You're already lamenting the loss of happy hour: "I wonder if wine misses me as much as I miss it."
You're a movie buff: Coming soon. Opening [INSERT DATE]. From the people who bought you…
You want to involve the whole family: An eviction notice on your older child's crib? (Get them having a tantrum for the shot and you have a real winner.)
And of course, the internet is bursting with ready-made and customizable paraphernalia that will take all the hard work out of it. Pregnant AF socks anyone?
Or how about this hark back to biology class with a sperm announcing its victory?
You don't have to spend a fortune or rack your (probably rather pre-occupied) brain to come up with a funny pregnancy announcement that will get your family and friends giggling and overjoyed all at the same time.
Use the resources that are out there.
2. The seasonal pregnancy announcement
Adding a seasonal flare can be a really cute way to get everyone inspired.
By combining one celebration with another, you get like a huge insane out-of-this-world exponential celebration (that's scientifically accurate, right?).
Egg-specting at Easter?
Asking Santa for a bundle of joy? (C'mon. Who doesn't love a Christmas pregnancy announcement?)
Look what's cooking for Thanksgiving?
HelloWean (Okay. Maybe that's going overboard with the puns but there will be a select few who love it.)
Pair your pregnancy announcement with a suitable aesthetic.
Carve it on a pumpkin. Pop it on a wreath or a Santa stocking. Ice it onto a chocolate egg (um… this is probably the best idea, because you get to eat the egg afterwards. Thinking ahead.)
3. The simple pregnancy announcement
Aaaaand maybe you're like, Are you serious? I have to get together a creative pregnancy announcement while at the same time working a 40+ hour week and take care of my three-year-old, two dogs and a houseplant?
Well, guess what, there are no points for this nor is anyone keeping score of said non-existent points.
The reality is, whether you charter a small plane to write "We're pregnant" in the sky or tell your loved ones over text message, they are going to be thrilled for you.
You are going to be their good news for the day, regardless.
Baby shoes/rompers/tiny anythings are great signifiers of what's to come.
As is a speech bubble around your favourite pet saying, "I'm getting a human!"
One easy-to-do quick fix that is bound to get the message across? Your latest ultrasound scan.
And if you have 5 minutes extra, perhaps a little scribble across with a sharpie of something like:
With love, from the three of us
Loading…
Look what we made
So, in your flurry to come up with the perfect baby announcement, don't forget just how very exciting your news is anyway.
Adding your creativity to the announcement is added sparkle.
Good luck!
Oh, and may we be (at least one of) the first to say: congratulations, mama!
You might also be interested in:
Pregnancy Announcement Ideas for Grandparents
24 Parenting Books That Will Offer Big Value
Pregnancy Checklist: 11 Things to Do After You Find Out You're Pregnant
21 Pregnancy Movies
What To Do When You Find Out You're Pregnant