If pregnancy has got you feeling less-than-zen by the end of the day, you may well benefit from some prenatal yoga.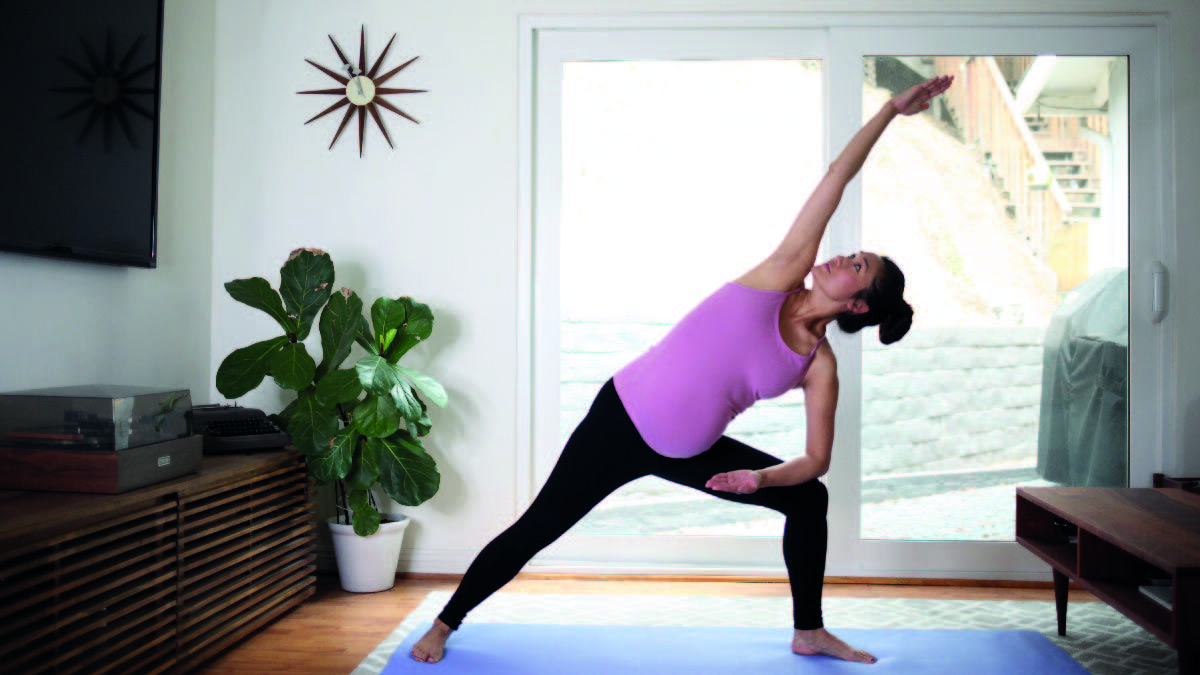 Yoga is well-known as a gentle form of exercise for the body and mind, so it may come as no surprise that yoga and pregnancy can go hand in hand. Prenatal yoga can be the perfect way for mamas-to-be to prep for childbirth and relieve their aches and pains — and calm their racing mind.
Here's a round-up of all the benefits of prenatal yoga.
Table of Contents 📝

What is prenatal yoga?

The benefits of prenatal yoga

When should you start prenatal yoga?
What is prenatal yoga?
So, what is prenatal yoga? There are many forms of yoga, but yoga for pregnancy classes are often variations of a vinyasa style flow. The instructor will specifically tailor your movements to allow for your changing center of gravity (as your bump grows bigger), which will reduce the risk of falling and hurting yourself. Prenatal yoga classes might also focus more on moves to help strengthen your core and pelvic floor (great for birth and postpartum recovery) and concentrate on calm, focused breathing — a technique that can help you through labor.
If you're a newbie to the yoga scene, it's best to look out for a specific pregnancy yoga class. But if you're a seasoned yogi, you might be able to continue with your regular class. Just be sure to tell your instructor about your pregnancy and make the appropriate adjustments to your movements to suit your changing body.
The benefits of prenatal yoga
If you find yourself wondering what does prenatal yoga do? it might be helpful to know that there is a range of prenatal yoga benefits for your mind and body. Pregnancy can be a tricky journey of navigating your changing body (and changing life!), so taking time out to do something for yourself can feel like a real luxury.
By doing some prenatal yoga, you may also:
Increase your strength and flexibility, which is awesome news to keep you healthy as you head further into your pregnancy.
Reduce your stress and anxiety, which is proven to reduce the risk of preterm labor.
Lower your blood pressure.
Help soothe lower back pain, headaches, and nausea.
Improve your sleep.
When should you start prenatal yoga?
If you're wondering when to start prenatal yoga, the good news is that you can start pretty much anytime. Well… maybe when you're already in labor is slightly too late, but other than that, you're good to go!
Is it OK to do yoga in early pregnancy? And is yoga safe for pregnancy generally?
It's recommended to speak to your doctor before starting any new exercise while pregnant, but for women with no other health complications, it should be safe to start practicing yoga any time in your pregnancy. If you're just starting on your yoga journey, you might want to ask your doctor how often should I do prenatal yoga? to make sure you don't overdo it. But thankfully, yoga is a gentle exercise, so it's perfectly suited to most mamas-to-be in their first, second, or third trimester.
At any stage of pregnancy, poses that involve deep backbends, twisting, or laying flat on your back for extended periods should generally be avoided, and wedges, bolsters, and blankets can be used to support you through the trickier moves.
As always, mama, listen to your body and move in a way that feels good to you.
Read Also:
What is sexercise? Work out your way to better sex
8 Healthy Pregnancy Meals
Can You Take Probiotics While Pregnant?
Your Complete Guide to Pregnancy Workouts
What's the Best Prenatal Workout?
What Are the Best Prenatal Vitamins?