OK mama, this is it – the moment you've been waiting for is almost here.
After roughly nine months of feeling your little one grow and change inside you, you're getting ready to prepare for childbirth and welcome them into the world. You may be feeling a lot of things right now: impatience, excitement and apprehension all rolled into one – as well as the odd Braxton Hicks contraction!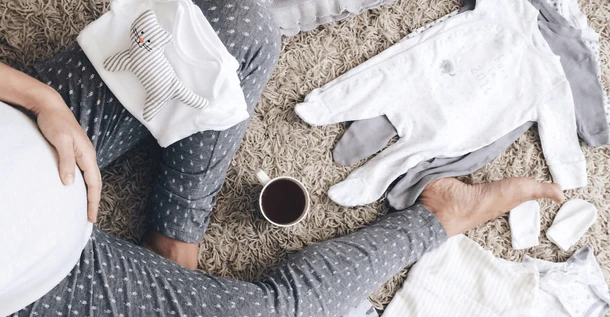 In this article: 📝

How can I prepare my body for labor?

How can I make labor easier and faster?

When should I start preparing for labor?

What are some important birth preparation steps?

How (not) to prepare for labor

Preparing for delivery

Preparing for childbirth: final thoughts
Before we jump into the different steps you can take to feel more prepared, let's answer some of the most common questions we get from mamas-to-be first:
How can I prepare my body for labor?
Getting enough sleep, eating a balanced diet and exercising regularly will stand your body in good stead on the day. Having a relaxation practice in place, such as yoga or meditation, can also help to ease some of the anxiety you might feel.
How can I make labor easier and faster?
There's no magic trick to making labor go easier or faster, unfortunately, although taking good care of your body ahead of time will definitely help. You might also think about taking a birthing class or drawing up a birth plan so that you feel better prepared. Even the most detailed birth plans can change when labor arrives though. Keeping calm and flexible if things don't go according to plan can help your body maintain high levels of oxytocin, the hormone that encourages contractions.
When should I start preparing for labor?
Taking care of yourself throughout your pregnancy is great preparation for labor. For this, any time is really a good time to start. You also don't need to wait until your third trimester to ask questions if you've got something on your mind. Ask your doctor, midwife, or friends all your labor-related questions as they occur to you.
What are some important birth preparation steps?
Thinking about preparing for childbirth can suddenly feel very real and overwhelming, but before you start panicking — breathe. There are many steps you can take to feel a little more in control physically, mentally and emotionally.
Here are some of the main ones:
1. Get some rest if/when you can
Sadly, you won't be able to get as much of it when your little one is keeping you up in the early hours, but enough sleep ahead of the birth can help you feel rested and relaxed. Listen to your body when it's calling for a nap.
2. Eat well and exercise
You've heard this one before. It's more important than ever now that you eat healthy, nourishing meals. Lean meats, nuts and lots of green leafy veggies should all be on the menu. Try and also get a daily dose of exercise where possible, even if it's just heading out for a half-hour walk.
Walking is especially good for you, and you can do it right until the very end. If getting out isn't an option, try following an online yoga, pilates or stretching class. All you need is about half an hour a day for your body to feel the benefits.
3. Relax
Meditation, yoga and deep breathing can all help to declutter your mind so that you feel focused and relaxed. Mindfulness has been shown not only to ease some of the mental pressures of giving birth, but chronic and acute physical pain, too.
4. Take a class
Antenatal and birthing classes can give you practical tools you can use on your baby's B-day. You'll likely learn about different birthing positions and what your options are in terms of pain relief, among other things. Classes are also an opportunity to meet other mamas-to-be, which can help to create a community for you and your new baby once they're born.
5. Draw up a birth plan
Keep your birth plan simple and flexible, and remember that it's more a list of preferences than a definite plan. In it, include what kind of support you want during your labor, what role you want different people to play, if you're open to using drugs for pain, and whether you want to breastfeed.
6. Be selective about who you chat to
Right now, you need useful information, practical tools, love and support. Not fearmongering. Step away from people who make you feel anxious. If you need some positive birth stories to inspire you, check out our Positive Birth Experience group.
7. Pack your hospital bag
Prepping your hospital bag and having it ready to go is another important step in helping you feel ready. If you only decide to do it once you're in labor, you're almost sure to forget a couple of things.
Remember to pack all the practical stuff, like nursing bras, as well as those sentimental items that will make your space feel comfy and familiar, like your favorite home-knitted blanket. Playing music you love in your birthing room can make a big difference, for example. Take a little time beforehand to think about what you want with you when you welcome your little peanut into the world.
8. Get organized at home — and we don't just mean the nursery
If your nursery has the important things it needs, that's great. But also take a day or so to make sure your cupboards, fridge and freezer are stocked too. Trust us – if you or your partner can freeze some meals in advance – future you will thank you!
How (not) to prepare for labor
Preparing for labor isn't something that happens when your contractions start. Rather, it's been happening over the weeks and months of pregnancy that you've already gone through. You're probably already a lot more prepared than you think you are.
If you're starting to feel more nervous as the time approaches though, speak to your doctor or midwife ahead of time. Ask every question you can think of – even the ones that feel silly. If you've got all the info you need, you're less likely to feel panicked, uncertain or insecure.
That said, googling yourself into endless rabbit holes is definitely not the best way to approach preparing for labor. All you need to do is understand the basics and decide on what's important to you. And where possible, always try to speak to a real doctor. Beyond that, there's not much more you need.
Preparing for delivery
Knowing what to expect from the delivery itself is another topic to discuss with your doctor, midwife or antenatal class instructor. Check out the stages of labor if you can and then put together some questions ahead of time if there are specific things you want to know.
Preparing for childbirth: final thoughts
Birth can be a daunting, emotional and transformative experience. It's also beyond beautiful. You're about to meet the newest and best human in the whole world, after all.
We're with you every step of the way, mama.
Here's a bit more reading for you:
Tips for a More Confident Birth: 4 Things to Do Before You're Due
18 Labor Tips For Moms
Your Guide to Having a Vaginal Birth
Hypnobirthing: What It Is, How It Works, and Top Techniques
What is a Forceps Delivery? Is it Safe?
When Can Babies Hear in the Womb?
Safe Ways to Go into Labor Tonight
Bringing Your Newborn Baby Home from Hospital