So you're preparing your palace for its new arrival? What could be more magical than choosing one of our princess baby names for the latest addition to your queendom?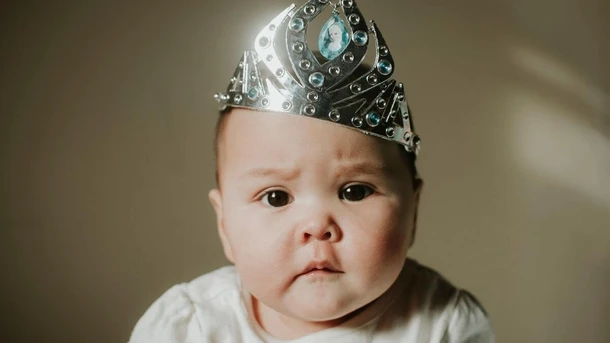 Perhaps you're looking for princess names from royal households across the world.
Or maybe you're after names that mean princess in different languages. Or you might be casting around for some of your Disney favorites.
Whatever your choice, we're sure your journey will have a fairy tale ending.
Ready to get going? Let's explore.
In this article: 📝

What is a beautiful princess name?

What is a royal name for a girl?

What are some baby girl names that mean princess?
What is a beautiful princess name?
We'll kick off with some fairy tale princesses from Disney and beyond:
Alexa. From Barbie and the Secret Door, the shy Princess Alexa discovers a world of magic.

Amalthea. She's from The Last Unicorn, and her name means "tender goddess."

Anna. Optimistic, bold, eternally lovable, Anna is from the ever-popular Frozen.

Anneliese. This kind Barbie princess is from The Princess and the Pauper.

Annika. Also from the Barbie movies, Princess Annika is the bright and feisty star of Barbie and the Magic of Pegasus.

Anya. Before she becomes Princess Anastasia, Anya starts from humble beginnings and later discovers her royalty.

Arete. While she may start off watching the world from a window, Princess Arete's adventures certainly take a turn. She is the protagonist from the Japanese film that bears her name, based on the story The Clever Princess.

Ariel. This quirky underwater princess continues to steal all our hearts.

Aurora. This Sleeping Beauty is also known as Briar Rose.

Belle. The popular Disney princess who finds love with an unlikely character in Beauty and the Beast.

Buttercup. This one may work better as a nickname, but either way, the cuteness factor is high. She's from The Princess Bride.

Cindy. Yep, from Cinderella. This may just be the shoe that fits.

Elsa. Another Frozen favorite, Elsa has magical abilities to make and control ice and snow.

Faline. Bambi's love interest. ❤️

Fiona. This beautiful princess from Shrek looks great in green.

Giselle. The Enchanted princess who learns a lot about the world and herself through her travels.

Jasmine. This might just be the perfect fit as you welcome your little one into a whole new world.

Kiara. The daughter of Simba and Nala from The Lion King, this name is sure to be a roaring success.

Merliah. She's not only a Barbie princess, she's also half mermaid. Double the magic.

Mia. She may not start out knowing she's a princess, but Mia Thermopolis certainly finds her feet as a royal in The Princess Diaries.

Mulan. While she's not technically a princess, we think she deserves a spot on this list. Based on a legendary figure, Mulan disguises herself to fight for her father.

Nala. Yep, she's the queen of the Pride Lands from The Lion King.

Natasha. A fun cartoon from the early 2000s, Princess Natasha of Zoravia is both a princess and a spy.

Odette. She's the graceful Swan Princess.

Pocahontas. The movie was far from historically accurate — but that doesn't make this real life princess any less extraordinary.

Rapunzel. This Tangled star is famous for her golden hair.

San. Also known as Princess Mononoke, San is a special princess who was raised by wolves.

Tiana. She's the magical princess who manages to turn her frog love into a prince.

Xena. Okay, she's particularly awesome in that she is both a warrior and a princess.
What is a royal name for a girl?
And here are our favorite princess baby girl names:
Alexandra. A member of the British royal family, her name means "to protect."

Alice. One of Queen Victoria's daughters, Princess Alice's name has a very royal meaning — "noble."

Amelia. A daughter of King George III, her name means "work."

Anastasia. This famous Russian princess has a name with a powerful meaning — "resurrection."

Angela. Both a fashion designer and the princess of Liechtenstein, Princess Angela was the first person of African descent to marry into a European royal family.

Anne. The only daughter of Queen Elizabeth II, her name means "favor" or "grace."

Archidamia. From its Greek origins, this Spartan queen's name means, quite appropriately, "master of the people."

Astrid. The name of princesses of Belgium and Sweden, Astrid means "beautiful goddess."

Athena. The young princess of Denmark, her name refers way back to the Ancient Greek goddess of wisdom.

Beatrice. The daughter of Prince Andrew, Beatrice bears a name that means "she who makes happy."

Buppha. She was a Cambodian princess and her name means "flower."

Catherine. Affectionately known as Kate, she's the wife of Prince William. Her name means "pure."

Charlene. This Princess of Monaco bears a name that means "free woman."

Charlotte. She's the sweet daughter of Prince William.

Chelidonis. This Spartan princess was also a powerful warrior.

Chimi. She's the princess of Bhutan, and the daughter of the kingdom's fourth king.

Cixi. An empress of the Qing dynasty, her name means "kind and virtuous."

Clotilde. Princess Maria Clotilde of Savoy has a name with a strong meaning — "famous in battle."

Cleopatra. This famous Egyptian queen bears a name that means "father's glory." It can be shortened to the sweet Cleo.

Diana. This princess needs no introduction. Her name means "divine."

Elizabeth. Once a princess, she has been the Queen of the United Kingdom since 1952.

Estelle. This young Swedish princess is the Duchess of Östergötland.

Gabriella. She's the young Princess of Monaco and has a twin brother called Jacques.

Grace. Grace Kelly was an American actress and a princess of Monaco.

Haya. The daughter of King Hussein of Jordan, her name means "life."

Ingrid. A Norwegian princess, her name means "beautiful."

Irene. She's a princess of the Netherlands and her name means "peace." 🕊️

Isabella. Princess Isabella of Denmark bears a name that means "God is my oath."

Jetsun. As the wife of the Bhutanese king, Jetsun Pema is the kingdom's Queen consort.

Josephine. This young Danish princess has a name that means "God increases."

Joan. A 14th century English princess, her name means "God is gracious."

Kalina. She's the princess of Bulgaria and her name refers to the flowering plant viburnum.

Letizia. She's the queen of Spain, but that's not all. She has also worked as a journalist and news anchor.

Madeleine. This Swedish princess has a name that means "tower" or "elevated."

Malika. Belonging to Princess Lalla Malika of Morocco, this name actually means "queen."

Marianne. A 19th century princess of the Netherlands, her name may mean either "rebellious" or "beloved."

Margrethe. She's the queen of Denmark and her name means "pearl."

Maria. The princess of Greece and Denmark, Princess Maria-Olympia is also a fashion model.

Marie-Chantal. She's the Crown Princess of Greece.

Mary. The Crown Princess of Denmark, her name means "beloved" or "rebellious."

Meghan. She's the Duchess of Sussex, and a renowned actor and author.

Mette-Marit. The Crown Princess of Norway, her name is a version of Margaret, meaning "pearl."

Rania. The Queen of Jordan, her name means "to gaze."

Salma. The Princess consort of Morocco, Princess Lalla Salma is married to King Mohammed VI.

Sikhanyiso. This Swazi princess has a name that means "light."

Sirivannavari. She's the princess of the Kingdom of Thailand. Her name shortens to the sweet Siri.

Sophie. The wife of Prince Edward, she's the Countess of Wessex.

Stéphanie. This princess of Monaco has the perfect royal name. It means "crown."

Suiko. She was a Japanese empress who reigned from 593 to 628.

Tatiana. This princess of Denmark and Greece has a very appropriate name — it means "honorable" and "fairy queen."

Theodora. She's a Danish princess and her name means "gift of God."

Victoria. She's the Crown Princess of Sweden and shares her name with the 19th-century British queen.

Zhao. Princess Zhao of Pingyang was the daughter of the founding emperor of the Tang Dynasty.
107 women are talking about 'princess baby names' on Peanut. Download the app to join the conversation.
What are some baby girl names that mean princess?
And now for some baby girls' names meaning princess:
Ameera

Aricia

Avantika

Bano

Farsiris

Orla

Putri

Sabrina

Sadie

Sally

Saina

Sarah

Sarai

Sera

Shahzadi

Zarouhi
If you'd like to continue your search, why not travel around the world with us?
200+ Spanish Baby Names for Your Bebé to Be
60 Magnifique French Baby Names
166 Greek Baby Names
143 Victorian Baby Names with Meanings
49 Bellissimi Italian Baby Names
60 Japanese Baby Names
82 Hebrew Baby Names