Daughter quotes — like the daughters they speak of — come in all shapes, sizes, and styles.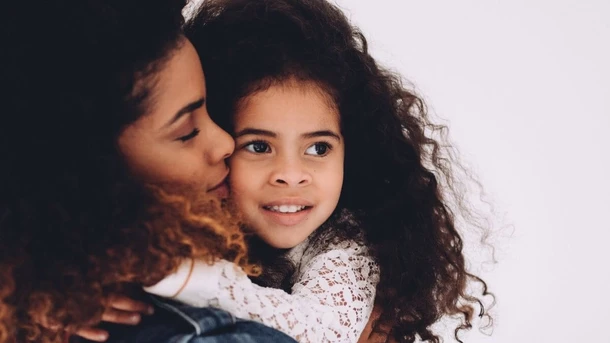 Perhaps you're looking for the perfect quote for a birthday speech or card.
Or the ideal phrase to display on your baby's nursery wall.
Or the perfect words to let them know how awesome they are.
Whatever the reasons, if you're searching for quotes about my daughter, chances are you have an awesome one.
Here are some magical words to honor them.
In this article: 📝

Beautiful daughter quotes

Cute daughter quotes

Fierce quotes about daughters

Quotes about moms and daughters

"I love my daughter" quotes
Beautiful daughter quotes
"I keep seeing myself in my daughter, and I see my mother in me and in her." — Julie Walters

"A daughter is one of the most beautiful gifts this world has to give." — Laurel Atherton

"You are my sun, my moon, and all of my stars." — E.E. Cummings

"Our daughters are the most precious of our treasures, the dearest possessions of our homes and the objects of our most watchful love." — Margaret E. Sangster

"Find it within you to love exactly who you are and to know you're capable, you're loved and you're beautiful. The world is a better place, because of you. You are unique because there is only ONE of you." — Shantel VanSanten

"A daughter is a bundle of firsts that excite and delight, giggles that come from deep inside and are always contagious, everything wonderful and precious and your love for her knows no bounds." — Barbara Cage

"Grace was in all her steps. Heaven in her eye. In every gesture, dignity and love." — John Milton

"What I wanted most for my daughter was that she be able to soar confidently in her own sky, whatever that may be." — Helen Claes

"Sometimes the smallest things take up the most room in your heart." — Winnie the Pooh

"Words can be worrisome, people complex, motives and manners unclear, grant her the wisdom to choose her path right, free from unkindness and fear." — Neil Gaiman
102 women are talking about 'quotes about daughters' on Peanut. Download the app to join the conversation.
Cute daughter quotes
"A daughter is a treasure and a cause of sleeplessness." — Ben Sirach

"I thought I'd never be that annoying person, but as soon as Winnie was born, I was showing iPhone snaps to a cab driver." — Jimmy Fallon

"Little girls are the nicest things that happen to people. They are born with a little bit of angelshine about them, and though it wears thin sometimes there is always enough left to lasso your heart." — Alan Beck

"All I know is that I carried you for nine months. I fed you, I clothed you, I paid for your college education. Friending me on Facebook seems like a small thing to ask in return." — Jodi Picoult

"A daughter is God's way of saying, 'Thought you could use a lifelong friend.'" — Unknown

"Having a little girl has been like following an old treasure map with the important paths torn away." — Heather Gudenkauf

"She makes the day brighter. She leaves a little sparkle wherever she goes." — Kate Spade

"When we asked for a daughter, we were sent a princess." — Sally Huss

"Mother-daughter disagreements were, in hindsight, basically mother stating the truth and daughter taking her own sweet time coming around."— Barbara Delinsky

"Little girls, like butterflies, need no excuse." — Robert A. Heinlein

"Little girls are cute and small only to adults. To one another they are not cute. They are life-sized." — Margaret Atwood
Fierce quotes about daughters
"And though she be but little, she is fierce." — William Shakespeare

"Angry mothers raise daughters fierce enough to fight wolves."― Nghi Vo

"Never grow a wishbone, daughter, where a backbone ought to be." — Clementine Paddleford

"Life is tough, my darling, but so are you." — Stephanie Bennet Henry

"We need women who are so strong they can be gentle, so educated they can be humble, so fierce they can be compassionate, so passionate they can be rational, and so disciplined they can be free." — Kavita Ramdas

"Courage, sacrifice, determination, commitment, toughness, heart, talent, guts. That's what little girls are made of; the heck with sugar and spice." — Bethany Hamilton

"Who runs the world? Girls." — Beyoncé

"And one day she discovered that she was fierce, and strong, and full of fire, and that not even she could hold herself back because her passion burned brighter than her fears." — Mark Anthony

"Imperfections are beauty, madness is genius, and it's better to be absolutely ridiculous than absolutely boring." — Marilyn Monroe

"Mothers and daughters together are a powerful force to be reckoned with." — Melia Keeton-Digby

"A girl should be two things: who and what she wants." — Coco Chanel

"Be a first rate version of yourself, not a second rate version of someone else." — Judy Garland

"Never play the princess when you can be the queen: rule the kingdom, swing a scepter, wear a crown of gold." — Sarah McCane
Quotes about moms and daughters
"The relationship between parents and children, but especially between mothers and daughters, is tremendously powerful, scarcely to be comprehended in any rational way." — Joyce Carol Oates

"A mother knows what her child's gone through, even if she didn't see it herself." ― Pramoedya Ananta Toer

"Even as a small child, I understood that woman had secrets, and that some of these were only to be told to daughters. In this way we were bound together for eternity." — Alice Hoffman

"As mothers and daughters, we are connected with one another. My mother is the bones of my spine, keeping me straight and true. She is my blood, making sure it runs rich and strong." — Kristin Hannah

"They both began to giggle and then…fell into a side-splitting round of laughter, the cleansing, complete sort of laughter only a mother and daughter can share." — Karen Kingsbury

"As they get older, our daughters become more and more like us too." — Amy Newmark

"I watched a little girl surrounded by light and laughter as the fairies threaded flowers through her hair. I stood out of sight, peering through the tangled blackberry bushes, but the girl saw me, rushing forward, her hand outstretched, a white flower clasped between her fingers. 'For Mammy,' she said. 'For my Mammy.'" — Hazel Gaynor

"A mother's and daughter's love is never separated." — Viola Shipman
"I love my daughter" quotes
"My wish for you is that this life becomes all that you want it to; your dreams stay big and your worries stay small; you never need to carry more than you can hold." — Rascal Flatts

"Thank you for being the answer to the prayer I hadn't realized I asked for." — Marisa Donnelly

"Words are not enough to express the unconditional love that exists between a mother and a daughter." — Caitlin Houston

"A mother's treasure is her daughter." — Catherine Pulsifer

"I am not a perfect mother and I will never be. You are not a perfect daughter and you will never be. But put us together and we will be the best mother and daughter we would ever be." — Zoraida Pesante

"My daughter is my biggest achievement. She is a little star and my life has changed so much for the better since she came along." — Denise Van Outen
Feeling inspired? Check out these other beautiful quotes:
100+ Unconditional Mother-Daughter Love Quotes
25 Best Husband Quotes to Show Love and Appreciation
Our 40 Favorite Inspirational Motherhood Quotes
38 Inspiring & Honest Single Mom Quotes
34 Quotes to Empower Women
50 Inspirational Quotes for Kids
23 Beautiful Mother and Son Quotes
170+ Inspiring International Women's Day Quotes
50 Parenting Quotes to Remember
50 Amazing Pregnancy Quotes to Remember
50 Affirmations for Moms
20 Happy Daughter's Day Wishes and Quotes
37 "Miss You" ‒ Mother's Day in Heaven Quotes
230 Mother's Day Quotes for Mom
200+ Mother's Day Cards Messages to Make Her Day
100+ Happy Father's Day Quotes
When is National Daughter's Day 2022 (and 2023)?
80 Reading Quotes for Kids