The term Rainbow Baby sounds bright and joyful – but what does Rainbow Baby mean exactly? The truth is, having a Rainbow Baby may come with a spectrum of emotion. Why? Because this is the name given to a baby conceived after a loss.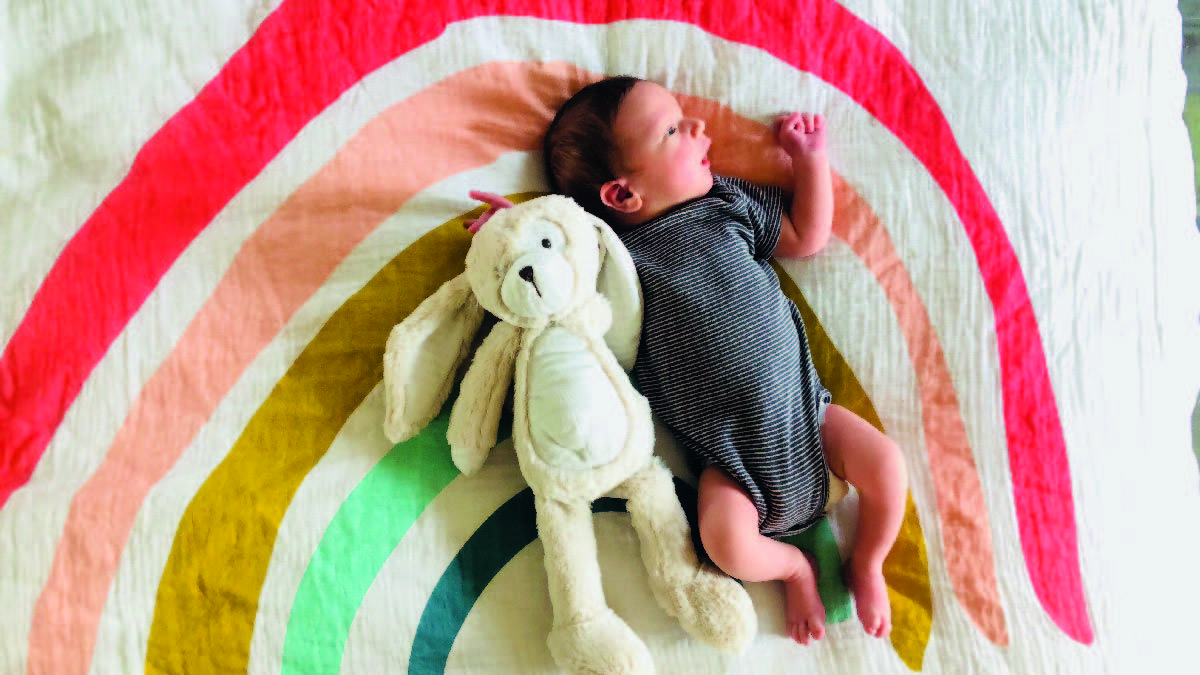 Welcoming any baby into the world brings promise and hope, but Rainbow Babies have a particular poignancy for new parents and families. It's joy and love for your new little one; but also, it arrives with an undercurrent of grief – which in turn can make some parents feel guilty. And while that's not surprising at all, it can still be really hard to navigate.
But why was the term Rainbow Baby chosen? And what can help you if you're expecting one?
Definition of Rainbow Baby: why are they called Rainbow Babies?
A Rainbow Baby may feel like a little miracle. And that's where the name comes from. As a symbol of hope and comfort for many thousands of years, rainbows are seen by some as a sign of protection. We must admit it's hard to ignore the tingle of joy when a rainbow appears in the sky after a storm. And this is it summed up, really: brightness and color, after darkness.
Although many parents experience loss, it's not something which is often talked about. But through the simple symbolism of rainbows, it can be easier for mamas to reflect on the complexity of grief and joy, and use it as a way to connect with others who have similar experiences all over the world – like in our dedicated Rainbow Baby groups.
When did the term rainbow baby start?
There is some debate about when the term Rainbow Baby started, but we know for sure that it dates back at least as far as 2008 – when it became popular in parenthood forums.
The term has also appeared in lots of books about miscarriages and infant loss. However, it's likely that it goes back much further, probably spreading by word-of-mouth between parents connecting over a shared experience that goes back generations.
Is there a time limit to have a Rainbow Baby?
There's absolutely no time limit to have a Rainbow Baby. Rainbow Babies aren't defined by any time period for arrival. It's about how you experience your life, and whatever labels you want to use are fine.
Everyone experiences loss differently, and sometimes people need to take some time before trying for a baby again. And even if you need to take a few years, you can still refer to your little one as your Rainbow Baby if you want to.
And for other parents, trying for a Rainbow Baby can be part of their healing process earlier on. There's no right or wrong here. If using the term feels good for you and helps you describe your experiences, then go ahead and use it.
Are you expecting a Rainbow Baby? Here's what to know
If you're expecting a Rainbow Baby, it's okay to be afraid. It's okay to be sad. And it's also okay to feel overwhelming joy. In fact, you might just pivot between dozens of different emotions on any given day.
The truth is, while Rainbow Babies are a beautiful thing for all the happy emotions they bring to families, there may well be bittersweet moments, too. Treasuring your new arrival while holding love for the child you miss isn't easy. This isn't simple and straightforward: it can be heart-wrenching at times.
It's important to give yourself space to express these feelings, rather than quash or dismiss them. You can also connect with other women who are expecting a Rainbow Baby, or mamas who have recently welcomed a Rainbow Baby into their lives on Peanut. There are thousands of women out there who can help offer mutual support and advice.
Rainbow Baby announcement
You may be worried about announcing your pregnancy. This is also totally normal. Some people prefer to share their news early on, so they can get support from loved ones throughout their pregnancy. Others feel more comfortable waiting a little longer to share their news. The important thing is to announce your pregnancy only when you are ready.
It's also important to know there may be triggers at lots of steps down the road, as you experience "firsts" with your Rainbow Baby that you missed with the child that you lost. That's okay, too. You might feel scared or second-guess yourself. That's normal, and it does not mean you're getting things wrong. It's also normal to feel overprotective of your new little one – or even to feel detached, as you're afraid of losing this baby, too. Those feelings will fade as your confidence grows over time, and there's lots of help out there if you feel you need it.
What is a Double Rainbow Baby?
A Double Rainbow Baby is a baby conceived after the loss of two babies.
For some people, using the term Double Rainbow Baby is a helpful way for them to acknowledge their two previous losses while celebrating their joy of a newborn. But for others, it's just too painful and complex to sum this up in a simple term or phrase. It's up to you.
Terms like Rainbow Baby and Double Rainbow Baby are designed for people to get help and support, and describe their story without the pain of reliving details. If it helps you, that's great! If not, try to develop a way of talking about your experiences that feels right for you.
What is a Sunshine Baby?
A Sunshine Baby is the name given to a baby born before the loss of a younger sibling. Of course, having an older healthy child doesn't lessen the grief of losing a younger one. But celebrating a sunshine baby – their unique personality, milestones, and daily experiences – can help some grieving parents get through their toughest periods of hardship. Of course, whether you choose to use this term at all is completely up to you.
Raising a Rainbow Baby: one mama's experience
Raising a child after a loss is meaningful and rewarding, but that's not to say there won't be difficult times ahead. There may be moments when a mama wonders what life would have been like – the milestones, the events, and little moments.
In case you're wondering what it might be like, we spoke to one Rainbow Baby mama about her experience.
"As you watch your baby grow into a child, teenager, and then an adult, you remember moments from the past that can be painful," she says. "But at some point you start to experience milestones for the first time. This is really wonderful, and can actually be a relief – but there are still heartbreaking moments."
"You may also remember the deep excitement you felt while expecting the little one you lost. This comes with imagining what their future would have been, and wondering how your Rainbow Baby would have got on with their older sibling," she says.
She continues, "it was important for me to acknowledge and address any guilt, because it was based purely on my deep love for both babies. But loving one doesn't diminish what I feel for the other, and I learnt that it's okay to feel like this as I processed multiple emotions all at the same time."
The truth is that the feelings you'll experience are very real, and very complicated. However you feel about your loss and your rainbow baby, is valid. Remember that.